Ukrainian Politics: Major Issues and Personages (Updated)

Nearly all of Ukraine's political struggles can be understood as stemming from two major sources. The first is a perennial struggle against corruption, which has hindered economic growth and led a succession of political candidates to gain support as they campaign on anti-corruption platforms and to lose support as they fail to deliver on promises to reduce corruption and grow a strong, stable economy. The other major issue stems from the deep political and demographic divisions within the country, preventing a strong reform movement as Ukraine oscilates between political powers and competing ideas of how to best move forward.
Ukraine's economic and legislative heritage stems from the USSR. Many of Ukraine's industries, such as machine building and chemical processing, are aging and not competitive in European markets and thier products are largely exported to Russia. At the same time, the EU has risen to be a nearly equal trade partner overall, mostly in purchasing raw materials (iron, coal, steel, and agricultural products). Thus, Ukraine has traditionally balanced relations between Russia and the EU, courting both historical rivals while declaring allegiance to neither.
Eastern Ukraine, which borders Russia and has a much heavier ethnic Russian population, is generally more conservative and more pro-Russian in its international outlook than Western and Central Ukraine. Donetsk in eastern Ukraine is a strong political and economic center. Known for coal mining and metal processing, the city has also produced a great number of Kyiv's politicians, including former president Viktor Yanukovych.
In Western and Central Ukraine, Kyiv and Lviv serve as political and economic centers. These areas have grown faster in terms of economic output and population than Eastern Ukraine. Lviv is primarily known for electronics and software development while Kyiv is an administrative center for government and business. Their relatively young, strongly middle-class populations tend to more strongly identify themselves as ethnically Ukrainian and tend to favor integration with Europe. They tend to distrust Russia, which some see as having been only recently a foreign occupier of their country.
These divisions have made it harder to reform the economic and legislative foundations of Ukraine. Poland and Estonia, for instance, exited the Communist period with strong political movements with wide popular support to enact change. Ukraine, however, has consistently fluctuated between two opposing forces. Further, updating the legislative and economic infrastructure for Ukraine, by far Europe's largest country, will not be cheap or easy. The Yanukovych administration, for instance, claimed that full integration with Europe would cost more than half a trillion dollars in upgrades to economic infrastructure and government reforms.
These divisions and challenges have boiled over several times in the short period that Ukraine has been an independent country – most notably during the Orange Revolution in 2004-2005 and in Euromaidan Revolution of 2014 and the following conflict in Eastern Ukraine and Crimean Crisis. The events of 2014 saw recently-elected Victor Yanukovych displaced from the Presidency by pro-western forces amid accusations of electoral fraud. Yanukovych, however, regained the Presidency after the Orange Revolution failed to reduce corruption and grow the economy. He was displaced again in 2014 by pro-western forces who are now seeing declining support as they too have failed to reduce corruption and grow the economy.
Ukraine's current situation is only growing more critical. The country lost several of its major ports when Russia annexed Crimea in 2014 and another major port at Mariupol has been hindered as the Sea of Azov, which it borders, has become a conflict point in relations between Ukraine and Russia. War with separatists in the Donbass region has cost some 10,000 lives to date, displaced more than a million Ukrainians, and has been an additional economic resources in a country that desperately needs investment. Further, all this is now weighing heavily on the public's opinion of the Ukrainian government as it drags into its fifth year.
As the country prepares for presidential elections in 2019, long-time Ukrainian politician Yulia Tymoshenko is currently the front runner, despite having only 14% of the forecast vote and despite having fairly high disapproval ratings as well. Most political speculation has revolved around who will garner enough votes to oppose Tymoshenko in the second round.
Most front-runners for the Presidency, including some new faces that are, not surprisingly, gaining support via populist, anti-corruption and anti-establishment platforms, are nearly all Western-leaning. Meanwhile, Tymoshenko is positioning herself, as she typically has, as a deal maker who will work to integrate Ukraine into the EU and NATO while working to negotiate peace in Donbas.
Given current economic and demographic trends, Ukraine's ties with Europe are likely to grow. However, undertaking the major economic and legislative reforms that full integration with the EU is likely to be a difficult process at best, especially considering Ukraine's overall weak economy and fractured political field.
Selected Presidential Candidates
Dozens of Ukrainians have declared or discussed declaring their candidacy for president. Below are several of the more viable and/or interesting candidates.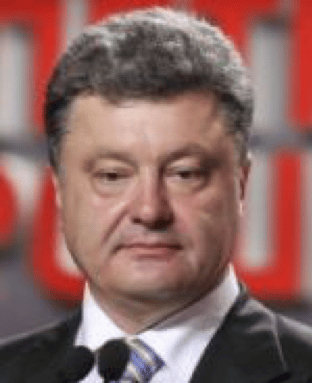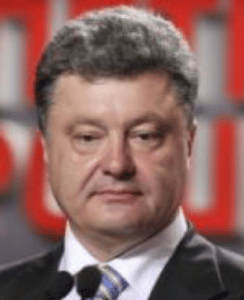 Petro Poroshenko
Petro Poroshenko is Ukraine's President. A businessman with an estimated $1.3 billion net worth, he received his degree in economics from Kyiv State University before buying state-owned confectionary factories in the 1990s and earning a fortune that he later diversified into ship building and a television channel.
He entered politics in 1998 and has been associated with several diverse parties as well, straddling both sides of Ukraine's political divisions, including the Social Democrats, his own center-right Solidarity Party, the pro-Russian Party of Regions and the pro-EU Our Ukraine.
Over his career, he has been a parliamentary deputy, the Secretary of the National Security and Defense Council, Foreign Minister, and as Minister of Trade and Economic Development, and President of Ukraine. He served in both Yanukovych's and Yushchenko's administrations.
He gained wide popular support when, after Russia banned the import of his chocolates in the summer of 2013, he advocated for and financially supported the then on-going Euromaidan protests. He participated in the rallies, and his television channel, Channel 5, broadcast pro-Euromaidan news.
Following the 2014 Revolution, Poroshenko ran for president as an independent, pro-Western, anti-corruption candidate who would be tough on separatist action. He won more than 55% of the vote in the first round of voting. The election was declared fair and free by Western international observers, though voting was impossible in Crimea and much of the separatist-held east.
Since the election, however, he has achieved relatively little in the way of lowering corruption and raising living standards. Despite being accused of using harsh tactics against the separatists, including the use of artillery and unguided missiles that have also killed civilians, Poroshenko has little has been achieved in advancing the conflict to a conclusion. He has responded by becoming increasingly militaristic, often appearing in public in a military uniform, and using increasingly harsh rhetoric.
He is currently polling at 11.3% among decided voters. Although lagging behind the Batkivshchyna candidate, Yulia Tymoshenko (at 19.3%), he does have a possibility of making it to the second round of voting, but will be competing with 4-5 other candidates with similar poling numbers to his own for this second-place position.
Read more about Petro Poroshenko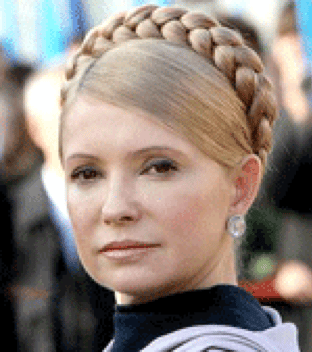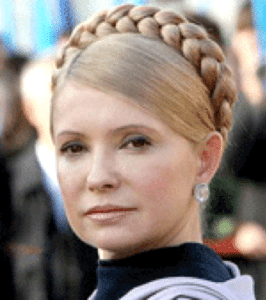 Yulia Tymoshenko
Yulia Tymoshenko is the leader All-Ukrainian Union "Batkivshchyna" (Fatherland) Party. Although it currently controls only about 4% of the Rada, this party was once one of Ukraine's strongest and may be set for a comeback, as Tymoshenko is the frontrunner for the 2019 presidential elections.
After narrowly losing the 2010 presidential election to Victor Yanukovych, she was tried and convicted of abuse of office for her role in negotiating a "disadvantageous" agreement for the delivery of natural gas from Russia. Jailed for several years, and suffering from chronic back problems, Tymoshenko's political standing slid as her party fractured. Freed after the Euromaidan Revolution, she has since worked to rebuild her political empire.
Tymoshenko is a populist politician known for creating wide coalitions. She made a fortune in Ukraine's energy sector in the 90's and entered politics then as well. She has been a parliamentary deputy, Head of the Parliamentary Budget Committee, Deputy Prime Minister for Fuel and Energy, and was twice Prime Minister.
In the protests of 2013, she undertook a hunger strike from prison in a show of solidarity with the protestors.
She was freed when Yanukovych left office. She ran in the May 2014 presidential election, coming in a distant second with 12.81% of the vote.
Her political star is beginning to rise again, however. As of January 2019, Tymoshenko is polling at 19.3% among decided voters, making her the frontrunner for the 2019 presidential election.
Tymoshenko is campaigning on boosting social programs and battling corruption. She uses nationalist / patriotic rhetoric and strongly supports Ukraine's ascension to the EU and NATO. She argues that the conflict in the Ukraine's east must be negotiated with Russia, not the separatist regions themselves because they are only "marionettes" of the Kremlin. To Tymoshenko, the only way to end the conflict is to unite the Ukrainian people "through love" although she has been associated before with particularly harsh rhetoric against Russians, including minority Russians inside Ukraine.
Read more about Tymoshenko and Batkivshchyna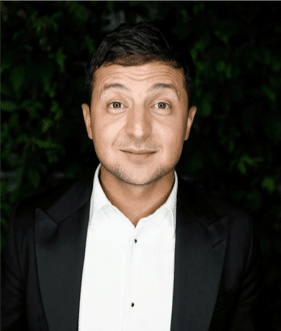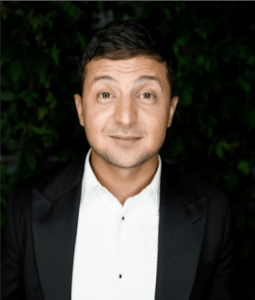 Volodymyr Zelensky
Volodymyr Zelensky is a Ukrainian actor, screenwriter, and art-director who is a candidate for the Ukrainian presidency in the 2019 election. Originally from the Dnipropetrovsk region, Zelensky is campaigning on ideas of direct democracy and that individuals with no prior political experience will best help Ukraine as opposed to individuals who have become intertwined in the bureaucracy of the Ukrainian state.
Zelensky began his career with Studio 95 in the late 90s, doing mostly sketch comedy. The studio later branched out to other projects and in the mid-2000s,  it released a television series and subsequent film called Servant of the People. Both told the fictional story of a history teacher whose rant about politicians went viral and who subsequently became president of Ukraine.
In March 2018, Studio Quarter 95's lawyer, Ivan Bakanov, registered a new populist political party of the same name, of which Zelensky claimed to be an active member.
In September 2018, in an unofficial poll, 6.7% of voters said they would vote for Zelensky if he ran in the 2019 presidential election. Zelensky officially announced his candidacy on New Year's Eve on the 1+1 channel, the same channel that aired Servant of the People. The station is owned by oligarch Ihor Kolomoyskyi (see below).
Zelensky is running on a populist platform; he portrays himself as different from the "exhausted" post-Soviet politicians that have "plagued" Ukraine for decades. He refuses to write a "manifesto" of promises that cannot be kept as politicians have done in the past. Instead, he has asked the Ukrainian people to tell him what problems they deem most important and plans to crowdsource solutions to these problems. Zelensky seems to be running on the idea of direct democracy and continuously points to the differences between himself and his opponents in his being willing to really listen to the people.
Currently polling at 12.9% of decided voters, Zelensky is now in second place, just behind front runner Yulia Tymoshenko, for the presidency of Ukraine.
Yuriy Boiko
Yuriy Boiko is running for President with the pro-Russia For Life movement.
Boiko is originally from Donetsk, which is currently part of separatist-held areas. Educated as a chemical engineer and an economist, he worked in Ukraine's chemical plants and once headed Naftogaz, Ukraine's state-owned natural gas company.
Under Yanukovych, Boiko served as Minister of Fuel and Energy, Minister of Energy and Coal Industry, and, at the time of the Euromaidan revolution in 2014, was Vice Prime Minister overseeing ecology, natural resources, energy, coal industry, industrial policy, and the space sector.
He was Chairman of the Republican Party of Ukraine, which merged with the Party of Regions. He was expelled from the latter in 2014 when he refused to support the party's presidential nominee. He then headed the pro-Russia and EU-skeptic Opposition Bloc, but was expelled in 2018 for "betraying the interests of voters," perhaps for signing legislation recognizing Luhansk and Donetsk as inseparably Ukrainian. He has since joined the more moderate For Life movement, which has nominated him for the 2019 presidential elections.
Boiko is a controversial figure and has been accused of corruption and spreading "anti-Ukraine propaganda." He started a fist fight with fellow presidential candidate Oleh Lyashko, after being accused of being a "Kremlin agent."
Polling at 11.6% of the decided national vote, he is currently in third place. Boiko is running on a program to reestablish Russian as a state language, simplify and automate state services (to curb corruption), and to develop trade and contacts with both Russia and the EU. Boiko supports the Moscow Patriarchy in Ukraine and, while he was a signatory of a Ukrainian law recognizing the separatist regions as part of Ukraine, he is expected to deal with the peace process by negotiating the return of the provinces to Ukraine rather than through war.

Oleh Lyashko
Oleh Lyashko is the leader of Ukraine's Radical Party.
A former journalist, Lyashko entered politics in 2006, when he was elected a parliamentary deputy with Bloc Yulia Tymoshenko. He was expelled from the BYT in 2010 after a video was released purporting to show him discussing a homosexual affair he had. Lyashko claims that the video was doctored and that he is straight. Lyashko was returned to parliament in 2011, this time as the leader of the Radicals.
Lyashko is fiercely anti-Russian and has gained notoriety for taking the law into his own hands. He and members of his armed volunteer battalion have threatened, attacked, and detained those they claim support the separatists or who have not fully supported Ukraine. They and Lyashko have also shared videos of their activities on social media, despite the fact that many of their activities are likely illegal. Amnesty International has condemned Lyashko's violence and called for an investigation into his actions, but the politician has suffered no consequences in Ukraine.
Oleh Lyashko ran for president in May 2014 and received 8.32% of the vote, putting him in third place. His party received 22 seats in the parliamentary elections later that year.
A bit more popular in the current election with 9.1% of the decided national vote, Lyashko is running on a program that promises expanded social programs, funded via special taxes on oligarchs (although Lyashko has close associations with many oligarchs). He would work to make Ukraine a nuclear power again and pledges to end the Donbass conflict with force.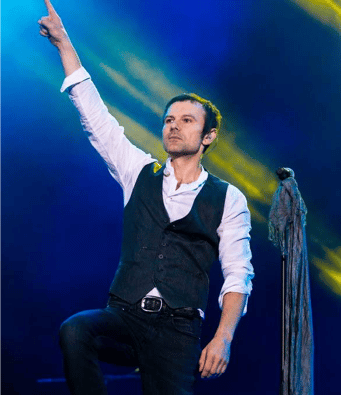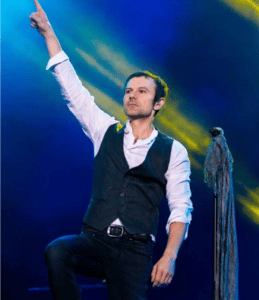 Svyatoslav Vakarchuk
Svyatoslav Vakarchuk is the lead vocalist of Okean Elzy, the most successful post-Soviet rock band in Ukraine. Born to two physics professors, Vakarchuk earned a PhD in supersymmetry, but formed and played in Okean Elzy throughout his time at university.
In the 2007 parliamentary election, Vakarchuk appeared as an independent candidate on the Our Ukraine-People's Self-Defense Bloc list and became a member of the parliamentary committee for freedom of speech questions in the Verkhovna Rada. During the 2008 political crisis in Ukraine, Vakarchuk renounced his seat in the Rada due to frustration with "the level of mutual fights, at the absurd Hobbesian world of all against all, rather than changing the country for the better."
He returned to music for the next five years until the Euromaidan protests, which he actively supported. Okean Elzy even gave a free concert on the Maidan.
In 2015, he took part in the Yale World Fellows International Fellowship program at Yale University, which is world renowned program that aims to train future world leaders. When asked about his intentions, Vakarchuk claimed that he had no political aspirations. But in 2018 he began attending Stanford University as a "visiting scholar" focusing on politics and leadership.
Opinion polls showed him gaining a potential 3–7% of the vote if he ran. He announced on his Facebook page on Jan 27 that he would not run, but would be active in the upcoming parlimentary vote, meaning that he plans to now use his sway with young voters as an anti-establishment figure to influence Ukrainian politics on a practical level.

Petro Symonenko
Petro Symonenko is First Secretary of the Central Committee of the renewed Communist Party in Ukraine.
Symonenko was trained as a mining engineer in Dontetsk, now part of separatist-held areas. Symonenko worked as an instructor for the Komsomol, officially joined the Communist Party in 1978 and worked as the Central Committee's Secretary for Ukraine's Komsomol from 1982-1988.
When Ukraine became an independent state, the government banned the Communist Party. In 1993, that ban was ruled unconstitutional, and Symonenko helped renew the Party and was elected First Secretary (a position he has occupied ever since). He was then elected to the Verkhovna Rada. He also ran for president in 1999, gaining second place with 22.2% in the first round of voting. However, he ultimately lost to Kuchma after taking just 38.8% in the second round.
The Communists and Symonenko have lost support over the years. This culminated in July 2014, shortly after the Euromaidan Revolution, when, as allies of the Party of Regions, they were expelled from the Rada. Before that, they controlled about 5% of the Rada. They have appealed the action by the Ukrainian state with the European Court for Human Rights. That same year, Symonenko ran for president again, but received less than 2% of the vote.
The party plans to participate in the 2019 parliamentary elections and Symonenko is again running for president. However, they may be expelled again after Symonenko's apartment was raided and he was questioned by the Security Service of Ukraine (SBU) on charges of advocating a violent overthrow of the constitutional order and a seizure of state  power. His current share of the decided vote in Ukraine is negligible.
The Communist Party supports making Russian a state language for Ukraine and supports the Russia-led Customs Union. As vocal opponents of Ukraine's military actions in the east, they have been accused of supporting Russia's annexation of Crimea and supporting the separatists in Donbas.
Selected Other Political Players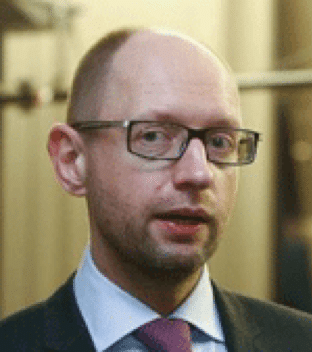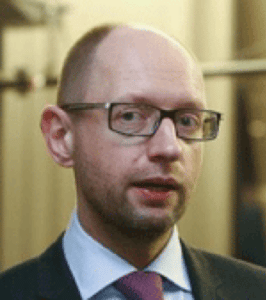 Arseniy Yatsenyuk
Arseniy Yatsenyuk was Ukraine's Prime Minister from February 2014 – April 2016. Previously the leader of the All-Ukrainian Union "Fatherland" (Batkivshchyna) party, Yatsenyuk and Parliament Chairman Oleksandr Turchynov founded a new party, The People's Front, in September 2014.
Yatsenyuk is a former lawyer and economist from Chernivtsi in western Ukraine. Yatsenyuk held a number of political positions starting in the early 2000s, including Minister of Economy for Crimea, President of the National Bank of Ukraine, Vice Governor of the Odessa Oblast, Foreign Minister, Minister of the Economy, and Chairman of the Parliament. Most of these he held for only a few months.
Originally a member of Yushchenko's Our Ukraine party, he then attempted to form his own and ran in the 2010 presidential election. His platform was very similar to Yushchenko's, and he won 7% of the vote, just slightly more than Yushchenko.
After the election, he was offered the nomination by President Yanukovych for the post of Prime Minister. He instead joined Tymoshenko's Fatherland Party and, after Tymoshenko's imprisonment in 2013, headed the party.
After the Euromaidan Revolution, he became Prime Minister and signed the political portion of the EU Association Agreement before Poroshenko's election.
For 2014 parliamentary elections, he broke with Fatherland and formed his own party, the People's Front, which was very similar to Fatherland. He gained 82 seats in the Parliament, far outpacing Tymoshenko.
He remained in power until April, 2016, when President Poroshenko asked Yatsenyuk to resign amid popular discontent against the government.
Since his resignation, Yatsenyuk continues to lead his party and influence the Rada. He has claimed that he intends to run in the next election, but will not run in 2019 to "[give] a chance to Petro Poroshenko to be re-elected."  Yatsenyuk has continued to support joining the EU, and sought NATO membership for Ukraine.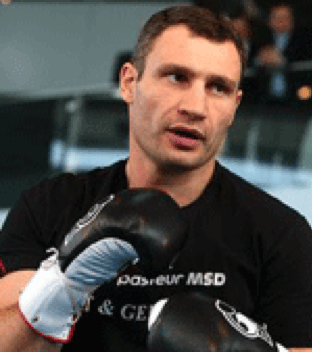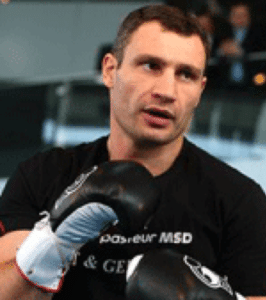 Vitali Klitschko
Vitali Klitschko is the mayor of Kyiv and leads the Bloc of Petro Poroshenko.  
A former world heavyweight boxing champion, Klitschko's first foray into Ukrainian politics came during the 2006 Kyivan mayoral campaign. Klitschko lost with 26% of the vote but was later elected to Kyiv's city council.
In 2010, Klitschko became the party leader of New Country. The party, however, changed its name to Ukrainian Democratic Alliance for Reform, or UDAR to capitalize on Klitschko's reputation as a boxer. After winning around 400 seats in municipalities and oblasts in the 2010 local elections. Later, UDAR won 40 parliamentary seats in the 2012 elections. Billing themselves as government outsiders, UDAR pledged to fight corruption, reduce the size of the government, and push for alliances with the European Union.
A major Euromaidan participant, ran for president in 2014. He was polling in second place before dropping out to merge his party with Poroshenko's and take over the leadership of the Bloc of Petro Poroshenko.
Soon after, Klitschko ran for mayor of Kyiv, with the promise of making it a more European city, and won with almost 57% of the vote. He was reelected in 2015 with 66.5% (and then 40.5% of the vote in the second round of voting against Boryslav Bereza). Due to a 2016 law that bars the head of an administration from being chairman or member of a political party. Klitschko resigned from the Petro Poroshenko Bloc chairmanship in May 2016. As of 2018, Klitschko is still mayor of Kyiv and advocates for EU and NATO association agreements and later membership for Ukraine.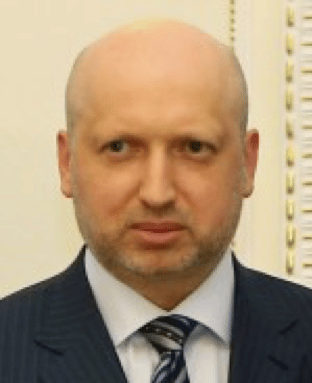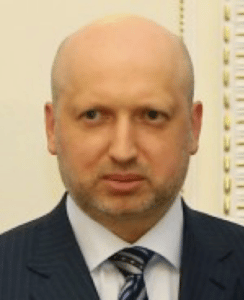 Oleksandr Turchynov
Oleksandr Turchynov is the Secretary of the National Security and Defense Council of Ukraine
A native of Dnipropetrovsk in eastern Ukraine and a devout Baptist, Turchynov became the economic aid to the Prime Minister – and future president – Leonid Kuchma in 1993. Later that year, he helped found the Hromada Party and, later, the Batkivshchyna Party. He helped run Yushchenko's 2004 presidential campaign and then briefly directed the Security Service of Ukraine as its first civilian head. A long-time ally of Yulia Tymoshenko, he was the First Deputy of the All-Ukrainian Union "Batkivshchyna" (Fatherland), managing the day-to-day operations of the party while its leader, Yulia Tymoshenko, served her prison term.
Turchynov was involved in organizing Euromaidan protests. He was elected by the Rada as the parliament's speaker in 2014, and was appointed acting president the following day. His presidency witnessed Crimea's succession to Russia and referendums on independence in eastern Ukraine. His tenure as acting president ended on June 7, when Poroshenko was sworn in after the elections.
In September 2014, Turchynov co-founded the People's Front party with Prime Minister Yatsenyuk, another former leader of Batkivshchyna.
Turchynov was elected the party's faction leader in November 2014 and Poroshenko appointed him as Secretary of the National Security and Defense Council of Ukraine the following month.
Surrounded by controversy, but continuing to maintain his position, Turchynov is currently in the midst of defending himself against accusations that he stole $800 million dollars from the state budget and placed it in an offshore account during the tenure of ousted president, Viktor Yanukovych.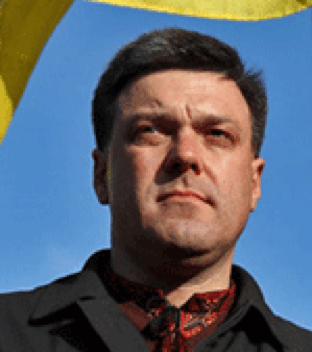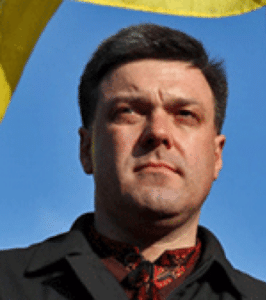 Oleh Tyahnybok
Oleh Tyahnybok leads the Svoboda All-Ukrainian Union, a nationalist, right wing party that was originally restricted to only ethnic Ukrainians.
Tyahnybok first became politically active in 1991 when he joined the Social-National Party of Ukraine (SNPU). The party was renamed "Svoboda" in 2004.
Tyahnybok was elected to the Lviv Oblast Council shortly after earning a degree in surgery from the Lviv Medical Institute in 1993. In 1998, he was became a parliamentary deputy with SNPU, where he supported the anti-Kuchma efforts in 2002 and Viktor Yushchenko's presidential campaign.
In 2004, Svoboda was kicked out of the Yushchenko bloc for Tyahnybok's anti-semitic comments. While Tyahnybok continues to be accused of racism and xenophobia, he asserts that he and his party are "not against anyone," but "for [them]selves."
Svoboda's star may have peaked in 2012 when they were the third largest party in parliament and were highly influential in the 2014 Revolution. Since then, their share of parliamentary seats has fallen to about 1%. Tyahnybok ran in the 2014 presidential elections, but claimed only 1.16% of the vote.
Tyahnybok and Svoboda are anti-Russian and anti-Communist, and in favor of NATO and EU ascension for Ukraine. They opposed the adoption of Russian as Ukraine's second official state language.
Tyahnybok continues to lead Svoboda, but in November 2018, the party, alongside other Ukrainian nationalist political organizations, endorsed Ruslan Koshulynskyi, a deputy leader for Svoboda, as their candidate in the 2019 Ukrainian Presidential Election. He is currently polling at around 1%.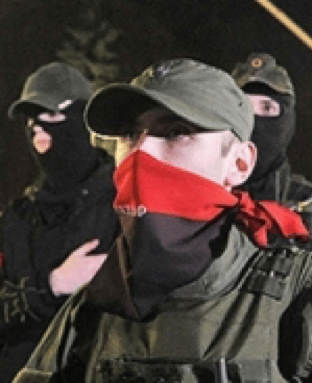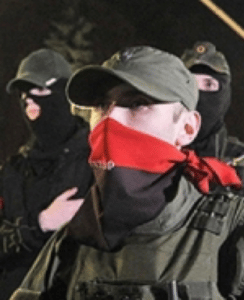 The Pravyi Sektor
The Pravyi Sektor (Right Sector) is a Ukrainian nationalist political party that has gotten a lot of media attention.
The group was established in November 2013 as a confederation of paramilitary groups known for coordinated attacks against the riot police in the Euromaidan protests. They would strike quickly and then disperse quickly into the crowd, making them hard to catch. After the revolution, members of Pravyi Sektor patrolled the streets of Kyiv wielding baseball bats and guns.
Pravyi Sektor became a political party in March 2014. It had an estimated membership of about 10,000 people at that time, merged from several far-right nationalist groups. Pravyi Sektor has been characterized often as fascist and neo-Nazi. Claims of the party's attacks on Russian speakers and Jews were used by the Kremlin as justification for sending troops into Crimea.
Despite the coverage, Pravyi Sektor has not fared well politically since the Revolution. The party's leader, Dmytro Yarosh, was passed over by the interim government for any major appointment. Oleksandr Muzychko, a party leader in the west, was shot and killed in a clash with security forces in 2014. Yarosh received only 1% of the vote in the 2014 presidential elections. In 2015, Ukrainian government forces clashed with Pravyi Sektor forces over an illegal cigarette smuggling ring based in the western city of Mukacheve, resulting in the deaths of two people.
In 2015, Yarosh resigned from the party and formed a new political party called the Governmental Initiative of Yarosh. His departure was followed by an exodus of about 20% of party members. However, the new leader, Andriy Tarasenko, promised in March 2016 that the party would participate in all elections.
In November 2018, along with many other right-wing parties, Pravyi Sektor endorsed Ruslan Koshulynskyi, a deputy leader for Svoboda, as their candidate in the 2019 Ukrainian Presidential Election. He is currently polling at around 1%.
While the party uses anti-Russian rhetoric and rejects the Customs Union, Pravyi Sektor also opposes joining the European Union. The party considers both Russia and the EU oppressive powers, and advocates building a new Ukrainian state, while looking to socially conservative areas of Europe as models for the future.
The Oligarchs

Sergei Tigipko
Sergei Tigipko is the leader of the Strong Ukraine party and is Ukraine's 9th richest citizen, with a net worth of $1.2 billion, according to Forbes.
Tigipko is a politician and finance specialist who has been involved in Ukraine's monetary policy since shortly after the collapse of the Soviet Union. Born in the Moldovan SSR, he studied finance in Dnipropetrovsk in the east of the Ukrainian SSR. He joined the Komsomol in the 80s and became regional First Secretary soon after. Shortly after the fall of the USSR, Tigipko became manager of Privatbank. Privat quickly became one of Eastern Europe's largest banking institutions and Tigipko, a major shareholder.
Starting in 1996, Tigipko consulted President Kuchma on monetary policy, and helped to launch the hryvnia. Tigipko sold his Privat shares to avoid a conflict of interest shortly before becoming Minister of the Economy from 1997 to 1999 and Governor of the National Bank of Ukraine from 2002 to 2004. He also lead the Labor Ukraine party and represented that party in the Rada.
After chairing Viktor Yanukovych's 2004 presidential election, Tigipko left politics and returned to banking. After 5 years, he sold his new banking project for nearly $1 billion and returned to the political arena as the leader of Strong Ukraine. Tigipko ran as an underdog presidential candidate (despite his extensive political experience) in 2010 and received 13% of the vote, taking a strong third place in the first round and earning himself an exceptionally strong spotlight as both Yanukovych and Tymoshenko, lobbied for his endorsement in round two.
Tigipko said he would take the Prime Minister position were it offered. In the end, Tigipko gave no endorsement, but as his platform had been much closer to Yanukovych's, it is unlikely that many of his voters went to Tymoshenko.
After the election, Sergiy Tigipko was made Vice Prime Minister of Social Policy of Ukraine. In 2012, Tigipko's party, Strong Ukraine, merged with the Party of Regions, and Tigipko was elected to that party's board of directors.
Before the Euromaidan Revolution, Tigipko actively pushed for a national referendum on the issue of whether to favor EU integration or integration with the Russia-led Customs Union. However, he also argued that Ukraine should cooperate with both entities and that Ukrainian legislation mandated that Ukraine would strive for EU integration.
Tigipko left the Party of Regions with his Strong Ukraine faction in April 2014 after being denied the candidacy for president. He ran as an independent, condemning Russian and separatist aggression as well as supporting efforts to make Russian a second state language. He received 5.23% of the vote. In August 2014, Tigipko was elected leader of the reestablished Strong Ukraine political party, but the party failed to cross the 5% threshold to enter the next parliment.
In May 2015, Tigipko was appointed head of the supervisory council of TAScombank, a bank in which he holds a 49% stake. He then bought Russian Sberbank's Ukrainian subsidiary in December 2017, as that company left the Ukrainian market under political pressure. He merged the two banks. He remains a political figure in Ukraine, but currently seems focused on his investments in agriculture, energy, finance, and machine building.
Rinat Akhmetov is Ukraine's richest man.
A businessman from Donetsk, Forbes estimates his net worth at $4.7 billion, concentrated in  heavy industry, metallurgy, and coal mines, all of which had received heavy subsidies from Yanukovych. Akhmetov is president of the System Capital Management (SCM) holding company and owner of professional football club Shakhtar Donetsk.
Akhmetov was a financial supporter of the Yanukovych regime. Opponents of that regime say that it was this financial connection that led the state to drop charges in murder and organized crime investigations against Akmetov in 2006. Akhmetov was a member of the Rada from 2006 to 2012. He was targeted with protests during Euromaidan and has been accused of funding separatists in Donetsk. He denies this.
Akhmetov was slow to express support for the new government or condemn the separatists. This changed after deadly fighting in May 2014 incited thousands of civilians, including many of his factory workers, to flee the region. After separatists declared independence, Akhmetov called on his workers to resist the separatists, and financed a worker patrol.
In August 2014, his Foundation for Development of Ukraine began a new project called Humanitarian Aid Drives which regularly delivered food and children's packages to the Donbas. The project has delivered more than 10 million food packages.
In March 2017, protesters attacked Akhmetov's offices in Russian-controlled areas. Throughout the Donbas, separatists have taken control of companies owned by the energy conglomerate DTEK and Metinvest steel company, both of which are owned by Akhmetov. He continues to advocate for a swift and peaceful solution to the conflict.
Ihor Kolomoyskyi is former governor of Dnepropetrovsk Oblast and one of Ukraine's richest men.
He is the co-founder of Pryvatbank, which Sergei Tigipko helped make one of Eastern Europe's largest. Forbes ranks Kolomoyskyi's fortune at $1.1 billion, down from $3 billion before the 2014 financial crisis. Kolomoyskyi is a leading member of Privat Group, a business group that controls companies worldwide. He is also the chairman of the football club Dnipro Dnipropetrovsk, owner of the TV channel 1+1, and shareholder in several airlines.
Kolomoyskyi has long made use of political connections for economic gain. Deals with former Prime Minister Pavlo Lazarenko and former president Viktor Yanukovych kept him at the center of the oil industry in Ukraine. A long-time Tymoshenko supporter and financer, he reportedly came under pressure from the authorities in 2010 and withheld his support for her during the presidential election that year.
Kolomoyskyi's staunch nationalism has earned him support in Ukraine. He was appointed governor of Dnepropetrovsk Oblast by interim President Turchynov, himself from Dnepropetrovsk, in March 2014. Dnepropetrovsk was considered especially strategic at that time, as it lies in east-central Ukraine, borders Donetsk and Luhkansk, has a significant ethnic Russian population (about 23%), and would be crucial if the separatists attempted to take over all southern Ukraine or press ahead to Kyiv.
Kolomoyskyi has consistently supported a united Ukraine, both verbally and financially. He funded car batteries for the Ukrainian military in March 2014 and has offered rewards from his own fortune for the capture of separatist leaders. He also merged a private security company he owns with the Ukrainian military, effectively financing a group of soldiers within the national fighting forces.
Kolomoyskyi did not get along with President Poroshenko, however, and the two feuded. In 2015, Poroshenko signed a decree removing Kolomoyskyi from power. Kolomovskyi has since lost control of two of his biggest assests: Ukrnaft and PrivatBank, the later nationalized after a massive scandal.
Kolomoyskyi was allowed to retire in style, however, throwing a massive farewell party first. He then received residence in Switzerland and the United States. In July 2016 Kolomoyskyi filed a complaint to the Permanent Court of Arbitration against Russia saying that they were violating his right to operate a passenger airport in Crimea. Simultaneously, Russia opened a criminal case against Kolomoyskyi, accusing him of organizing civilian murders and the use of prohibited methods of warfare. In addition, in 2016, a criminal case was opened against Kolomoyskyi and Gennadiy Bogolyubov over the purchase of a Ukrainian mining company; the accusations say that the two defendants murdered and bribed individuals in order to complete the sale. The results of this case have yet to be determined. Kolomoyskyi is believed to be funding both Tymoshenko and Zelensky in the 2019 elections in an attempt to make sure that Poroshenko is unseated.
Dmytro Firtash
Dmytro Firtash is a powerful Ukrainian businessman and philanthropist. He maintained close ties with the Yanukovych government and continues to have close ties with the Poroshenko administration.
Forbes values Firtash's wealth at about $500 million. Firtash earned his fortune in the telecommunications and energy sectors and owns the TV channel Inter TV. Arrested in March 2014 on bribery charges from the United States, Firtash was released on bail and is currently in Austria, fighting extradition to the US. He played an influential role from abroad during the Euromaidan Revolution and afterwards, lending his channel's support to Poroshenko leading up to the election, perhaps in hopes of receiving future help fighting his extradition, and using his channel against his rival, Ihor Kolomoyskyi. Poroshenko and fellow presidential candidate Vitali Klitschko met with Firtash in Austria before the election, after which Klitschko dropped out of the race, lending his support to Poroshenko.
In 2016, Spain also issued a warrant for Firtash's arrest on charges similar to that of the United States and he was arrested in February 2017. Viennese courts argued that Spanish accusations did not have enough evidence to detain Firtash and released him, only to re-arrest him hours later under the US extradition request.
In September 2017, Firtash's problems increased when the Deputy Prosecutor General of Ukraine said that Firtash's return to Ukraine was "an unrealistic event" and argued that Ukraine should not get involved. Anti-corruption groups, such as Human Rights Watch, suggested that Firtash be placed on the Magnitsky List and sanctioned by the US government for his actions.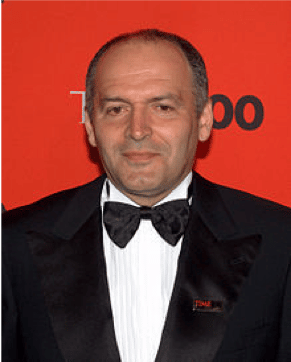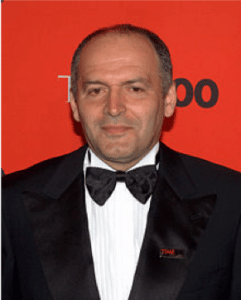 Victor Pinchuk
Victor Pinchuk is a Ukrainian businessman and philanthropist who served as a member of the Verkhovna Rada for two terms from 1998-2006.
Forbes ranks Pinchuk's fortune at $1.4 billion. He earned his wealth from beginning both EastOne Group LLC, an international investing, funding, and financial advisory company based in London, and Interpipe Group, one of the leading pipe, wheel, and steel producers of Ukraine. He also owns four television channels and a popular Russian-language, Kyiv-based tabloid, Facts and Commentary.
He was a member of the Verkhovna Rada between 1998-2006 for the Labor Ukraine party. But in 2006 he left politics after realizing that his business and politics should remain separate. Despite his official departure from politics, Pinchuk is rumored to have ties to the current politics of Ukraine. Similar to his unofficial political connection when his father-in-law, Leonid Kuchma, was president, Pinchuk is rumored to be funding Svyatoslav Vakarchuk's political aspirations on the eve of the upcoming presidential election.
And a few additional names…  
Victor Yushchenko is a former President of Ukraine and a former leader of the Orange Revolution that shook Victor Yanukovych from power in 2005. However, by the time of the 2010 presidential election, his approval rating had slipped into the single digits. He had also had several confrontations with his former ally, Yulia Tymoshenko, who had been instrumental in helping him land the presidency as part of the Orange Coalition. While he still appears occasionally as a political commentator, he is now a marginal player at best in Ukrainian politics.
FEMEN is an international feminist protest group founded in Ukraine. Asserting that the female body should be a symbol of strength, they often hold protests topless. Founded by former show business professional Anna Hutsol, the group started out protesting sex tourism, prostitution, and pornography. They now protest "patriarchy in all its forms," targeting especially conservative politicians and religions. They now have branches in seven countries and regularly gain international press coverage.
Patriarch Filaret  was excommunicated by the Russian Orthodox Church in 1997 for his work to create an independent Ukrainian Orthodox Church. Filaret actively involves himself in political issues. He urged the release of Yulia Tymoshenko during Yanukovych's presidency, while also working closely with Yanukovych on other matters. In the midst of heightened Russian intervention in Ukraine in September 2014, Filaret likened Putin to Cain in a blog post. He repeated very similar sentiments after the Kerch Strait incident in late November 2018. Filaret was replaced as head of the church after its merger into the Orthodox Church of Ukraine in December 2018. However, he remains "honorary patriarch" and continues to refer to himself as "patriarch." The new head of the church has retained his former title of "metropolitan," which has traditionally been a title below patriarch. Filaret remains active and vocal in the church and in politics.
Major Leaders Displaced by the Euromaidan Revolution
Viktor Yanukovych
Viktor Yanukovych was twice Ukraine's President. A former engineer and director at a number of state-owned transportation companies, he began his political career in the Eastern region of Donetsk, presiding over a growing economy in the industrial region. Ultimately, he was appointed Governor by then-President Kuchma. In 2000, Yanukovych helped found the Party of Regions, of which he ultimately became the leader in 2003.
Viktor Yanukovych served as Prime Minister under President Kuchma from 2002-2005, during a time of steady economic growth for Ukraine. In 2004, Yanukovych ran for president as the Party of Region's candidate. Though he was declared the winner, allegations of fraud led to the Orange Revolution and a subsequent reelection, which he lost to his opponent, Viktor Yushchenko.
Despite the setback, Yanukovych retained control of the powerful Party of Regions and retained a solid base of support concentrated in eastern Ukraine. Yanukovych guided the party as an opposition force against the dominant Yulia Tymoshenko Bloc in the Verkhovna Rada. He gained political capital as an opposition force as Ukraine's economy took turns for the worse after the Orange Revolution and particularly after the 2008 financial crisis. He regained the presidency in 2010, in what was roundly decreed a free and fair election.
Yanukovych stepped down as leader of the Party of Regions to comply with Ukraine's election laws which state that a presidential candidate may not be the leader of a political party. He was succeeded by his long-term ally Mykola Azarov, who became his Prime Minister after Yanukovych won the election.
Following the 2010 election, Yanukovych consolidated power. His main rival, Yulia Tymoshenko, was jailed for her role in negotiating a "disadvantageous" agreement for Russian gas. Tymoshenko's supporters, including many leading politicians in the European Union, assert that the prosecution was politically motivated. The Party of Regions also passed electoral reforms barring anyone who has lived and paid taxes in another country from running for president. This disqualified Vitali Klitschko, leader of the Udar party and widely considered Yanukovych's second most likely challenger in the next presidential race.
Yanukovych was one of Ukraine's most Russia-friendly politicians. However, he also steered a careful course between Russia and the EU, two of Ukraine's biggest trading partners. He suggested that Ukraine act as a bridge between Russia and the EU by hosting tripartite talks, although neither Russia nor the EU expressed much interest in the proposal. Yanukovych resisted calls by Russia to join the Russia-led  Customs Union, which boosted confidence that his country might sign a free trade deal with the EU in 2013. When Ukraine declared that it would postpone the deal, citing the costs needed to reform the Ukraine's economy and legislation, many in the EU and many pro-EU Ukrainians accused Yanukovych of having caved to Russian pressure. Protests erupted in Ukraine, calling for Yanukovych's resignation and for Ukraine to sign the deal. These protests grew massively large after early protests met with force used by Ukraine's riot police. The protests eventually grew into the Maidan Revolution, which eventually saw Yanukovych from power for a second time.
Yanukovych fled Ukraine in February 2014. He has lived in Russia ever since. Ukraine has issued an arrest warrant for him, charging him with mass murder in connection with violence used against Euromaidan protestors. Over the years, he continues to claim that he would like to return to Ukrainian politics and refuses to apply for Russian citizenship. He renews his asylum request every year until "it is safe for [him] and [his] family to return."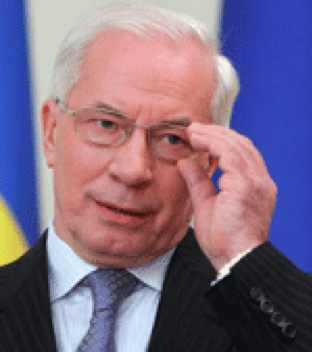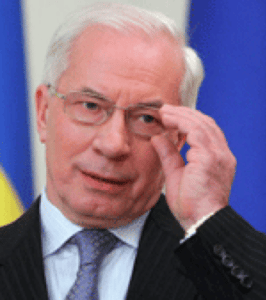 Mykola Azarov
Mykola Azarov was Ukraine's Prime Minister and was leader of the Party of Regions, then Ukraine's most powerful political party with 46% of the Rada seats.
Azarov, born in the Russian SSR (in the USSR), is known primarily as a successful technocrat. Like Victor Yanukovych, Azarov began his career in Donetsk, where he rose to lead the Ukrainian State Geological Institute in the late 80s and early 90s. Mykola Azarov served as head of the State Tax Administration under President Kuchma from 1996 until 2002. He also served as Minister of Finance and Deputy Prime Minister in Yanukovych's tenure in the premiership. He was Prime Minister from 2010 to 2014.
During his time as Minister of Finance, Azarov was credited for handling many difficult financial situations for Ukraine. For instance, during the Orange Revolution, confidence in the hryvnia, Ukrainian's currency, was shaken. Yet, Azarov was able to keep the state's finances in check, preventing a massive depreciation in the value of the hryvnia, while also briefly stepping in to serve as Prime Minister in Yanukovych's absence.
Azarov was an early member of the Party of Regions. He was its first head, elected in 2001 in what he described would be a temporary post, and was succeed by Yanukovych in 2003. He has long been an ally of President Yanukovych.
Azarov's command of the Ukrainian language is poor, and he received much criticism for this. He was attacked at home and internationally for stating that women do not serve in his administration because "Reforms do not fall into a woman's competence."
On 28 January 2014, amid the Euromaidan protests, Azarov resigned from his post as Prime Minister and fled the country. He currently resides in Russia and, in August 2015, announced the Ukraine Salvation Committee. This is an organization setup outside of Ukraine that seeks to have "all citizens, political parties, labor unions and social movements to unite and restore order in our home by joint efforts" through changing Ukraine's leadership. One Russian media outlet refers to the organization as "Ukraine's government in exile." Azarov refused to name all members of the organization because some still live in Ukraine and he argued that it would put their lives in danger.
Also in 2015, Interpol issued a Red Notice against Azarov, Yanukovych, and former Minister of Finance Yuriy Kolobov on charges of "misappropriation, embezzlement or conversion of property by malversation, if committed in respect of an especially gross amount, or by an organized group."

Serhiy Arbuzov
Serhiy Arbuzov was First Vice Prime Minster of Ukraine and formerly served two years as the Chairman of The National Bank of Ukraine.
Arbuzov is originally from President Yanukovych's home of Donetsk and was educated as an economist. Before entering the political realm, Arbuzov worked at Sergei Tigipko's Pryvatbank in the early 2000s and then went on to work with several other banks including the All-Ukrainian Bank of Development, UkrEximBank, and Ukrainian Business Bank.
He entered politics as a member of Viktor Yushchenko's Our Ukraine, but after a failed parliamentary election, he has since gone officially unaffiliated, but has worked closely with the Yanukovych government. In late 2010, Arbuzov became Chairman of the National Bank of Ukraine under Yanukovych. He was just 35 at the time of his appointment, making him one of the world's youngest central bankers.
Under his direction, the state continued to inject cash into the Ukrainian economy, supported the nation's currency's exchange rate, and helped boost Ukraine's slowing economy prior to the next parliamentary elections. In December 2012, Arbuzov was appointed as Vice Prime Minister of Ukraine by President Yanukovych.
Some speculated that Arbuzov was being groomed as a possible next Prime Minister and, later, a possible successor to Yanukovych. As is common for many who desire to gain prominence in post-Soviet Slavic politics, Arbuzov cultivated an image as an energetic, strong, and independent leader. He also avoided taking sides in the east/west debate, asserting that Ukraine should remain independent and work with all available partners.
With the expulsion of Yanukovych, however, Arbuzov's fall from power was quick and complete. He is currently on international wanted lists, accused by the current Ukrainian government for having abused his power as head of the Central Bank. He asserts the charges are political. His whereabouts are unknown.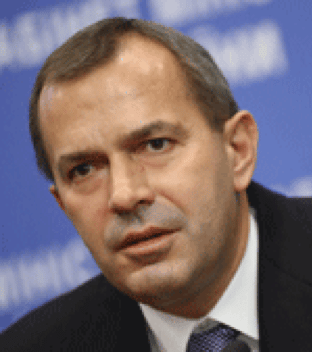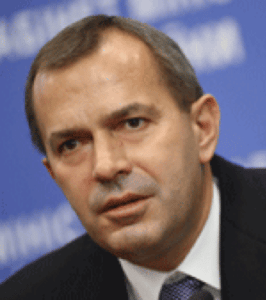 Andriy Klyuyev
Andriy Klyuyev was Secretary of the National Security and Defense Council of Ukraine. This council advises the Ukrainian president on matters of national security (both domestically and internationally) and coordinates and controls executive branch institutions implementing national security policy.
Klyuyev worked as both a miner and foreman before receiving his degree in mining engineering from the Donetsk Polytechnic Institute in 1986. In 1994, he left a research and mining career to become deputy chairman for the Donetsk Oblast Executive Council. It was there that he first connected with Viktor Yanukovych.
In 2001, Klyuyev was elected the deputy chairman of Yanukovych's Party of Regions and was elected to the Verkhovna Rada on the party's list. From there, he became the Vice Prime Minister for Fuel, Energy, and Nuclear Policy and Safety under Viktor Yanukovych. After Yanukovych's premiership ended, Klyuyev returned to his normal duties in the Verkhovna Rada and the Party of Regions. He was once again elected to parliament in 2006, where he served until Yanukovych won the presidency in 2010 and Klyuyev was tapped to lead the Ministry of Economic Development and Trade. He remained in that position until he was appointed Secretary of the National Security and Defense Council of Ukraine, ranked as one of Ukraine's most powerful government offices.
Klyuyev is currently charged with mass murder for his role in the security forces' use of violence during the Euromaidan Revolution. His whereabouts are currently unknown. He has a net worth of over $200 million, made by investing mostly in mining and mining equipment in Donetsk.