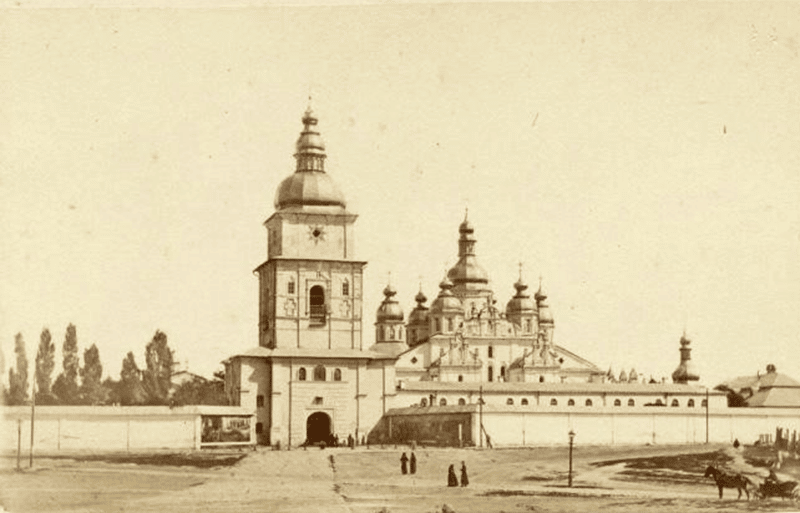 The following resource showcases many of the sites that we've come across over the years devoted to history, historical documents, or folklore that we felt were unique enough and useful enough to warrant special mention to scholars. This page is meant to complement our page on Russia-related archives. Your contributions and suggestions are welcome! Contact the author.
Each month the SRAS newsletter features news and information about study abroad in Eurasia and the study of Eurasia!
Table of Contents
Color Code:
Red links are to sites only in Russian.
Light-blue links have English available.
1. Ancient History and Folklore
Electronic Library of Russian Literature and Folklore is a very good resource for those subjects.
Folk.ru provides oral history and modern folklore from Russia.
The Ukrainian Folklore Project is an interesting site sponsored by the University of Alberta. Lots of info, pics, video footage and other multimedia presentations.
Gramoty.ru contains photographs and transcripts of all published Novgorod birchbark letters.
Obshezhitie.net is a site for those interested in early Slavonic manuscripts.
The World Academy of Rusyn Culture is an academic and charitable institution for the purpose of encouraging new work and preserving the Rusyn culture.
2. Official Document Focused
Annals of Communism presents selected documents concerning the history of Soviet and international communism from Russian state and party archives.
KGBDocuments.eu offers decades of previously highly classified documents from the former KGB headquarters in Latvia, Estonia, and Lithuania. They are now available online – with more planned to be available soon – in Russian and English.
Wilson Center's Digital Archive provides access to translated documents, many recently declassified, that pertain to the Cold War.
The Cold War International History Project has many other documents available on its site.
3. Photography/Image Focused
The Prokudin-Gorskii Photographic Record is a shockingly crisp collection of color photos from the last days of the Russian Empire.
Sovetskoe Foto was a photography journal in the USSR. All issues from 1926-1991 are available for free online.
RussianPhoto.ru offers over 70,000 photos from 1840-1999, searchable by year range and subject.
Stalinka is a scholarly-referenced collection of more than 500 images comprising representations of Stalin in various genres.
Pastvu.com offers hundreds of old photos of Moscow and St. Petersburg. Set the sliders for the date range you want and the interactive map will show you only those pictures within that range.
Savok offers hundreds of high quality photos of the USSR wtih free access.
Americans in the Land of Lenin gives 750 photographs of every-day life in the Soviet Union (1919-1921 and 1930) taken by Americans.
The Duke Library Russian Posters Collection consists of 75 Russian posters, documenting almost 60 years of Communist political advertising.
Soviet Power offers Soviet and Russian Army uniforms, hats, gas masks, medals, badges and other military surplus and historically accurate reproductions.
Moskva-Nostalgia is a collection of annotated Moscow photographs taken in the 70's and 80's.
AlexanderPalace.org hosts a virtual tour of 1900s Petersburg with lots of high-res photos and plates.
Mapping St. Petersburg gives perspectives on St. Petersburg history through clickable maps of the city.
Getty Images has hundreds of historical photos available for free online.
British Pathé offers a massive YouTube channel with free historic footage of many countries and events – including those in Russia, the USSR, Eastern and Central Europe, and more.
4. Social and Oral History Focused
The Harvard Project presents mostly interviews with Soviet refugees to the States – information on cultural, social, and economic conditions in the USSR in the early years of the Cold War.
Screening Socialism is all about television under Communism.
Soviet Life is a LiveJournal online group in which members reminisce about and discuss life in the USSR.
Communal Living in Russia has scores of photos, video and audio files, translated documents and essays, and more discussing the kommunalka, an important fixture of Soviet life.
5. The Gulag, Purges, and Political Terror
Gulag bibliography is a massive list of first-hand accounts of Gulag life.
Gulag: Many Days, Many Lives presents an in-depth look at life in the Gulag through original documentaries, documents and images, and teaching and bibliographic resources.
Mapping the Gulag is the first attempt to map, systematically, the changing geography of Russia's penal institutions over an eighty-year period from the 1930s to the present day.
Victims of Political Terror in the USSR is a vast list provided by the Russian NGO Memorial.  
6. Currency and Economy Focused
Berezka was a hard-currency store in the Soviet Union. It's 1975 catalogue is now online, showing what high-end food items would have cost at that time (requires signing up).
SovietWine.com offers consolidated pricelists used under the USSR for alcohol products.
Made in USSR is a resourse that documents a wide range of products made by the Soviet Union.
Measuringworth.com does not cover the ruble specifically, but does have some great tools for comparing the relative values of currencies going back to the Middle Ages. So, if you can find the relative value of the ruble for your specific time in dollars, pounds, or a precious metal, you can see how much that was actually worth at the time using this resource.
The Economic History Association runs a website that, while does not focus on Russia or Eurasia, does have a lot of good information on understanding economic history.
Average pay scales for the USSR can be found here and here.
Micro-Perspectives on 19th-century Russian Living Standards was prepared for the Social Science History Association and contains tons of price lists and anecdotal evidence on earnings and ruble value for that time frame.
Numbeo is a website that crowdsources information and provides extensive economic comparisons for the cost of living in locations around the world.
This article from Gazeta.ru documents the shortages faced by the USSR with considerable facts and figures given.
7. WWII (Great Patriotic War)
Russia's Great War and Revolution offers a range of scholarship on the subjects.
The Blavatnik Archive is dedicated to primary source materials that contribute to the study of 20th century Jewish and world history, with a special emphasis on World War I, World War II, and Soviet Russia.
OBD-Memorial is an all-Russian site serving as a common database on those who served in the Red Army during The Great Patriotic War (WWII).
Pobediteli.ru is a multimedia tribute to the Russia's participation in WWII (The Great Patriotic War).
Windows on War is a collection of digitized Soviet posters from WWII.
The Russian State Archive of Military History has a treasure trove of documents – although only in Russian.
8. Architecture and Engineering
Skyscraperpage offers lots of info on Russia's existing and planned skyscrapers.
Structurae is an expansive international database and gallery of structures. It provides pictures, info on date built, and often the architect, building materials, and more.
The Moscow Architecture Preservation Society (MAPS) provides news and updates on Moscow's historical buildings. Unfortunately, the website hasn't been active since late 2014.
Metro.ru provides pics, history and stats for the Moscow underground (subway) system and the fabled Metro-2 system.
Kotoroy.net provides histories and photographs of landmarks in Russia that are no more.
9. Other
Seventeen Moments in Soviet History presents articles and information about events in Soviet history, presented in timeline format.
Sibirica: Interdisciplinary Journal of Siberian Studies is a peer-reviewed interdisciplinary journal covering all aspects of the region and relations to neighboring areas, such as Central Asia, East Asia, and North America.
OnlinePrimarySources covers a range of issues and links to multiple sources.
Alib.ru is a Russian used-bookstore consolidator that often has out of print and hard to find books. You have to make sure the seller will ship to the US and communicate with them about the cost of shipping.
The First World War and Russian Literature is a site devoted to just that. It has an interactive timeline and information on works and authors.
The New Review is a Russian-language literary journal based out of New York. Started in 1942, they are in the process of digitizing their archives and placing them, for free, online.
Oktmo.ru has a listing of every populated point in Russia, searchable via a search function or listable by region.
The National Library of Russia has a large number of scanned texts, pictures, maps, and more, all for free online.
The Moscow State Yiddish Theater (MSYT) collection at the BAF is now fully cataloged and accessible online.
Znanie-vlast (Knowledge is Power) is an online community where people upload scans of Soviet books, journals, and textbooks–inlcuding a full run of the resolutions of the Communist Party.
Public Domain Review compiles material whose copyright has expired.
The BBC Archives have interesting information about the Cambridge Spies and coverage of the USSR, for instance.
Librarium presents scanned copies of Russian immigrant periodicals from various countries produced in the 1920s and 1930s.
Russian Satirical Journals Project offers a searchable database of these journals and detailed information about them.
Marxist Writers Archive contains tons of material, including biographies of and whole books by writers such as Trotsky, Bukharin, Che Guevara, Georg Lukacs, Rosa Luxemburg, Marx, Engels, Lenin, and many, many more.
Ukraine Alive is a project sponsored by the Canadian government to teach 3rd graders about Ukraine as part of the standard state curriculum. Lots of videos of various kid's games, cultural events, and more.
Pagat.com offers rules for several Russian card games. 
20th Century Russian Theatre – everything you wanted to know on the subject!
Gallery of Russian Thinkers offers biographies and synopsis of Russian theorists and philosophers.
Russian Holidays is a hyperlinked article presenting current dates, short descriptions, and histories of Russia's holidays.
Russian Gay Culture, hosted on Middlebury College's site, lists many useful resources for understanding sexual minorities in Russia.
KoryoSaram.info is a source for news, history and latest research about the Korean diaspora in Russia and Central Asia.
Subsidii Project offers information on grants and subsidies issued from the Russian federal budget.
GeoHistory offers both a general introduction and guides on individual archives to help you prepare for research abroad.
SRAS can 1) perform remote research for you and 2) assist you in receiving the correct visa for researching abroad, as well as 3) provide other support services on the ground.