A curious calm presides over the city of St. Petersburg. It is not the calm of a tired city: it's the deceptive calm of a vortex, seething with energy, imminent change, and revival. St. Petersburg has always been a city at the forefront of change: socially, economically, culturally, and politically.
St. Petersburg's History
St. Petersburg's history is as dynamic as its present. It is known as "the city built upon bones." Peter the Great founded the city in 1703 on swampland acquired from Sweden during the Great Northern War. Thousands of serfs were sent to drain the land by constructing a system of canals. Many died in this construction process from exhaustion or disease. Peter declared the city his new capital, and forced merchants, officials, and aristocrats to move there (or at least build houses there). The move was part of a larger westernization plan which also included forcing Russians to cut off their beloved beards and was so unpopular that it probably would have cost a weaker leader his throne, if not his life. However, Peter was, for the most part, successful in his bid to "move" Russia to Europe. By the end of his reign, Russia was competing on equal terms economically, diplomatically, and militarily with all of Europe.
Since Peter, the city has remained important in every historical era. The end of serfdom (which was basically slavery) in 1861 coincided with the industrial revolution and flooded the city with poor workers, leading to severe sanitation problems, poverty, and dissidence. The city became a hub of the 1905 revolution and the site of the decisive Bolshevik victory over the Provincial Government in 1918, marked by the famous shells fired by the Aurora on the Winter Palace. The city survived an 847-day siege by the Nazis in WWII, when Hitler's stated goal was to "wipe the city of Petersburg from the face of the earth." During the siege, circumstances were so bad that people ate leather belts and pets (and worse) for food, yet the city never completely shut down, with concerts, ballets, lectures, and poetry being written and performed despite the siege, attesting to the fact that culture in St. Petersburg is irrepressible.
An artistic underground movement emerged in St. Petersburg in the 1960s and 70s, especially in music, and this further developed the city's image as a city of the independent-minded and innovative. St. Petersburg's reputation as a center for Russian music continues today; local music clubs such as Fish Fabrique and Moloko are known throughout Europe as sources of fresh young talent and sounds.
St. Petersburg was at the forefront of Glasnost in the 1990s, enthusiastically replacing the Soviet names of streets, parks, and the city itself (which had been renamed Petrograd in 1914 and Leningrad in 1924) with traditional Russian names. The 1990s, however, are also associated with corruption. The mafia thrived in St. Petersburg, making millions in smuggling goods from Europe, and buying the services of police and elected officials for their own gain. St. Petersburg today still has problems with corruption and applying the law in a just and even manner – as shown by several recent race-related killings that occurred there and the botched investigations that followed them.
St. Petersburg's Unique Culture

St. Petersburg (fondly called "Piter" by locals) is legally recognized as Russia's official "cultural capital." It is regarded with a certain mystique in Russian culture, known as a city of intellectuals, artists, canals, and romance. Many Russians call it "the Venice of the North." The local accent, which can be difficult for foreigners to differentiate from the Muscovite accent, is often a source of pride for locals – it is a badge that signifies that wherever they may be, they were raised in one of Russia's most revered and respected cities.
St. Petersburg is a must-see city of culture. The city hosts the world-renowned Marinsky Theater and dozens of art collections. The most notable of these is the Hermitage, which has so many items that less than 10 percent can be displayed at one time in its literally palatial facilities, while the rest of the collection sits in storage or is borrowed by other museums across the globe.
Life and Education in Modern St. Petersburg
SRAS Student Manager April Djakoniya talks about life in St. Petersburg and how you can study there on SRAS programs:
St. Petersburg in Modern Russian Politics and Economics

St. Petersburg is now gaining clout as an economic center as well. For example, although Nizhniy Novgorod and Novosibirsk could also arguably qualify for the title, some are now calling St. Petersburg a "technological capital;" a chain of new technology parks are planned for the city, tax benefits have already been established for these parks, and Russoft, the industry association that represents Russia's booming software development market, is headquartered in St. Petersburg. So are several of Russia's largest software companies. Many large foreign firms such as Intel, Motorola, and Sun Microsystems are investing millions of dollars in R&D facilities there.
St. Petersburg is often preferred by investors over Moscow because of its lower costs of living, less expensive real estate, geological proximity to Western Europe and its valuable markets. For example, auto manufacturers – including Ford, Toyota, and Puget, are investing or have invested in new, state-of-the-art facilities to supply not only Europe, but Russia's rapidly developing domestic market. Perhaps most telling, however, is that St. Petersburg is now a major target for immigration. While Moscow is still the number one destination for immigrants, St. Petersburg is easily number two, adding to the city's already cosmopolitan atmosphere and growing economy.
In politics, St. Petersburg by no means watches Russian politics from afar. Many of Russia's most powerful politicians hail from St. Petersburg, including current president Vladimir Putin, Dmitry Medvedev (Putin's preferred successor) and most of Medvedev's "clan" of lawyers, judges, and lawmakers who have supported his rise to power and are likely to gain considerable power after Medvedev's almost certain attainment of the presidency. As chairman of Gazprom, Russia's largest company, Medvedev has already gifted the city with that company's headquarters (and thus vastly improving its tax base). It is unlikely Medvedev will turn his attention away from the city after becoming president.
St. Petersburg is also known for being fairly progressive in its politics. Valentina Matvienko, St. Petersburg's governor since 2003, is arguably Russia's most powerful female politician. The liberal parties Yabloko and SPS focused much of their attention on the city during the 2007 Duma elections as a possible basis of support. Gary Kasparov organized a large group of protestors in St. Petersburg representing the movement "Other Russia" during that same election campaign. St. Petersburg is also gaining political ground through more established channels: in March 2006 the State Duma passed legislation to move Russia's Constitutional Court (Supreme Court) from Moscow to St. Petersburg. The change will take place in 2008 and is officially aimed at encouraging a greater separation of power in the Russian government and helping to curb corruption in St. Petersburg.
The Future of St. Petersburg
Writers often portray St. Petersburg as a place of mystery that inevitably draws one in and transforms one's soul. Tourists describe the city alternately as dirty or brilliant, but no one who has been there is without an opinion. Its atmosphere is formed from the whirlwind of present activity and the ghosts of past extremes. The result is a curious combination of rush and stillness – and the knowledge that while you stand on the peaceful palace-and-park-lined streets, around you the massive forces of a renewing economy and political change are blowing in new events that history will record – for better or worse.
You Might Also Like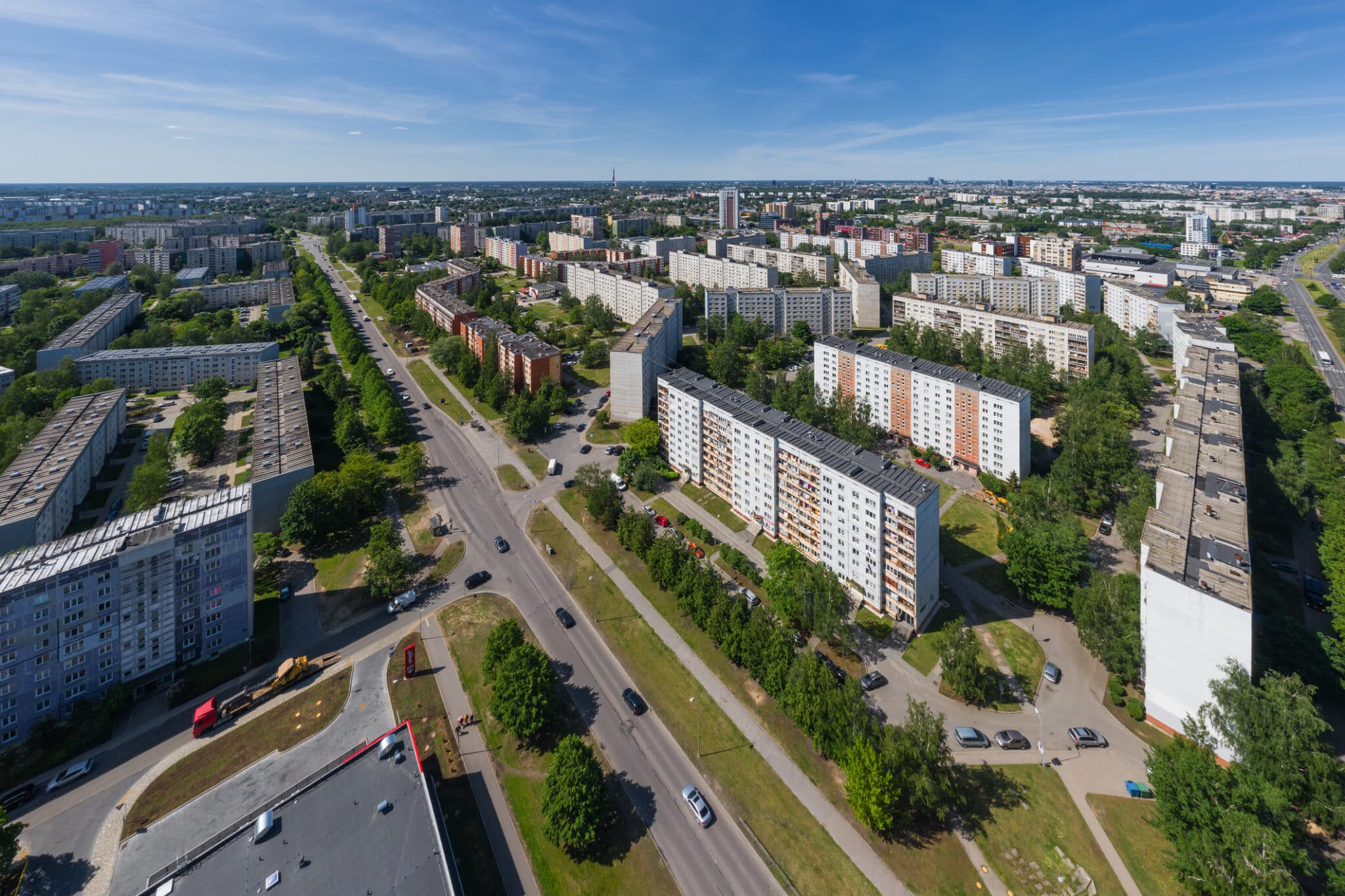 Riga, the capital city of Latvia, boasts a rich history and diverse architectural heritage. Among its many districts, Mežciems, Purvciems, Grīziņkalns, Centrs, and Vecrīga stand…
0 comments