Riga, the capital city of Latvia, boasts a rich history and diverse architectural heritage. Among its many districts, Mežciems, Purvciems, Grīziņkalns, Centrs, and Vecrīga stand out as unique and iconic areas, each with its own distinct architecture and history.
The following was written by Sean Hagan, an SRAS student studying abroad in Riga in 2023 who became fascinated at the variation he saw everyday in the city as moved along a single bus route between his homestay and the school where his Russian lessons were held.
Vecrīga: Old Riga

Vecrīga, also known as Old Riga, is the heart and soul of the city. Its history dates back to the 12th century when German merchants established a trading post along the Daugava River. Over the centuries, it evolved into a significant Hanseatic trading city, witnessing multiple cultural i
nfluences and architectural styles. Old Riga's architecture is a blend of medieval, Renaissance, and Baroque styles. The district features numerous medieval churches, such as St. Peter's Church and Riga Cathedral, showcasing remarkable Gothic architecture. The Blackheads House, an important historical symbol of the city, displays a stunning Dutch Renaissance façade. The district's cobblestone streets, narrow alleys, and charming squares further add to its historic atmosphere.
---
Centrs: A Modern, European Center

Centrs, or the City Center, emerged in the late 19th and early 20th centuries as Riga's economic and cultural hub. The district saw significant development during Latvia's period of independence between the World Wars, when many Art Nouveau buildings were constructed. Art Nouveau architecture dominates Centrs, making it one of the world's most renowned Art Nouveau enclaves. The district features elaborate facades adorned with intricate ornaments, floral motifs, and sculptures, often depicting Baltic pagan figures. Notable examples include the Albertas street, which houses several iconic Art Nouveau buildings designed by architect Mikhail Eisenstein.
---
Grīziņkalns: A Working-Class Industrial Neighborhood

Grīziņkalns is a historic district that developed in the 19th century. It began as an industrial zone along Pērnavas Street and grew rapidly as housing for the factory workers was constructed. During the Soviet era, this industrialization and growth only intensified which necessitated more worker accommodations, resulting in many Khryuschovka apartment blocks being constructed. Today, much of the architecture in Grīziņkalns still consists of 19th and 20th century wooden houses, with large dormant factories and Soviet apartment blocks dotting the urban landscape. Grīziņkalns has an interesting atmosphere characterized by both its quaint historical charm and working-class industrial feel.
---
Purvciems: Riga's Major Residential District
Purvciems (Whose name translates to "Marsh Village") was originally a swampy forest that was converted into quiet countryside homes for wealthy residents of Riga. Well-to-do residents came here to find a quiet place away from the city center, and the late 19th and early 20th centuries saw Purvciems transition from a rural marsh into a quiet suburb. However, Purvciems changed radically during the Soviet era and was heavily redesigned. Today Purvciems' architecture primarily consists of Soviet-era housing complexes built to house people flocking from the countryside to find work in Riga. The district's layout follows the principles of Soviet urban planning, focusing on functionality and efficiency. Purvciems retains little of its original quiet countryside atmosphere, being replaced with an urban maze of Soviet apartments and post-independence businesses.
---
Mežciems: The "Forest Village" 
Mežciems ("Forest Village"), located on the eastern outskirts of Riga, was initially a rural area known for its forests and farmlands. Limited urban development began in 1934, primarily consisting of wooden single-family homes. Mežciems saw significant development during the late 1970s and 80s, with the construction of large residential blocks to accommodate the city's ever-growing population. The district's architecture is mainly composed of Soviet-era residential buildings, especially Brezhnevkas, a modernized and usually larger model based on the prefabricated principles of the Khryushchovkas. These 8+ story concrete panel buildings provided efficient housing for the masses but lacked architectural sophistication, and most of them are nearly identical. Despite the lack of variety among the apartments, Mežciems features some modern developments and green spaces and is surrounded by large public forests, giving it a quiet forest atmosphere despite its urban characteristics.
---
Conclusion
Riga's Vecrīga, Centrs, Grīziņkalns, Purvciems, and Mežciems districts collectively present a fascinating tapestry of history and architecture. Each district reflects the city's cultural heritage, economic development, and urban planning ideologies at different points in time. While Vecrīga showcases its medieval roots, Centrs boasts the extravagant Art Nouveau style, Grīziņkalns retains its industrial working-class charm, and Mežciems and Purvciems represent the legacies of the Soviet era. Together, these districts contribute to Riga's unique and diverse urban landscape.
---
You Might Also Like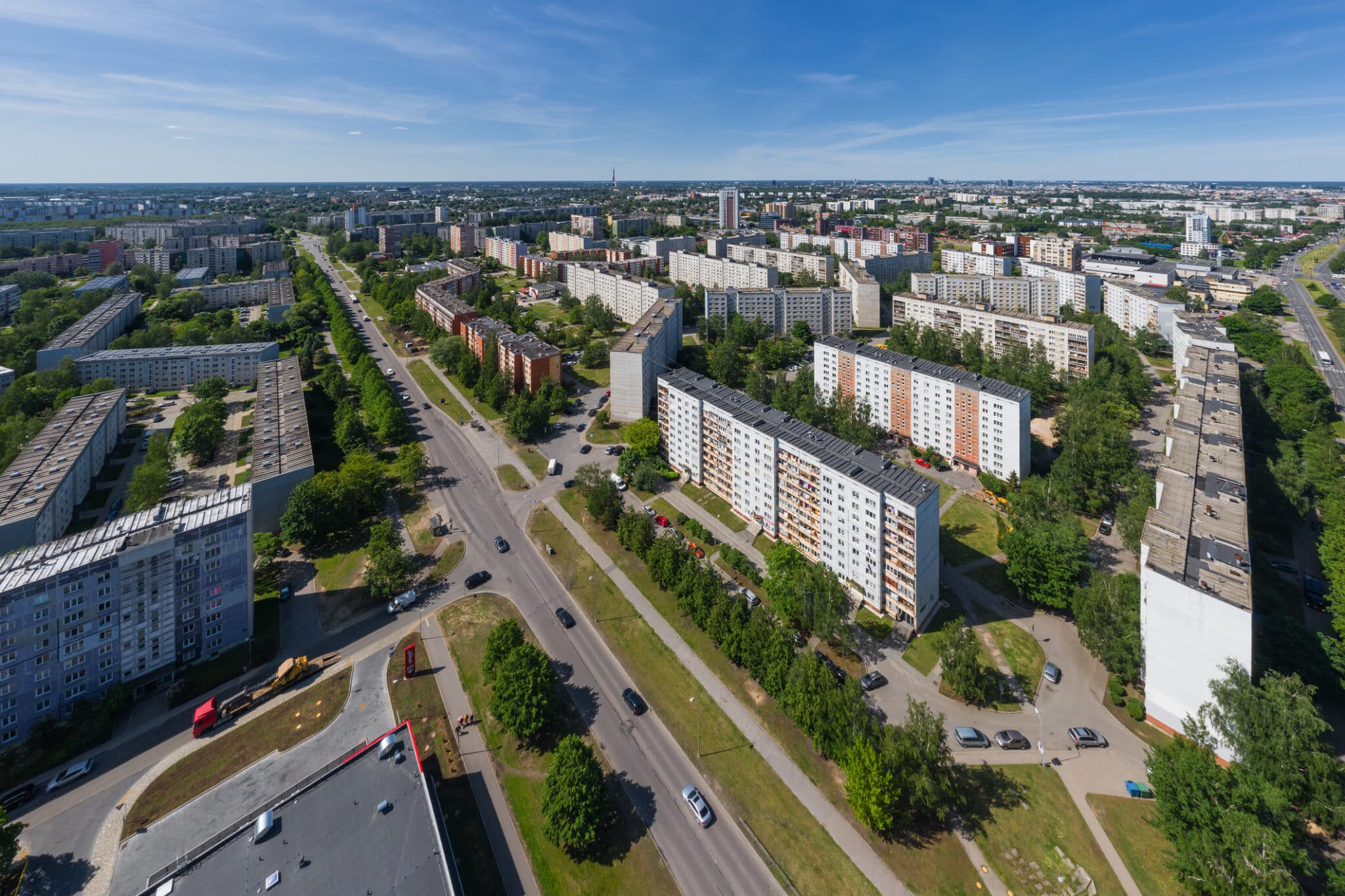 Riga, the capital city of Latvia, boasts a rich history and diverse architectural heritage. Among its many districts, Mežciems, Purvciems, Grīziņkalns, Centrs, and Vecrīga stand…
0 comments