Vyacheslav Volodin
and the Future of the Russian Presidency
Vyacheslav Viktorovich Volodin has been a stalwart member of the United Russia party since its inception in 2001, and is frequently credited as the principal architect of the regime's "conservative turn" following Putin's return to the presidency in 2012. Volodin also led the ostensibly democratic electoral reforms that helped appease those who protested the 2011 Duma elections. These reforms were also instrumental in paving the way for United Russia's overwhelming victory in the parliamentary elections of 2016.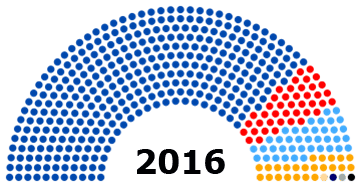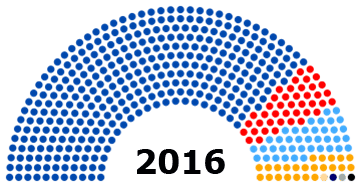 Volodin was nominated by Putin for the Duma Chairmanship and confirmed in October, 2016. Some viewed this as a demotion. The new position moved Volodin outside of Putin's immediate circle and Volodin had publically stated that he did not want the position before he was placed there. However, others consider it a reasonable application of Volodin's organizational talents. They also point out that brushing away pretenses of wanting power before firmly taking the reins is a political image Putin himself has built. It may even be a way of increasing Volodin's presence in the public eye before the 2018 presidential election, should Putin decide to step aside and nominate Volodin as a successor.
Family, Education, and Early Political Career
Volodin was born in the village of Alekseevka outside of Saratov on February 2, 1964. From a highly devout Orthodox family, his grandparents were persecuted and most likely shot by the Soviets in the late 1930s for "spreading religious propaganda." His mother was a primary school teacher, while his father captained a river fleet.
Volodin began working as a machinist on a farm in village of Belogornoe, near Saratov in southern Russia at age 15. He went on to study mechanical engineering at the Saratov Institute for the Mechanization of Agriculture, graduating in 1986. While in school, he chaired the student union committee and joined the Communist Party. In 1990, Volodin was elected to the Saratov City Council in the region's first open elections. He would go on to serve as the Deputy to the Head of the City Administration in 1992, and as the Deputy Chairman of the Saratov Regional Duma in 1994. During this period, Volodin worked towards a PhD in Law, which he received from St. Petersburg State University. Afterwards, he was appointed Vice-Governor of the Saratov Province.
On the National Stage, 1999-2011
Volodin moved to Moscow in 1999 to become the Deputy Head of Elections for the Fatherland Party, a major centrist/patriotic party formed for the 1999 election cycle. By the end of the year, he was elected a State Duma Deputy with the Fatherland-All Russia coalition. In 2001, Volodin was appointed the head of Fatherland-All Russia and soon lead it to a merger with the Putin-supported Unity party to form United Russia, which quickly became Russia's ruling party. In 2003, he was appointed the first deputy head of United Russia while maintaining his position as a Duma representative.
In 2005, protests erupted in response to the monetarization of several Soviet-era benefits. As part of a response to this, top-party personnel at United Russia were reshuffled and Volodin became Secretary of the General Council Presidium. This position directs the party's formal policy positions, approves the candidacy of party members seeking election, and oversees the appointment of non-elected positions. At the time, these included both regional governors and members of the Federation Council. Volodin held this position until 2011, largely directing staffing policy based on a candidate's loyalty to the party and to him personally. He also increased his exposure to the Russian public, frequently articulating policy positions for United Russia and engaging in debates with the opposition. Towards the end of 2010, Volodin was elevated to Deputy Prime Minister and remained presidium secretary until the next year.
Volodin's Reforms and the 2016 Parliamentary Elections
Allegations of fraud during the 2011 Duma elections brought tens of thousands to the streets demanding new elections. These became known as the Bolotnaya Protests, after the square where the first major protest was held. Vladislav Surkov, the First Deputy Chief of Staff to the Presidential Executive (and the man responsible for promoting Volodin to the post of Secretary of the General Council Presidium) came to shoulder the blame for the government's lack of preparedness in the face of increasing public opposition. In his place, Volodin was tasked with restructuring the electoral process for the nominal purpose of ensuring fairer elections and providing a basis for broader representation in government.
Volodin began dismantling some of Surkov's reforms, including a 2005 law that saw all of the Duma's representatives elected through party lists. In short, this method saw voters selecting their preferred parties, and the parties themselves choosing the representation. In addition, he increased the bureaucratic hurdles for registering parties. Critics argued this ensured the disproportionate success of United Russia by ensuring weak opponents. Although United Russia fared well in the following elections, the reforms were heavily criticized as manipulation.
Volodin approach was more nuanced. He simplified party registration, which led to a number of new parties being formed and a number of old parties re-reregistering. He also reinstated direct elections for individual candidates for half of the Duma's representatives. While this appeared more democratic, the result helped to split support for opposition parties, particularly the Communists and the Just Russia party, while leaving United Russia's support largely intact. Those districts chosen for single-mandate elections proved to be overwhelmingly in support of United Russia's candidates.
Volodin speaks, in Russian, about elections in Moscow and other issues, in 2009.
Volodin's methods helped secure the largest majority in the Duma for United Russia since its inception. However, although no significant protests followed the recent elections, critics say that his system has created unquestioning loyalty among government officials and seemingly unbeatable United Russia candidates. These changes, the critics argue, are responsible for the very low voter turnout and the political apathy that has marked the most recent elections and which may prove to be a future challenge for Russia's political system.
Political Stance, Corruption Allegations, and the Fallout from Crimea
Volodin's new role as Chairman of the Duma has some analysts wondering if his appointment might be an attempt towards altering public perception of the lower house as a "rubber-stamp" body by using his more subtle approaches in organizing Duma activities.
Volodin has variously been called a pragmatic politician, an expert organizer, and a ruthless tactician. He has also been described as a "commanding" presence with a penchant for no-nonsense rule following. During his time as Deputy Chief of Staff he championed legislation that boosted harsher fines and prison terms for unauthorized protests and demonstrations. He helped push through Russia's "foreign agent" laws, which have negatively affected several civil society organizations within Russia. He also helped make slander, once again, a criminal offense. Volodin has also pushed forward a deeply conservative government message that embraces traditional Russian values, patriotism, and the Russian Orthodox Church.
As a close member of Putin's inner circle and a staunch advocate for Russia's move into Crimea, Volodin was placed on the US Treasury's Specially Designated Nationals List. This status prevents Volodin from entering the United States and freezes any assets he holds on American soil. Similar sanctions by the EU were placed on him in May of 2014. As a businessman, he is known predominantly as the former co-owner of food-product conglomerate "Sun Products" from his native Saratov, as well as for his involvement in a road-building project in the province. In 2006, the political opposition in the Saratov Duma demanded an inquiry into Volodin's business dealings but the investigation cleared him of any charges.
What the Future Holds
Political projections in Russia have had a tendency to lack substance due in part to the Kremlin's tendency to keep its plans secret for as long as possible. Indeed, Putin has refrained from affirming his own candidacy for president in 2018, and at the same time he's given no direct indication that he will endorse a different candidate. It is wise to recall how in 2004, he surprised many Russia-watchers by picking Dimitri Medvedev, an affirmed liberal, over Sergei Ivanov, a conservative Kremlin loyalist to succeed him for a term as president.
Nonetheless, Volodin's tendency to pick personal loyalists in his staffing choices raised concerns among the Kremlin elite about his ambitions. Thus, his chairmanship of the Duma can reasonably be analyzed as a way of reducing his power in the short term while simultaneously avoiding the ire of his close supporters. Conversely, it could also be a way of testing Volodin's competency in a much more public role. Putin has long been vocal of his approval of Volodin and Putin's endorsement is likely to be the major criteria in electing Russia's next president.
In any event, Volodin's experience, age, and apparent loyalty certainly make him a potential candidate for Russia's highest office. His work in shaping the staff and structure of United Russia and the Russian government would also likely mean that he could command Russia's major political apparatuses with authority both regionally and at the national level. However, it truly is anyone's guess what the future holds.