One has only to look at the current debate over stem cell research in the USA to understand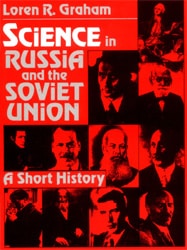 how science, even today, is shaped by social, economic, and political factors. A study of science in Russia and the Soviet Union within the broader context of history is fascinating – both tragic and encouraging. It is tragic in the destruction of individual personalities and some branches of science; it is encouraging in that despite so many obstacles, the Russians and the Soviets were still able to make significant contributions to science.
In Science in Russia and the Soviet Union
, Loren R. Graham presents a concise overview of the development of science and scientific institutions in Russia and the Soviet Union. This is a very readable account, interesting not only to those students interested in the history of science, but to anyone interested in the history of Russia and the USSR. Demonstrating the impact of state policy on one specific area – in this case science – this history prompts us to consider how other fields may have been affected.
An expert on the history of science in Russia and the USSR, Loren R. Graham has written several books on the subject, all easily accessible and readable. Dr. Graham is also remarkable in that he has extensive first-hand experience with Russia and the Soviet Union, as revealed in his recent book Moscow Stories, which recounts  his experiences visiting the Soviet Union and later post-Soviet Russia over a period of 40 years. While there seem to be several books along these lines coming out of late, particularly from the adventurers of the 1990s, Moscow Stories has more substantial historical background to the many observations.
Below is brief list of some of the major names that the book covers as having made considerable contributions to Russian and Soviet Science. Provided are brief descriptions of each, from information taken mostly from the book, and links where you can find more information on these fascinating people. Major contributions to world science and technology have been indicated in bold.
Russia and the Soviet Union contributed much to the world's current advanced state of science and technology. Loren R. Graham's work on the subject does much to elucidate this fact as well as to show the important connections between society, politics, and science.