When I first arrived at Tverskaya Square just after noon on May 27th, all I could see were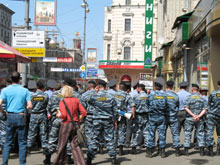 police uniforms. The police and OMON, the riot specialists of the Russian police force, had the square, the crosswalk, and the area in front of the mayor's office completely blocked off. In front of the mayor's office, I saw a tight formation of OMON surrounding a group of people that seemed to include at least as many photographers and reporters as demonstrators. There was some scuffling and one man was hauled off by police. By the time I managed to cross the street, much of the action seemed to be over.
I had expected a long day with crowds of old women clutching icons and tossing rotten eggs and curses, and skinheads and football fans throwing punches. Instead I spent most of two hours trying to get to the scene, peering over the shoulders of police to try and see what was happening, and asking friendly-looking bystanders for their opinions and accounts of what they had seen.
While I was disappointed to find Moscow Pride 2007 shut down by police, I was certainly not sad to miss what had been shaping up in the past months to be a pogrom. However, it turns out I missed a lot: The eggs, the skinheads, and the bloodletting had started early that day, before I arrived, and had been broken up quickly. One young lesbian activist complained, "They (the police) watched while the homophobes hit one of our people, and then they arrested our guy and let the homophobes go free." Indeed, by the time I was able to get across the street, I saw far more anti-gay demonstrators walking around than LBGT supporters.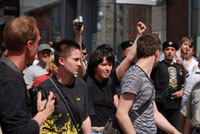 The small turnout of gays and lesbians and their supporters at this year's Pride demonstration is not surprising. Last year, just a handful of activists turned out only to be routed by police and anti-gay demonstrators. Activists were beaten, and arrested. This year, conservative groups had promised even more violence and officials have shown only antipathy. In January, Moscow mayor Yuri Luzhkov denounced the Pride parade as a "Satanic action" which "we didn't allow" last year "and won't allow in the future."
Luzhkov reflects the position of the Moscow city government, which condemns non-traditional sexuality, along with drug use and extremism, as "negative influences on youth." Against what it calls the "imposition of free and non-traditional sexual relations" on Moscow's youth, this year the city government prohibited the Pride event, as they have done in previous years.
Official support for the LGBT community in Russia has been rare. One notable exception has come from Aleksandr Mitrofanov, a state Duma deputy with the LDPR party. While the party is considered by most to be ultranationalist and socially conservative, libertarian-leaning Mitrofanov helped organize this year's Pride and has publicly supported same-sex marriage. Despite his support, and a petition signed by dozens of European Parliament members in support of tolerance towards "sexual minorities," the Moscow city government remains opposed to any pro-LGBT demonstrations in the city.
With increased support from foreign LGBT and other organizations this year, organizers' predicted a thousands-strong turnout to Moscow Pride. On the other side, well before the march anti-gay forces, including the Russian Orthodox Church and the National Socialists, were also planning demonstrations to oppose the march. Some of them promised even more violence than last year. For example, in a March 24 posting on the Gayrussia.ru forum, someone writing under the nickname "Adolf Eichmann" (from the Nazi officer who managed mass deportations during World War II) guaranteed "smashed-up faces and broken bones" to anyone attempting to hold such a "sodomites' Sabbath."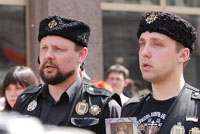 Smashed-up faces at this year's demonstration included those of British activists with the organization Outrage!as well as those of a number of Russian demonstrators. One demonstrator mentioned that journalists and their equipment were also targeted. The violence did not end there, either. According to one article, skinheads sought out and beat up "a minimum of four victims" in the metro following the event on Tverskaya.
Another explanation for the low turnout of this year's event may well be the state of the Russian LGBT movement itself. "There's a lot of division in the gay movement," explained an activist just after the demonstration. To be sure, some members of the community viewed the Pride march as a provocation that would inevitably bring a dangerous backlash. For example, the following appeared as a "reader response" to a related article posted on the Gay.ruwebsite in mid-May:
Just like last time. For some, it's PR and money. For others who participate, it's a couple of lumps from OMON. Still others won't even go out on the streets for two weeks for fear of landing in the hospital. They won't beat [us] in front of the TV cameras, but outside the clubs. Last year three dozen. How many this year? And for what?…Waving flags now is like waving a rag in front of a bull's nose. It will get worse.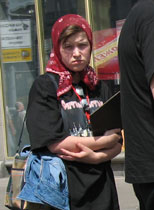 Objections to the march were often characterized by a suspicion about Pride march organizers and their motives. Organizers were charged at best with naïveté, at worst with self-promotion and endangering others. Objecting to this characterization, organizer Nikolai Baev pointed out that many such critics represented the interests of businesses who are "used to making big money on the closed-ness of gay society, turning it into a social ghetto," and charging "outrageous prices" for the semi-closed havens that gay-oriented clubs, saunas, and brothels provide.
Whatever the truth of these and other claims, what surprised me the most was how difficult it was to find out when and where the march would be held, its purposes, or what to expect from the event. Instead of spreading flyers or organizing in the clubs, organizers withheld information until a press conference the day before the event, claiming caution. Also notable was organizers' reliance on the support of foreign organizations like the UK's Outrage! and the European Parliament, with an equally notable absence of support within Russia, both from within the LGBT community and from Russian organizations in the field of human rights.
A gay acquaintance of mine told me, "There hasn't been a gay movement here since the 1990s." The movement was then, as now, troubled by questions of foreign involvement, by debates about the nature and purposes of LGBT activism, and by different understandings of sexual identity. In her 1999 book Queer in Russia sociologist Laurie Essig writes that the movement of the early 90s collapsed under fatigue, demoralization, internal differences, "disillusionment with Western models of organizing and identity," lack of support, "and a general feeling that the politics of sexual identity was not meant to flourish on Russian soil."
The Russian government decriminalized same-sex relations in 1993, but that does not mean that further change and activism are unnecessary here. Sexual minorities continue to be targets of violence on the streets, widespread discrimination, vitriol from public officials and the Church, and general disapproval from straight society. Still, it remains to be seen on what basis a movement for LGBT rights and safety can grow and succeed.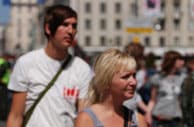 Most of the gays, lesbians, and bisexuals I've met here either do not think of their sexuality in terms of identity or, if they do, don't feel safe being openly queer outside the clubs or outside of their own small social circles. For my part I have felt reasonably comfortable over the past academic year being open about my partner of 8 years, our non-legal wedding last year in the States, and our family life. I'm "out" in most contexts, but don't correct the assumption that I'm married to a man every time I hear it. In the dorm at Moscow State, coming out to some of the dormitory attendants, mostly older women, have been too sincere and humorous to cause offense – from the honest, "I don't understand" to the well-intentioned "But I have a son!" And my Russian colleagues and friends at the university, no matter what their sexual orientation, have always been accepting of my identity.
As far as Pride is concerned, I watched the event from a more or less safe distance across the wall of police and steered clear of everyone with a shaved head, an icon, or a uniform. I wasn't and am still not sure where I'd fit in a movement that still remains to be built on its own terms, if such a movement is to be built at all. I grieve for the lack of safety here in the free expression of non-traditional sexual identities, which for many of us extend beyond sexual practice alone into the routines of daily life. I am outraged by the treatment of LGBT people by the Moscow city government. Yet if there is to be a movement here it must address the needs and concerns of the people it purports to represent. More than that, it cannot simply represent Russian sexual minorities, but has to come from them and be built by them, rather than imported wholesale. Lastly, for those of us in Europe and the US who support equal rights, it would do to think carefully what support actually means.
In the meantime, I share the frustrated optimism of one demonstrator who, assessing this year's Pride, sighed and said, "We really thought it would be better this year."
All quotes here have been translated from Russian to English by the author, who takes sole responsibility for any errors made therein. Most links lead to Russian-language sources on the conservative, government, and LGBT websites. If you are sensitive to such material, do not click the links.