Volgograd:
History and Myth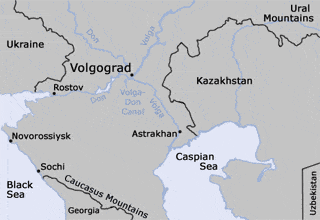 A solemn but reverent air of respect hangs over Volgograd. Long a small military garrison, then a rapidly growing center of commerce and transport, Volgograd is best known to Russians and foreigners alike as the site of the bloodiest battle of the Second World War. Today, Volgograd is an industrial city and transport hub with the Volga River as its heart. It embraces its past while surging ahead, but must also face new economic and political challenges.
Volgograd's Geography
The city was founded as a military garrison in the late 16th century, shortly after Russia first conquered
the area from the Astrakhan Khanate. While its immediate purpose was to help secure and govern the new territory, grander long-term designs were likely in mind when it was given its original, royal name of Tsaritsyn.
Located at a strategic bottleneck of the Volga River, the city would have been well-placed to defend Russia's northward territories from foreign armies advancing from the south. It is also well placed to act as part of one of the silk road trade routes running from Europe to Asia. The surrounding area, known as "the Great Steppe," and characterized by its arid, dry climate and grassland plains is well suited to grain production, which was once Russia's biggest export to Europe and one of its main sources of wealth and international "soft" power.
Volgograd's Early History
Volgograd, founded in a restive, new region existed as a small military and trade settlement for nearly 300 years. Tsaritsyn initially had to defend itself constantly from Cossacks, Crimean Tatars, and even from its own troops mutinying in the new borderland.
However, by 1691, the city was stable and prosperous enough to support a customs house. Salt had emerged as a primary good, and the settlement maintained a small population while attempting to develop a stable agricultural home base in the region. However, it was only after arrival of the arrival of the Volga-Don railroad in 1862 that urban development began on a much larger scale.
The city was transformed into a transportation hub serving the surrounding agricultural industries and wider trade networks connecting the Black and Caspian Seas to the West and East and Moscow to the North.
Soviet Volgograd
Shortly after the city had developed into a major commercial center, the Russian revolution occurred. The city was captured early on by Bolshevik troops and, although Tsarist forces made several attempts to capture the strategic location, it remained under the control of the Red Army for the vast majority of the Russian civil war.
Stalin's Five-Year Plans eventually turned the city into a major industrial center and continued to develop its transport infrastructure. Grand long-term designs can again be seen in the decision to rename the city "Stalingrad" in 1925.
The strategic city was once again the site of fierce fighting during WWII. The Nazis attempted an aerial blitzkrieg, turning most of the city to ruble early in the war. The battle raged for nearly a year and half, with the Nazis nearly taking the entire city and then being pushed back in one of the most dramatic and bloody battles in all of world history. Well over one million military and civilian casualties were sustained.
Mill Gerhart, a granary founded by Alexander Gerhart, a descendant of Volga Germans who colonized the Lower Volga region in the late 18th century, remained one of the city's few Soviet holdouts as the Nazis advanced. The tall, strong mill had easy access to Volga and served as a fortress for the Soviets, withstanding constant heavy bombardment. Today, the remains of the building have been left as they were as a reminder and testament to the city's agricultural origins and continued resilience.
With the advent of the Volga-Don canal in 1952, Volgograd gained a direct water route to the Black Sea, providing inexpensive and easy access to the Mediterranean, Atlantic, and beyond. The Soviets then used Volgograd, far inland and well-protected from naval forces, as a major shipbuilding port and steel production center, fed in part from the upstream Ural Mountains. These industries remain a large part of Volgograd's economic presence in the region.
One of the Volgograd region's crowning achievements was the construction of the Volga Hydroelectric Station, the largest of its kind in Europe. Since its completion in 1961, the station has proved an economic boon to Volgograd, providing jobs, a source of renewable energy, and irrigation opportunities. Commerce and transport in the region have also benefited, as the dam also serves as bridge linking rail and road networks over the Volga.
In large part fueled by the dam's continuing construction, Volgograd saw a major a population boom in the 1950s. An entirely new "micro city", Volzhskiy, formed on the opposite bank of the Volga to support workers there. Today, Volzhskiy has grown significantly, and is considered essentially a suburb of Volgograd.
Another, perhaps better-known construction project is "The Motherland Calls!" statue, completed in 1967. Standing atop Mamayev Kurgan, the site of heated conflict during the Battle of Stalingrad, the statue is a 279-foot tall allegorical representation of Mother Russia. Today, it is one of the area's major tourist attractions.
Modern Volgograd: Industry and Environment
Evidence of Volgograd's industrial past and present is noticeable throughout the city. Its busy river port, a gathering place for the city's locals, processes over 10 million tons of cargo annually. Oil, minerals, and grain top the list, indicative of the region. Factories dot the banks of the Volga, including the Red October steel factory and the iconic Volgograd Tractor Factory, famous for once supplying equipment and tanks to the Red Army during WWII.
Today, a third of the population works in the industrial sector. However, environmental problems also plague the city and its river. In addition to industrial pollutants, Volgograd's urban sprawl, which snakes along an incredible 50 miles of the Volga, and low population density, contribute to long commutes and high emissions from road transport. Even the creation of Volgograd's prized dam has endangered local fish and wildlife.
To help alleviate these problems, in 2011, for the first time in almost three decades, the metro was extended to include three new stations in more heavily residential neighborhoods south of the city center. The Volgograd Bridge was completed in 2009, a 13-year-long engineering project that hopes to create a new "East-West" transport corridor providing easier access to Central Asian republics, as well as the Russian cities of Saratov and Astrakhan. In 2005, Volgograd broke ground on "Volgograd City," a major business and residential development complex that aims to increase population density and thus reduce the need to commute.
Volgograd's river port, while currently serving as a dated, multi-purpose entertainment complex, has plans to partner with the neighboring port in Volzhskiy in developing a new large-capacity terminal, as well as an extensive modernization and enlargement of Volzhskiy's port. Other proposed long-term waterfront projects include an aquarium, a port history museum, and restaurants featuring local cuisine. Coupled with plans to completely overhaul the city's aging airport and stadium in its preparations as a host city for the 2018 World Cup, Volgograd obviously has its sights set on maintaining its status as a strategic transport hub.
Volgograd is working to improve its capacity as a tourist destination as well, attracting visitors from across Russia and beyond. IN addition to "The Mother Land Calls," this "Hero City" pays tribute to its war-torn past with its Alley of Heroes in the city center, a who's who of fallen soldiers and Red Army patriots. The Panorama Museum of the Battle of Stalingrad contains artifacts from the war, as well as a full panoramic view of the defeat of the German forces in Stalingrad.
More recently, Volgograd has become a popular ecotourism destination, due in part to its reservoir, river cruises, and overall favorable climate. The Volga-Akhtubin floodplain, one of the last untouched areas of the Volga river valley, is especially renowned for its wildlife and abundance of lakes.
Modern Volgograd: Politics and Government
Volgograd, home to some one million people, is also the capital of its surrounding oblast, which is also known as Volgograd. Both political entities have been the site of several many post-Soviet scandals and upsets.
Politically, the Communists have remained relatively strong in the area. Roman Grebennikov, a young, body-building Communist was the elected mayor of Volgograd in 2007 in what, at the time, was a major political upset for the ruling United Russia Party.
The new, strong-willed mayor continued to make waves, clashing with the United-Russia-controlled city duma and Anatoly Brovko, the governor of the Volgograd Oblast, and also a United Russia member. Eventually the governor led a major push to abolish the office of mayor and replace it with a "city manager" position that would be appointed and beholden by the city duma.
Grebennikov was removed from office in 2011. He was the third Volgograd region mayor in just 18 months to be dismissed. Rallies were held in his support but Volgograd remains to this day with only an "acting head" rather than a mayor.
In early 2012, Brovko himself stepped down after United Russia faired relatively poorly in the Federal Duma elections held in his oblast. He had never been popular and was widely accused of leading attempts to tamper with the vote to improve United Russia's results against the rival Communists. His replacement, Sergey Bozhenov, was almost immediately hit will allegations of corruption soon after taking office. However, he has also since created public councils of influential regional officials geared towards proactive problem solving and taken many other actions that have served to invite participation of the public in local governance. His support, as well at that for United Russia, has been rising.
This year, a popular referendum decreed that Volgograd will temporarily change its name to Stalingrad several times per year on days that coincide with military holidays. This decision embodies the mindset of a city whose past is so undeniably intertwined with its present.
Volgograd Today: A Tale of Two Cities
Culturally and demographically, Volgograd, like many areas of the Russian southwest, exhibits influences of various regions, interweaving cuisine, entertainment, and ethnic backgrounds from Russia, Central Asia, the Middle East, and the Caucasus.
In contrast to its more grizzled reputation as an industrial mecca, Volgograd has long nurtured a strong appreciation for the arts and education. It boasts numerous institutes of higher education, including Volgograd State Pedagogical University, one of the oldest and largest institutes of higher learning in the Volga region.
An active theater culture has flourished in Volgograd since the time of the tsars, and, during the Communist heyday of the 1960s and 1970s, venues such as the Volgograd Municipal Musical Theater attracted droves of Soviet playwrights to its Volga riverfront location. In 1992, the State Don Cossack Theater was founded. It remains the only theater in Russia dedicated to Cossack traditions. Similarly, Volgograd's puppet theater, dating back to 1936, stages performances steeped in local, regional, and Russian folklore.
Stepping into Volgograd is, in a sense, stepping into a tale of two cities. From the grit of industry and war has emerged a slightly more polished and invigorated metropolis. With an eye on the future, Volgograd has begun to attract investment to build a more modernized industrial river port and business center of the Russian southwest. There is little doubt Volgograd will continue to grow, expand, and surprise, having always occupied a strategic and pivotal position in Russia.
Coauthor of this analysis, Brandon Para holds a BA in Political Science and Certificate in Russian and East European Studies. He spent several months in Volgograd teaching English with Language Link. He previously participated on SRAS's Russian Studies Program in Moscow.