This resource discusses many place names in Kyrgyzstan. Geography is important to Kyrgyz politics, which are marked by a distinct north-south split. In the north, political power is centered in Bishkek. In the south, Osh is the main political center. Russian culture and language are also more common in the north and local cultures and languages dominate the south, including those of a large Uzbek minority. Kyrgyz politics are also marked by clan ties. See our article on Kyrgyzstan for a large map and more information.
We have divided these names into three categories – those currently in power, those very recently forced from power (there have been several large scandals leading up to the 2017 presidential elections), and figures still relevant from Kyrgyzstan's recent political history.
I. Current Power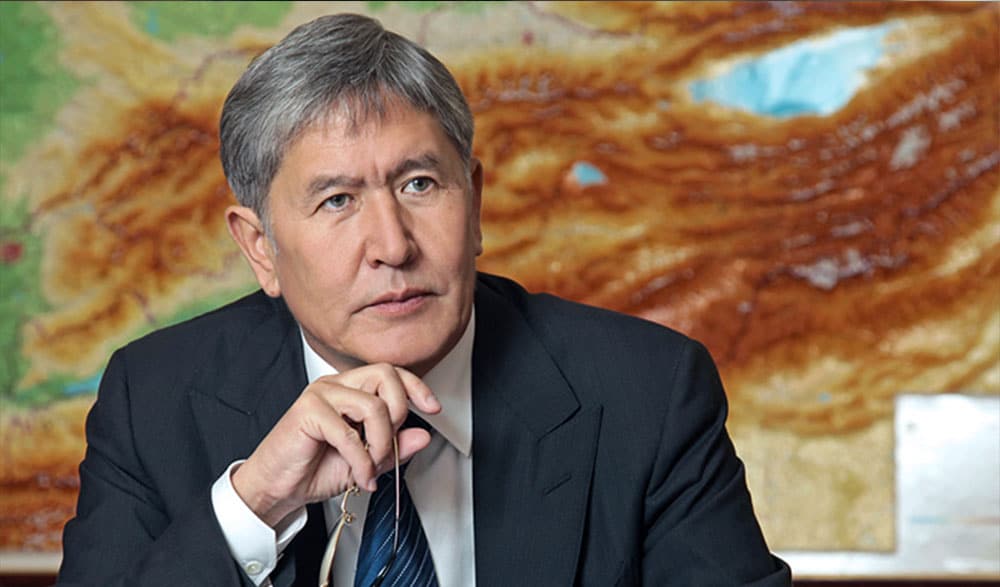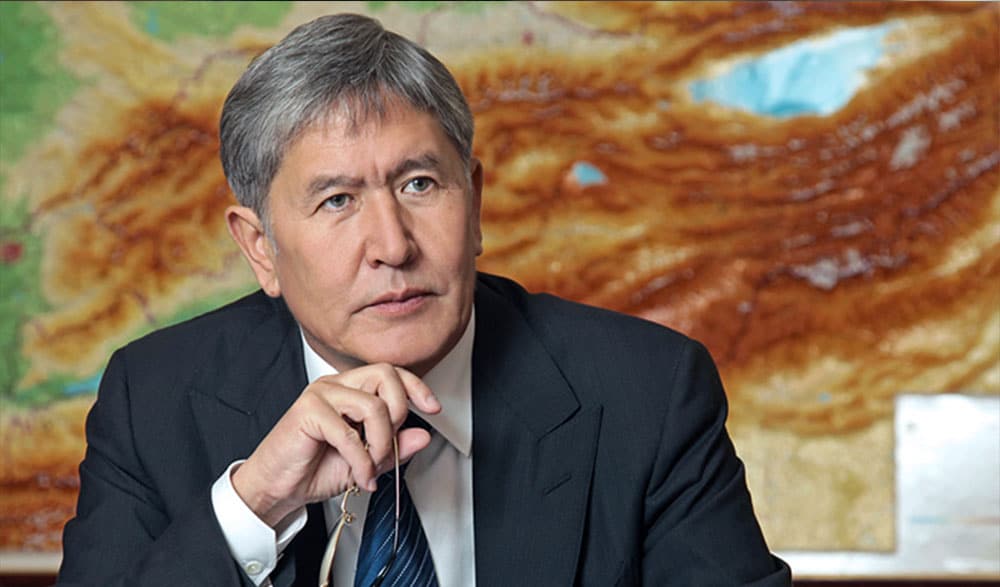 Almazbek Atambayev
Almazbek Sharshenovich Atambayev is the current President of Kyrgyzstan. He is ineligible for reelection in 2017 due to constitutionally imposed term limits.
Born in 1956 in a village in the northern Chui Oblast, he studied economics at the Moscow Institute of Management. From 1983 until 1987, he served in the Supreme Council of the Kyrgyz Soviet Socialist Republic.
With perestroika, he went into business, running for a time a large manufacturing concern and Kyrgyzavtomash, Kyrgyzstan's main auto manufacturer.
Atambaev helped found the Social Democratic Party of Kyrgyzstan in 1993. In 1995, he was elected to parliament and joined the For Reforms movement.
He received 6 percent of the presidential vote in 2000. He then served as Minister of Industry, Trade and Tourism from late 2005 until his protest resignation in early 2006, accusing then-President Bakiyev of corruption and political oppression.
After leading rallies against Bakiyev in 2006, Bakiyev offered him the post of prime minister in 2007 as a concession to the opposition and a chance to co-opt some of the northern-led opposition groups considered more open to negotiation with Bakiyev's southern support base. Atambayev resigned that same year, however, again accusing Bakiyev of corruption.
Atambayev was then elected head of the United People's Movement. He again ran for President in 2009, receiving about 8 percent of the vote and accusing the authorities of election fraud.
On April 6, 2010, Atambayev was arrested, along with Omurbek Tekebayev and Temir Sariyev, after demanding Bakiyev's resignation at a demonstration against utility rate hikes. Protestors responded by storming the Jogorku Kenesh (parliament) and taking over Kyrgyzstan's major television channels. Atambayev, Sariyev, and Tekebayev were released shortly thereafter and Bakiyev resigned. Interim President Roza Otunbayeva appointed Atambayev Minister of the Economy.
Atambayev succeeded Otunbayeva in October 2011, winning 63 percent of the vote. Despite his mandate and peaceful acquisition of power (the first in Kyrgyzstan's post-Soviet history), his presidential term has been marked by scandals. Further, just as before he came to power, most Kyrgyz still name corruption, unemployment, and basic infrastructure (such as access to drinking water) as their main concerns.
Atambayev has arguably brought Kyrgyzstan further into Russia's sphere of interest by leading it into the Eurasian Economic Union in 2015. He has also actively sought Chinese investment and demanded the US remove its air base at Manas Airport.
A constitutional referendum passed in 2016 shifts key powers away from the president to the prime minister. Atambayev's opponents have criticized the referendum, claiming that it paves the way for him to stay in power after his presidential term limit ends. Nevertheless, Atambayev has publicly stated that he would not seek political office at all after the end of his term. He has endorsed his political ally, Sooronbay Jeenbekov, who resigned as Atambayev's prime minister to run for the presidency.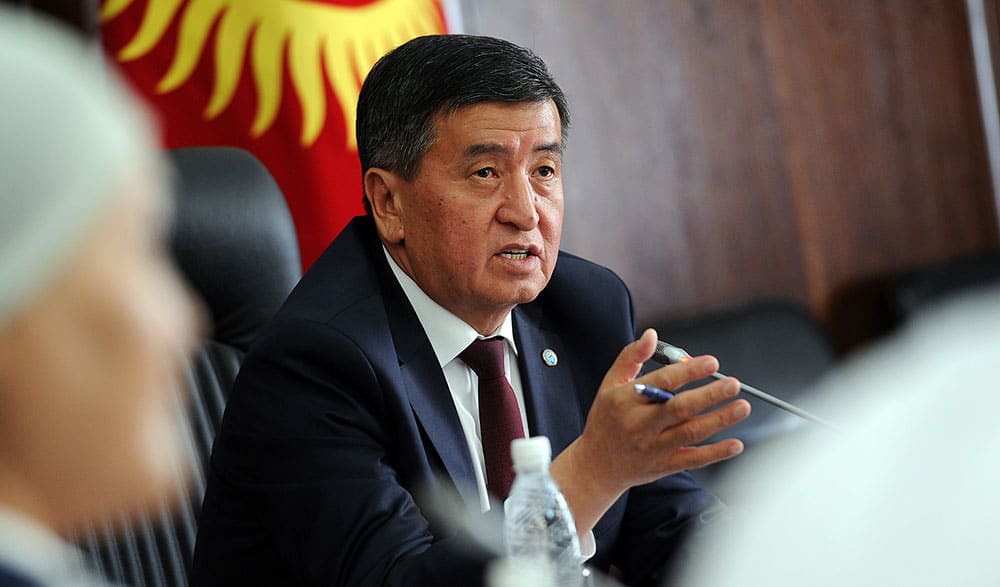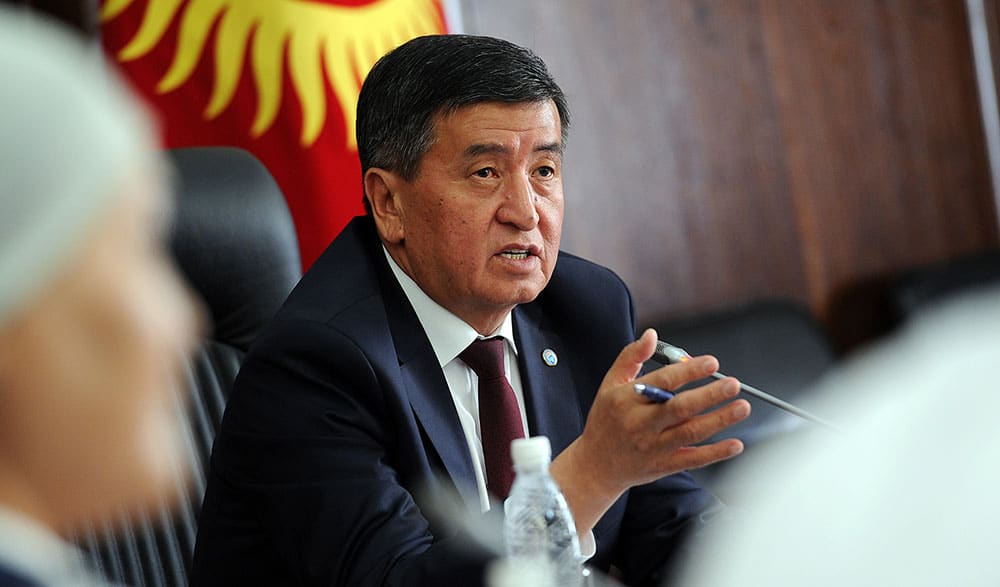 Sooronbay Jeenbekov
Sooronbay Sharipovich Jeenbekov was Prime Minister of Kyrgyzstan from 2016-2017. He resigned to run as the Social Democratic Party of Kyrgyzstan's (SDPK) presidential candidate.
Jeenbekov was born in 1958 in Kara-Kulja, near Osh in the south. He holds a zoological engineering degree from the Kyrgyz Agricultural Institute and an accounting degree from the Kyrgyz Agrarian University. He was formerly a livestock specialist on a collective farm before entering politics in 1988.
Jeenbekov held various local agricultural-administrative positions before being elected to the Jogorku Kenesh (parliament) in 1995 where he served on agriculture-related committees. In 2007, he was named Minister of Agriculture, Water Resources and Processing Industry before being relieved of that position late that year. He left government for business until September 2010, when interim President Roza Otunbayeva named him Acting Governor of the Osh Oblast following the 2010 Kyrgyz Revolution.
That oblast experienced violent unrest soon after Jeenbekov entered office as the effects of the revolution helped further divide society along ethnic lines. Tensions between the Kyrgyz majority and Uzbek minority exploded and around 400,000 Kyrgyzstani citizens became internally displaced and around 2,000 died.
In 2016 the SDPK, which President Almazbek helped found and is currently Kyrgyzstan's most powerful political party, nominated Jeenbekov as prime minister. Jeenbekov held the post until he officially registered as a presidential candidate on August 21, 2017.
Atambayev commented that he hopes Jeenbekov, a close friend of his, will carry in his footsteps and finish what he began. Critics worry that although Atambayev has pledged to leave politics after his presidential term that he could still influence the election. Further, his party's nomination of an Atambayev loyalist with a less-than-illustrious career, combined with a recent successful constitutional referendum that boosted the power of the prime minster, means that Atambayev could conceivably return to power by moving to the office of prime minster and thus skirt presidential term limits.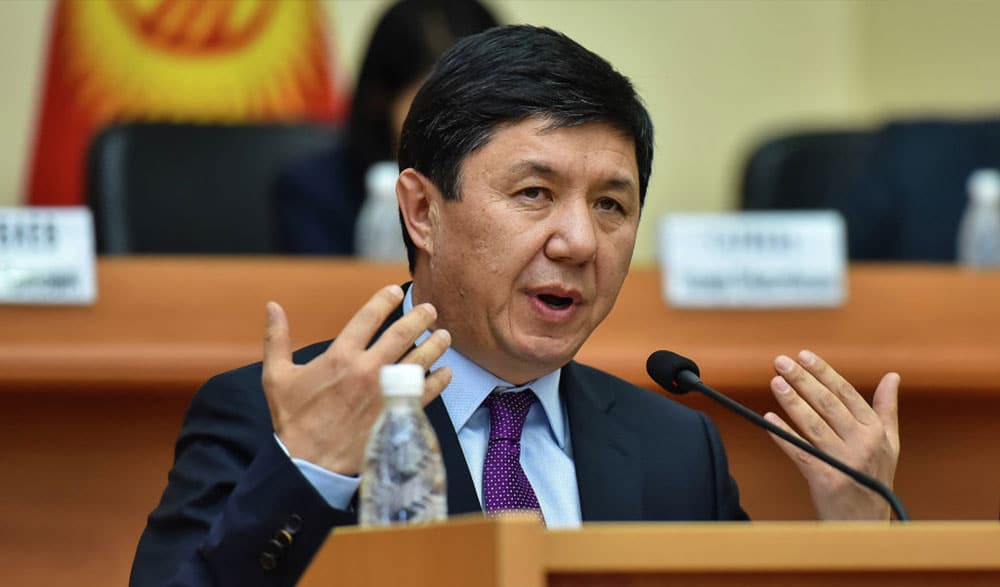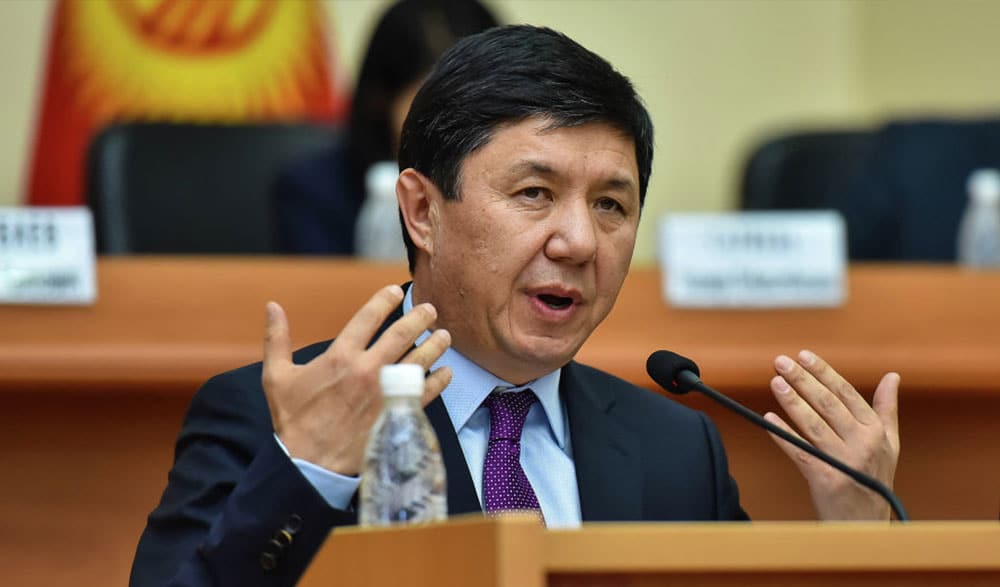 Temir Sariyev
Temir Agrembayevich Sariyev is the co-chair of the For Reforms opposition movement that has advocated for constitutional reform, intensified measures to counter corruption and increased powers for the Jogorku Kenesh (parliament) as a balance to presidential authority.
Sariyev was born in the northern Chui Oblast in 1963 and served two years in the Soviet Army before graduating as an economist from Kyrgyz National University in 1989. He then worked at the Alamedin Fur Factory as an economist and logistical expert. He went on to open several cafes and discos and, from 1995-2000, helmed the financial-industrial firm Toton as general director. He is regularly named one of Kyrgyzstan's richest people.
Sariev entered politics in 2000 with his bid to join parliament. He sided with the Jibek Joly bloc and gained a seat on the Budget and Finance Committee. In 2005, Sariev was part of the successful parliamentary delegation that traveled to Moscow to convince the exiled Askar Akaev to resign.
In 2006, Sariev made an unsuccessful run to be speaker of parliament, but received only 19 out of 62 votes.
In 2007, customs officials accused him at Manas Airport of attempting to leave the country with $100,000 in cash. For Reforms officials called the allegation politically motivated. Sariev was later selected as a co-chair for For Reforms and launched his new political party, Ak-Shumkar ("White Falcon"), in part with fellow politician Kubatbek Baibolov. The party is right-wing, pro-business, and supports a more powerful parliament
Sariev made a failed presidential run in 2009, claiming that voter fraud contributed to his loss.
On April 6, 2010 Sariyev was arrested, along with Omurbek Tekebayev and Almazbek Atambayev, at Manas Airport. Their detention fueled further violent unrest already present in the Kyrgyz capital. The three were released later that night after opposition protestors assumed control of the capital. Bakiyev resigned soon after on April 15.
Roza Otunbayeva named Sariyev Minister of Finance in the interim government, and he pledged to create a commission to expose the extent to which Bakiyev and his family had privatized government land and assets for their personal benefit.
Sariyev and his party supported Atambayev's successful 2011 presidential run.
Sariyev assumed the prime minister's seat in May 2015 but resigned in 2016 after the Jogorku Kenesh accused his cabinet of directing a $100 million road construction deal to a Chinese firm that lacked the required license.
Sariyev is considered a leading contender in the November 2017 elections.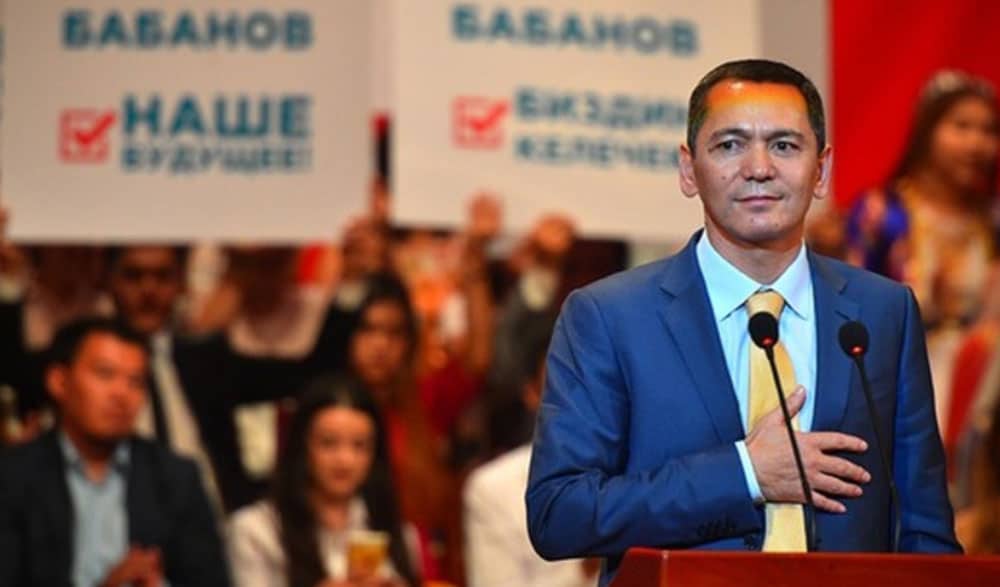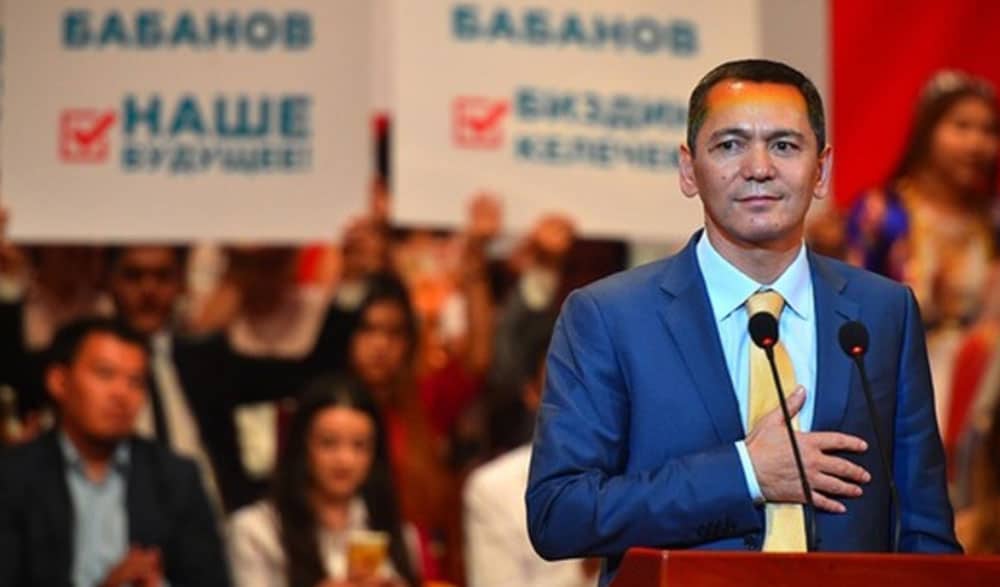 Omurbek Babanov
Omurbek Toktogulovich Babanov is founder of the Respublika party, one of Kyrgyzstan's wealthiest individuals, and a former prime minister. He is considered a front-runner in 2017 presidential elections.
Born in 1970 in the Chimkent, northwestern Kyrgyzstan, Babanov graduated from the Timiryazev Moscow Agricultural Academy in 1993. In 2005, he obtained a finance degree from the Higher School of Finance Management in Russia and, in 2009, completed a law degree at the Kyrgyz State Legal Academy.
Post-perestroika, he became involved in various businesses including cotton export, Kazakh oil markets, and eventually worked as Chairman of Munay Myrza Invest's Board of Directors. He currently has a net worth estimated at $1.5 billion.
Babanov joined the Jogorku Kenesh (parliament) in 2005 and was calling for the resignation of then-President Kurmanbek Bakiyev as early as 2006. In 2009 he resigned from the Social Democratic Party of Kyrgyzstan (SDPK) to form his own party, Respublika, which earned 13 percent of the vote in the 2010 elections. After the 2010 Kyrgyz Revolution, Acting President Roza Otunbayeva nomintaed Babanov as Acting Prime Minister — he was confirmed by parliament into President Almazbek Atambayev's administration the following December. In 2012, amidst a faltering economy and allegations of corruption, Babanov resigned.
Respublika merged with Ata-Jurt in 2014 to form Respublika—Ata-Jurt, but Babanov is running as an independent candidate in the 2017 elections. A March 2017 poll by the International Republican Institute reported that 35 percent of respondents trusted Babanov more than any other Kyrgyz politician (including President Almazbek Atambayev, who received 31 percent of the vote), and 80 percent of respondents viewed him favorably.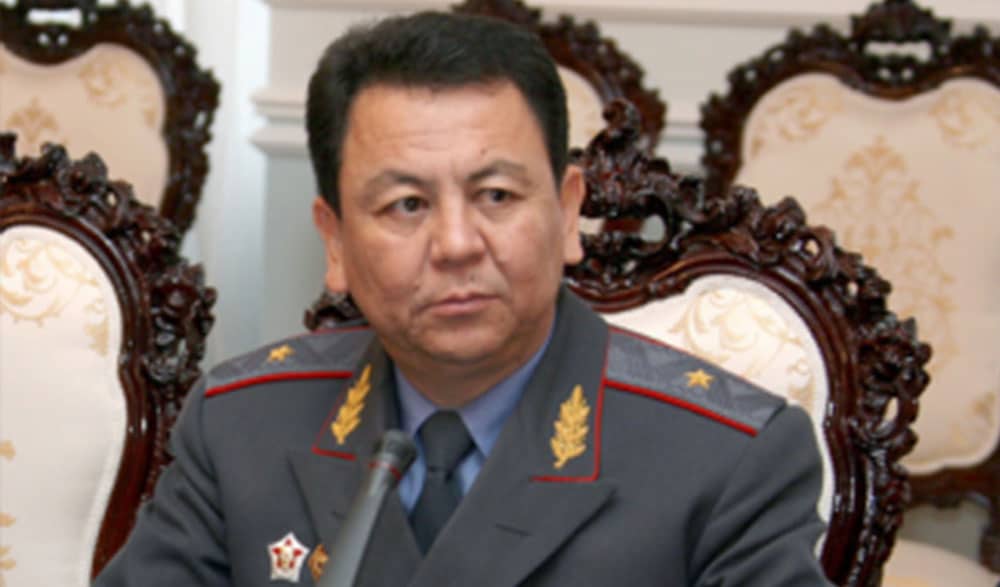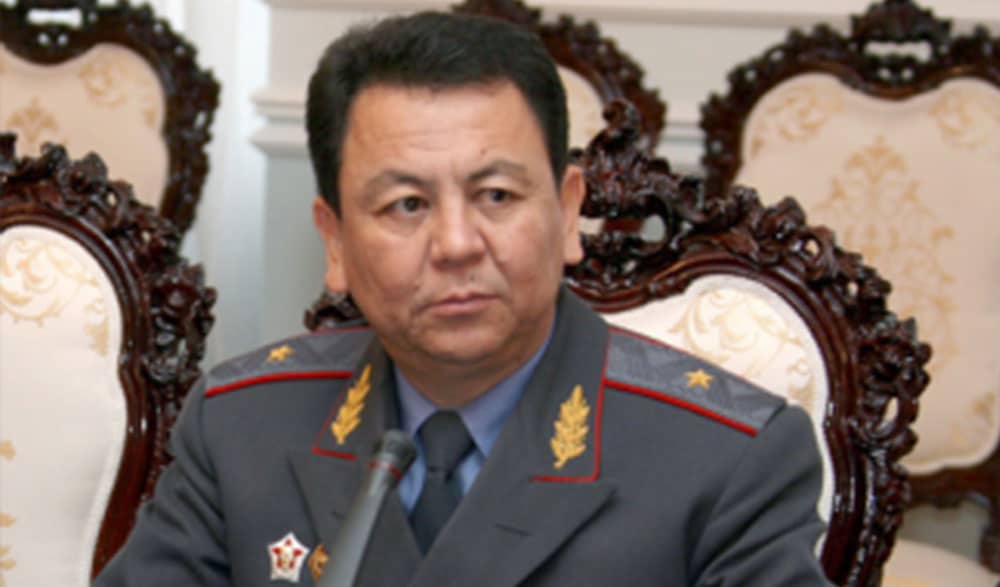 Omurbek Suvanaliev
Omurbek Isaakovich Suvanaliev, affectionately nicknamed "Commissar Cattani" in honor of the police inspector who fights the mafia in the Italian series La Piovra, is a former police investigator, interior minister, and military general at the forefront of the battle against organized crime in Kyrgyzstan. He is a leader of the conservative Ar-Namys political party.
Suvanaliev was born in 1960 in the northwestern city of Talas, Kyrgyzstan. He obtained his law degree from Karaganda Higher School in 1986 and was immediately named a senior security officer in Talas. By 1990 he became deputy police chief of Przhevalsk – the administrative center of the Issyk-Kul region in the north. That same year, terrorists hijacked a plane from the Karakul Airport. Suvanaliev personally snatched the homemade bomb from their hands and is credited with saving dozens of people.
Following a two-year term in the Jogorku Kenesh (parliament), Suvanaliev was elevated to colonel and headed Osh Region's Ministry of National Security in 1997. Although he ordered a 700-ton shipment of weapons passing through Kyrgyzstan from Iran to Afghanistan seized, he resigned in protest once the Akayev administration decided to close the criminal case and return the weapons just one year later. Suvanaliev continued his anticorruption work in 2003 as director of the Ombudsman's Department for Kyrgyzstan.
The Commissar was appointed interim chief of the Bishkek Police Department and deputy interior minister shortly after the March 2005 Tulip Revolution. Suvanaliev and his security forces arrested some 30 leading members of organized crime.
Near the end of 2007, he was appointed governor of the country's Naryn Province until Bakiyev removed him in November 2009 without disclosing the reason.
Following the Kyrgyz Revolution of 2010, Suvanaliev hoped to serve as minister of internal affairs but was instead appointed chief of police in Osh. He accepted the position, but resigned that same month to campaign for president with the Commonwealth Political Party. However, Suvanaliev received less than one percent of the popular vote.
Ahead of the 2017 presidential elections, in something of an acknowledgment that he is unlikely to perform well, Suvanaliev indicated his intention to establish an opposition coalition with Adahan Madumarov to at least prevent the victory of Sooronbay Jeenbekov, ex-prime minister to Azimbek Atambayev.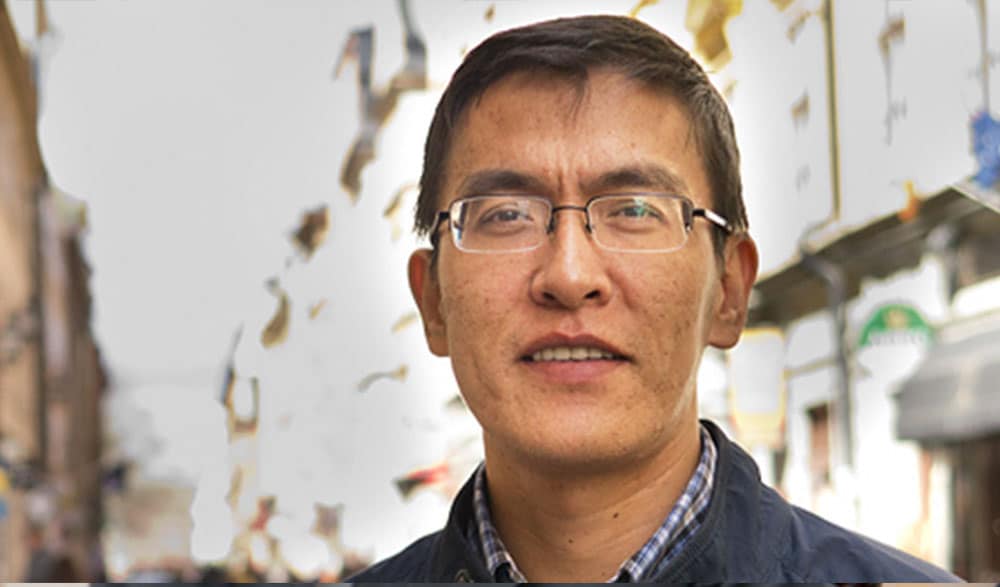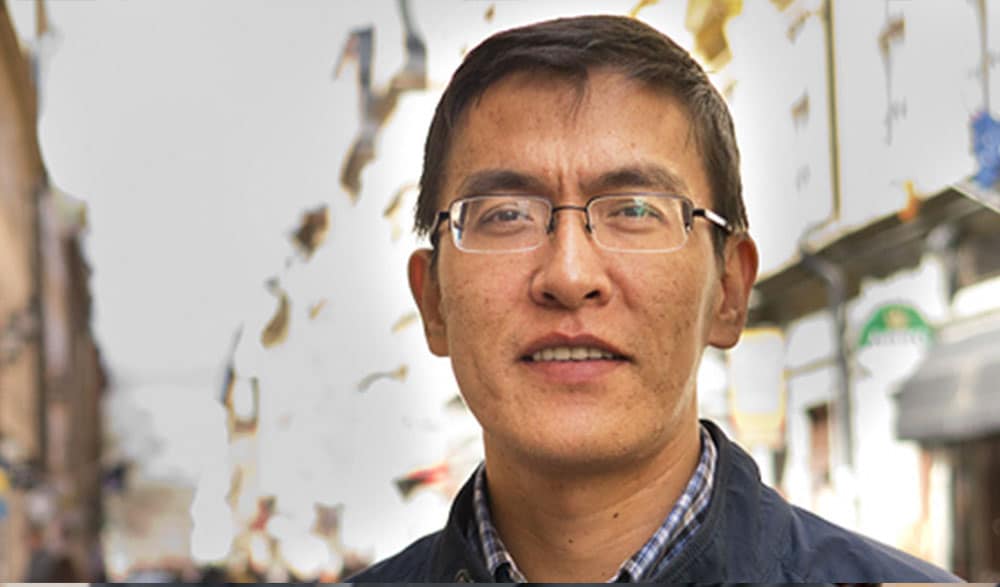 Edil Baisalov
Edil Baisalov is the former chief of staff to Roza Otunbayeva's interim government, former President of the Coalition for Democracy and Civil Society, a nongovernmental election monitor, and a leading activist in Kyrgyzstan.
Born in Bishkek in 1977, Baisalov attended the American University of Central Asia before studying abroad in Turkey (1992-1993) and the United States (1994-1995). He took up civil rights activism upon his return to Kyrgyzstan.
In February 2003, Baisalov was scheduled to attend a Freedom House-sponsored roundtable, but government authorities hospitalized the rights activist, forcing him to undergo a bizarre three-day eye examination.
An outspoken critic of the Akayev regime, Baisalov ran the Coalition for Democracy and Civil Rights on a $110,000 annual budget supplied by the National Democratic Institute for International Affairs, a Washington-based nonprofit. As the Tulip Revolution drew near, then-President Askar Akayev became increasingly convinced of a western-funded plot against him. Baisalov was among 30 people arrested as protestors shouted anti-Akayev slogans in downtown Bishkek in 2005.
In 2006, Baisalov suffered a blow to the back of his head from a piece of rebar. He sustained a closed cerebral fracture, concussion, and a contusion but survived. The attacker was never found. This came just days after Baisalov had led an estimated 2,000 people in peaceful protest against organized crime, and specifically attempts by crime boss Ryspek Akmatbayev to obtain a seat in the Jogorku Kenesh (parliament).
Baisalov joined the Social Democratic Party of Kyrgyzstan in 2007. He fled to Sweden later that year, saying that there was a "personal vendetta" against him. While abroad he won a full scholarship to study government at Harvard, but on April 8, 2010, just one day after the revolution, he flew to Kyrgyzstan to serve as Chief of Staff to the head of the interim government, Roza Otunbayeva. Baisalov was the one to publicize Bakiyev's handwritten resignation note on April 15.
Baisalov was eventually named Vice Minister of Social Development and served as Minister for Children, the Elderly, and the Disabled from 2012-2013. He has since left the government and claims that those that served in Otunbayeva's administration are now being targeted by Atambayev's.
Baisalov remains one of the leading political analysts and activists in Central Asia ahead of the 2017 elections, in part due his prolific social media accounts, including Kyrgyzstan's largest Twitter following. He has recently led protests against what he says are lawsuits set forth by President Atambayev to curtail media freedom. He also remains involved in US-Kyrgyz affairs, serving on the advisory council of the Kyrgyz American Foundation.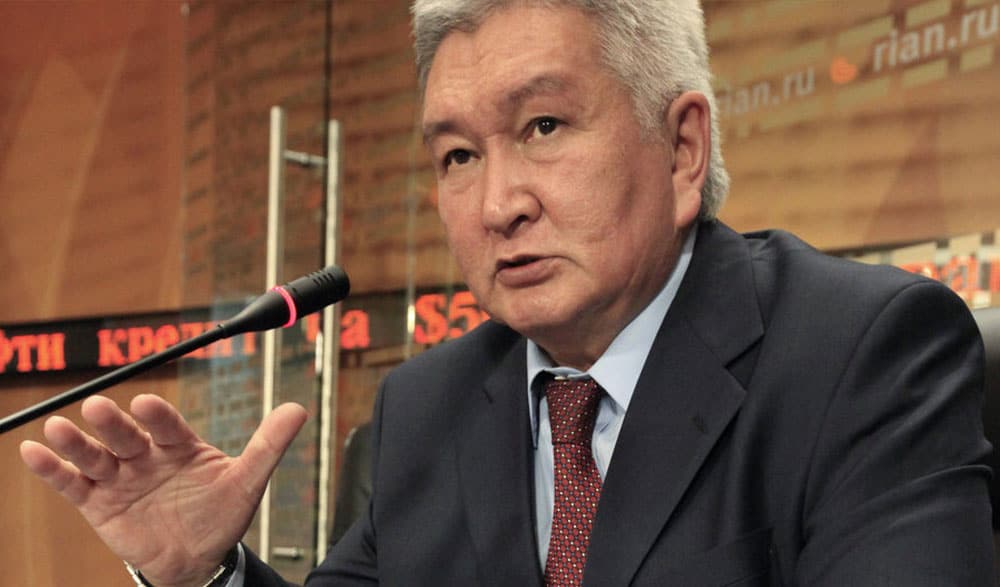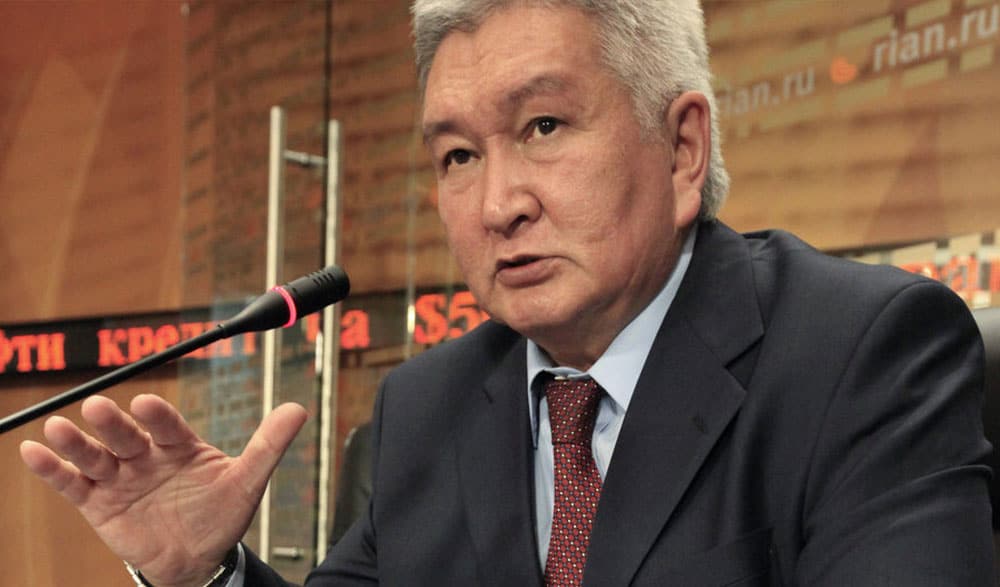 Felix Kulov

Felix Sharshenbayevich Kulov is a former Soviet-era security services colonel who took a leading role in the formation of an independent Kyrgyzstan following the breakup of the Soviet Union. He is now head of Kyrgyzstan's Conservative Ar-Namys (Dignity) party. Initially trained as a police officer, Kulov has previously served as Minister of Interior, Vice President, Minister of National Security, Governor of the Chui Province and Mayor of Bishkek.
An influential leader from the north, Kulov was born in Frunze (now Bishkek) in 1948. He helped quell the Osh ethic riots of 1990, promoting the inclusive slogan "Kyrgyzstan Is Our Common Home." From 1992 until 1993 he served as Vice President of Kyrgyzstan and oversaw the launch of the Som, Kyrgyzstan's national currency. He was later forced to resign after he was accused of complicity in a scheme to embezzle Kyrgyz gold reserves.
Kulov gained popularity while serving as mayor of Bishkek from 1998 to 1999. He resigned to create the Ar-Namys ("Dignity") party, which quickly became a leader among Kyrgyzstan's opposition. Kulov declared his intention to run for president in February 2000 elections but the following month a closed military tribunal sentenced him to seven years in a maximum-security prison for alleged abuse of power, forgery, and complicity in crimes committed while he was Minister of National Security. Kulov and the Ar-Namys party were subsequently barred from the 2000 parliamentary elections.
In November 2001 Kulov was elected chair of the People's Congress of Kyrgyzstan, an electoral alliance that included Ar-Namys, Ata-Meken ("Homeland"), the People's Party and Erkin Kyrgyzstan "Free Kyrgyzstan." Although he initially served from prison, Kulov was released by a crowd of 300 protestors and cleared of all charges during the 2005 Tulip Revolution.
On August 15, 2005 Kyrgyzstan's new president Kurmanbek Bakiyev, a southern politician, appointed Kulov prime minister. Their administration united northern and southern Kyrgyzstan in a celebrated "tandem." However the alliance dissolved in January 2007, when Kulov failed to secure the necessary parliamentary support to retain his post. He then rejoined the opposition under the United Front movement and began to speak out against the corruption he witnessed in Bakiyev's administration.
Ar-Namys obtained 7.74 percent of the vote in the 2010 parliamentary elections and won 25 out of 120 seats in the Jogorku Kenesh. However, in 2015 the party failed to win any seats.
Kulov remains the head of Ar-Namys, but is currently publicly seeking a successor is likely to retire from politics soon. He continues to advocate for the introduction of penalties to the criminal code for acts of usurpation of power.
II. Recently Out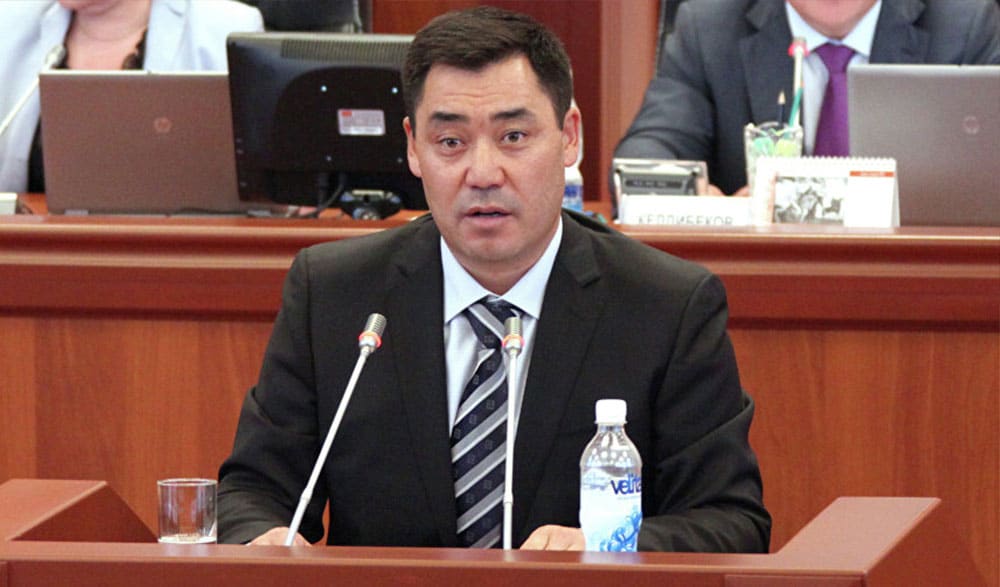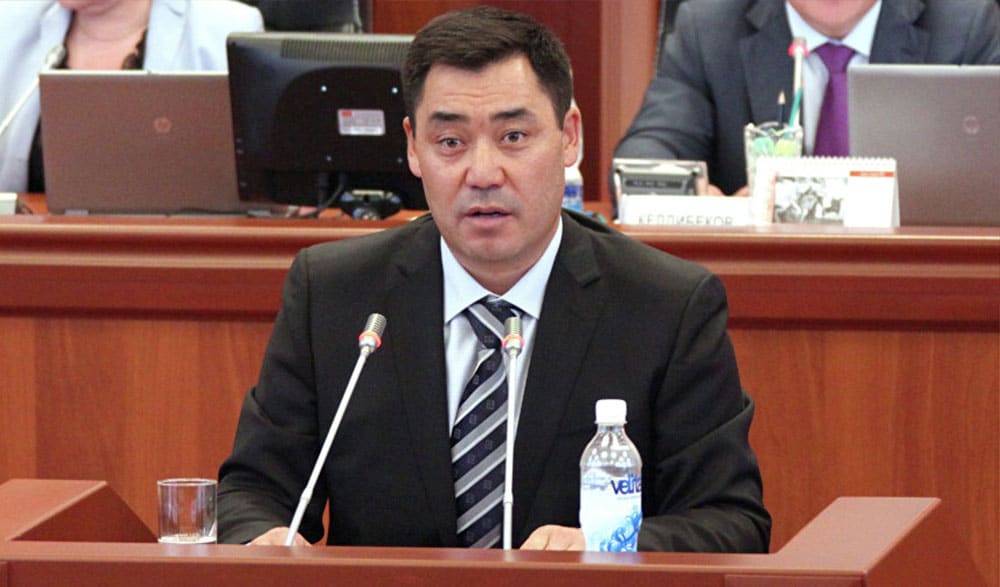 Sadyr Japarov

Sadyr Nurgozhoevich Japarov, a charismatic Ata-Jurt (Homeland) leader and former MP, was a candidate in the 2017 presidential election until convicted of hostage taking in August.
Japarov was born in 1968 in the northern village of Ken-Suu. In 1996 he began work in the Ministry of Internal Affairs and in 2005 he became a deputy of the Jogorku Kenesh (parliament). From 2007 to 2009 he served as advisor to former President Kurmanbek Bakiyev. He directed the Agency for the Prevention of Corruption from 2008 until 2010.
In 2012, Japarov and other Ata-Jurt leaders allegedly told about 800 protestors in Bishkek to storm the legislature and demand the nationalization of the Kumtor Gold Mine. Kumtor is one of Kyrgyzstan's truly valuable natural resource deposits and is run by the Canadian Centerra Gold Firm. The protestors tried, and failed, twice to storm the building, and Japarov was arrested for publically advocating a violent overthrow of the government. He was sentenced to 18 months in jail, but was released after his supporters sized a regional administration building and blocked a main highway connecting Osh and Bishkek three months later.
In 2013, the Supreme Court charged Japarov again in connection to the Kumtor Protests, as they became known. According to investigators, Japarov encouraged his supporters to take Governor Emilbek Kaptagaev hostage. Japarov was charged with making death threats as well as conspiracy to commit violence against a government official, hooliganism, and hostage taking. Japarov fled to Cyprus before authorities could arrest him. He claims the charges and evidence were fabricated, and Governor Kaptagaev later requested that the Bishkek City Court acquit Japarov.
Japarov returned to Kyrgyzstan in 2017 to face questioning by the Kyrgyz security services. His detainment prompted 500 of his supporters to demand his release at the gates of Kyrgyzstan's Committee for National Security — 68 were arrested.
He was later convicted under hostage taking laws and sentenced to 11 years and six months in maximum security prison. He has been suspended from the presidential election.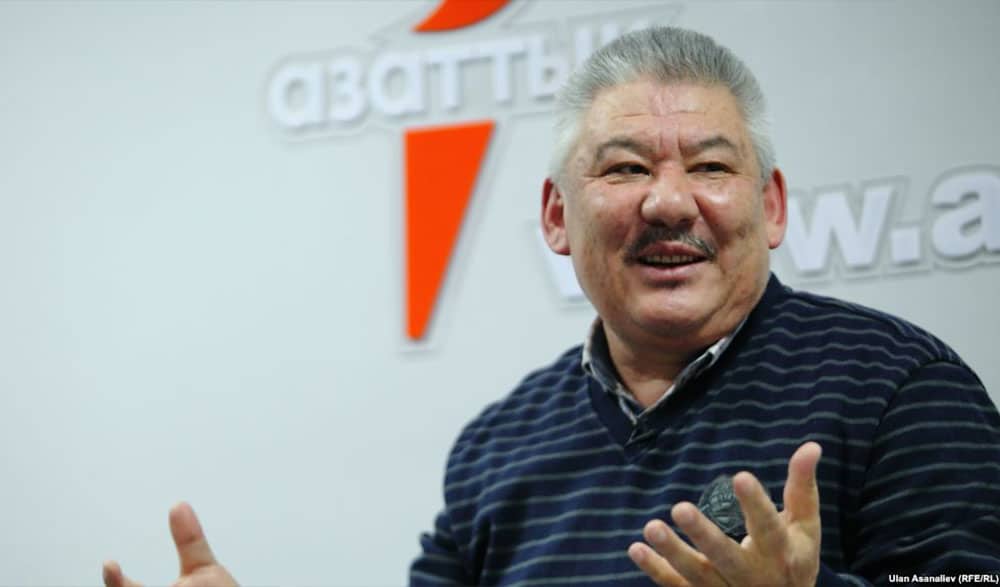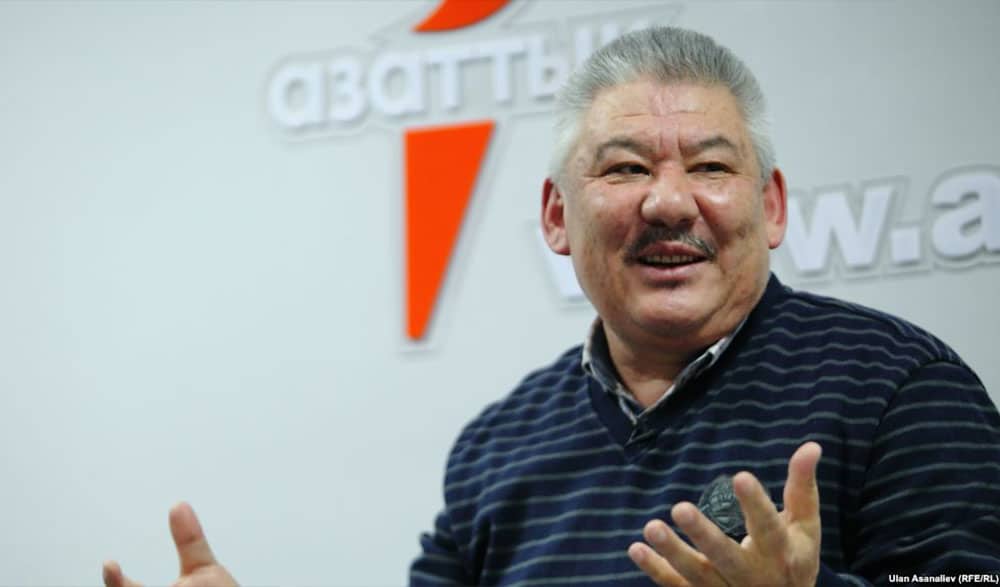 Azimbek Beknazarov

Azimbek Anarkulovich Beknazarov was instrumental in both the 2005 and 2010 Revolutions, earning him the nickname of "The Revolution Bulldozer." He is running in the 2017 presidential elections.
Beknazarov hails from the southern Kyrgyz village of Kara-Soo. After serving in the Soviet army, he went to Uzbekistan to study law. He then returned to Kyrgyzstan to work as an investigator in the Prosecutor General's Office for the Jalalabad Region. From 1996 to 1999, he worked as a judge in the Oktyabrsky Regional Court until entering politics.
In 2001, Beknazarov was elected to the Kyrgyz parliament and served as a member of the Committee on Judicial Affairs.
In 2002, Beknazarov called for Akayev's impeachment after a border agreement was signed that ceded 480 square miles of contested territory to China. As protests escalated, Beknazarov was arrested and charged with abuse of power (in connection with his pre-trial release of a man accused of murder seven years earlier). After police opened fire against protestors and killed five in Aksy, Beknazarov was released three days later, but the incident united the opposition. Upon his release, Beknazarov personally attempted to initiate impeachment proceedings against Akayev.
In 2004, Beknazarov became deputy to Kurmanbek Bakiyev. During the 2005 Tulip Revolution, he actively supported Bakiyev, who became president in the new government. Beknazarov became the chairman of the United Front, an umbrella group which sought to unite the country's opposition movements. Bakiyev appointed him Prosecutor General.
By August 2005, Bakiyev had fired Beknazarov for "allowing gross violations of law" and "placing his own interests ahead those of the country's." Beknazarov, however, still succeeded in being re-elected to parliament and began accusing Bakiyev of cronyism and corruption.
Beknazarov then worked closely with fellow opposition figure Roza Otunbayeva, who eventually succeeded Bakiyev after the 2010 Kyrgyz Revolution. Otunbayeva appointed Beknazarov Deputy prime minister and Prosecutor-General of the interim government.
By the end of 2010, however, Beknazarov had resigned and returned to the opposition as an independent activist. He has been critical of Atambayev and even called his former ally Otunbayeva an "imposter."
During the 2017 bribery trial of former Parlimentary Speaker Omurbek Tekebayev, Beknazarov testified in favor of Tekebayev. However, recordings later appeared on YouTube in which Beknazarov is apparently heard admitting that his testimony was false. Beknazarov maintains the recordings are edited forgeries.
Beknazarov running in the October 2017 presidential elections but, in part due to the scandal, has doubtful prospects.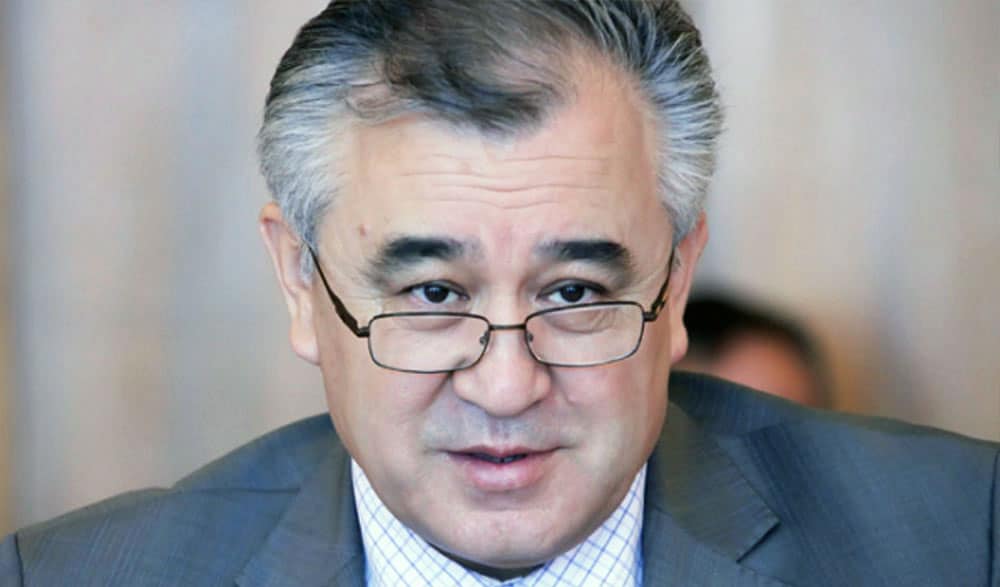 Omurbek Tekebayev
Omurbek Chirkeshovich Tekebayev was born into the politically-powerful southern Ichkilik clan grouping in Jalal-Abad in 1958. Though previously registered for the 2017 presidential elections, Tekebayev is constitutionally barred following an August criminal conviction.
After receiving a physics degree from Kyrgyz State University, he taught for several years at a village school in western Kyrgyzstan. In 1994, Tekebaev graduated from the law faculty at his alma mater.
Tekebaev's first significant stride into politics came in February, 1991 when he formed the Erkin Kyrgyzstan party (Free Kyrgyzstan). A year later, Tekebaev entered parliament and the conservative Erkin party split. Tekebaev's more centrist wing was renamed Ata-Meken. It would become one of Kyrgyzstan's longest-standing political parties.
In 2000, Tekebaev was elected Deputy Speaker of the Jogorku Kenesh. Tekebaev united Ata-Meken with Felix Kulov's Ar-Namys to run for the presidency. However, Tekebaev garnered only 14 percent of the vote.
A conflict with then-President Bakiyev in 2006 spurred his resignation as Speaker and Tekebaev resumed his role as opposition leader by creating the For Reforms movement.
Shortly after, Tekebaev was arrested in Warsaw. Polish customs officials found 595 grams of heroin in his luggage. However, a Polish court acquitted him within days, citing evidence that a Kyrgyz parliamentary commission later confirmed: there had been a "special operation" against Tekebaev ordered by then-SNB Deputy Chairman Janysh Bakiyev, the president's brother.
In 2007, Tekebaev's again ran for President, again with Kulov's support. He was again defeated and his supporters held protests against the election results.
Tekebayev remained a prominent opposition leader until Bakiyev was removed from power in 2010. He was then named a deputy chairman of Roza Otunbayeva's interim government and chairman of the Constitutional Council that rewrote Kyrgyzstan's constitution. Compromising footage of Tekebayev intimately involved with a woman who was not his wife surfaced ahead of the 2010 parliamentary elections, and he failed to receive the support necessary to become Speaker of the Jogorku Kenesh.
In 2017, a Kyrgyz court convicted Tekebayev of accepting $1 million in bribes from Russian businessman Leonid Mayevesky. Tekebayev's supporters believe the move is politically motivated to discredit him ahead of the presidential elections. Public protests have been held in his support.
Although Tekebayev submitted documents to compete in the 2017 presidential election, he is ineligible a convicted criminal. He retains power as head of the Ata-Meken political party.
III. Historical Figures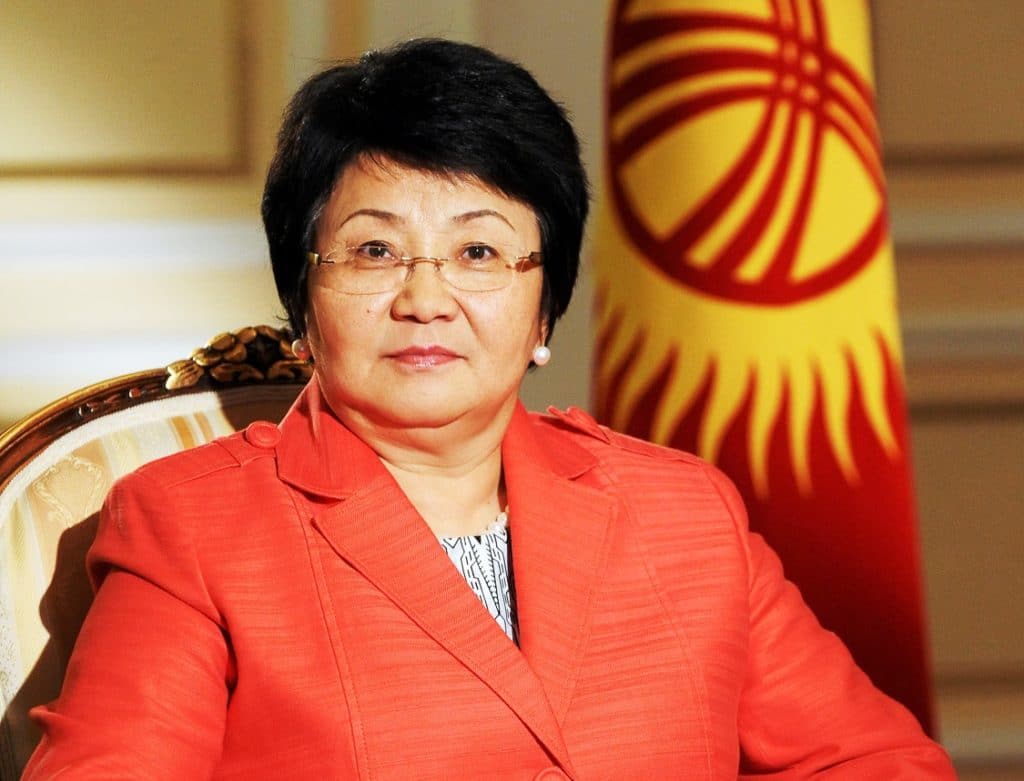 Roza Otunbayeva

Roza Isakovna Otunbayeva served as the first female President of Kyrgyzstan from April 2010 until December 2011, and was the first Kyrgyz president to step down in a peaceful transfer of power.
Otunbayeva was born in the southern Kyrgyz city of Osh in 1950. At 22, she held a Master's in Philosophy from Moscow State University. She taught as Head of Kyrgyz State National University's Philosophy Department until 1981. She rose through Communist Party ranks until 1992, when then-President Askar Akayev appointed her Foreign and Deputy prime minister. She soon after became her country's first Ambassador to the United States and Canada, and later became Ambassador to the United Kingdom.
Though a former Akayev ally, Otunbayeva returned to Kyrgyzstan in 2004 to cofound the opposition party Ata-Jurt (Fatherland). She, however, was barred from the 2005 parliamentary elections due to a law requiring candidates to reside in the country for five consecutive years before the election. Many considered the law political repression against her as she was campaigning against Akayev's daughter in the same constituency.
Alleging corruption against Akayev, Otunbayeva urged the Russian government to stop supporting his regime. Akayev retaliated, accusing Otunbayeva of being in the pocket of the United States. Otunbayeva and Ata-Jurt led a small protest in Bishkek following Askar Akayev's parliamentary victory—the first of a series of increasingly violent demonstrations that culminated in the 2005 Tulip Revolution.
Otunbayeva was nominated Acting Foreign Minister within hours following Bakiyev's ascension to the presidency following the revolution, but she failed to receive enough parliamentary support to retain the post. Although she and Ata-Jurt played pivotal roles in bringing Bakiyev to power, Otunbayeva ultimately became critical of Bakiyev.
When Bakiyev was removed from power during the 2010 Kyrgyz Revolution, Otunbayeva was elected interim president. Immediately, she was confronted with crisis as ethnic riots broke out in Osh and later Jalal-abad. Around 400,000 Kyrgyzstani citizens became internally displaced and around 2,000 died.
The violence led to the adoption of a new constitution that hoped to better distribute political power between regions and institutions. Powers of the prime minister and parliament increased relative to the President. The number of parliament members increased from 90 to 120, and parties were limited to 65 seats in an effort to prevent power concentration.
Otunbayeva held the presidency until October and did not campaign to keep it, saying that she wanted to avoid allegations of an unfair election. On December 1, 2011, Otunbayeva stepped down in Kyrgyzstan's first peaceful transfer of power, welcoming Almazbek Atambayev to the office.
The following year she established the Roza Otunbayeva Initiative, an international public foundation that contributes to Kyrgyzstan's social, political, and economic development. She has otherwise retired from politics.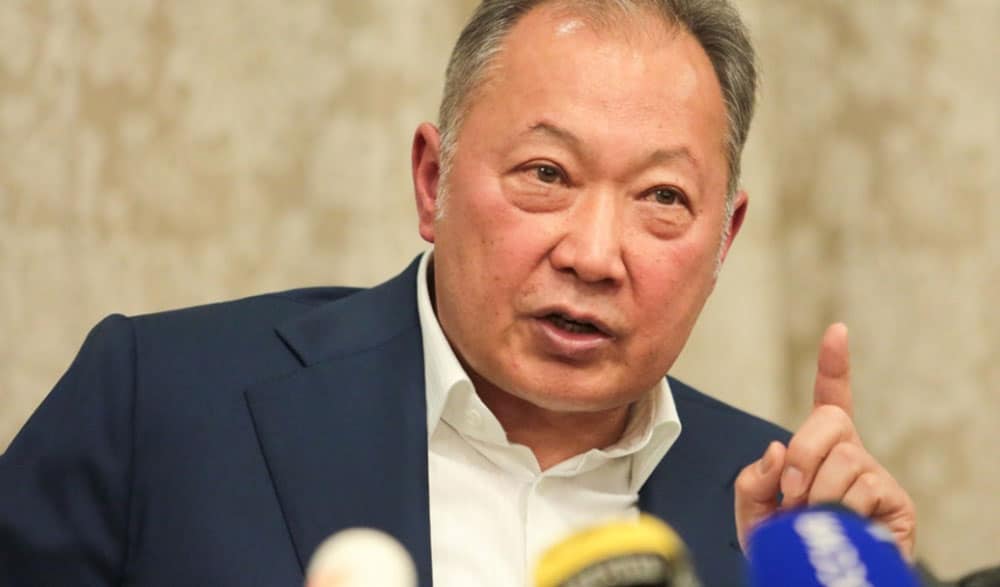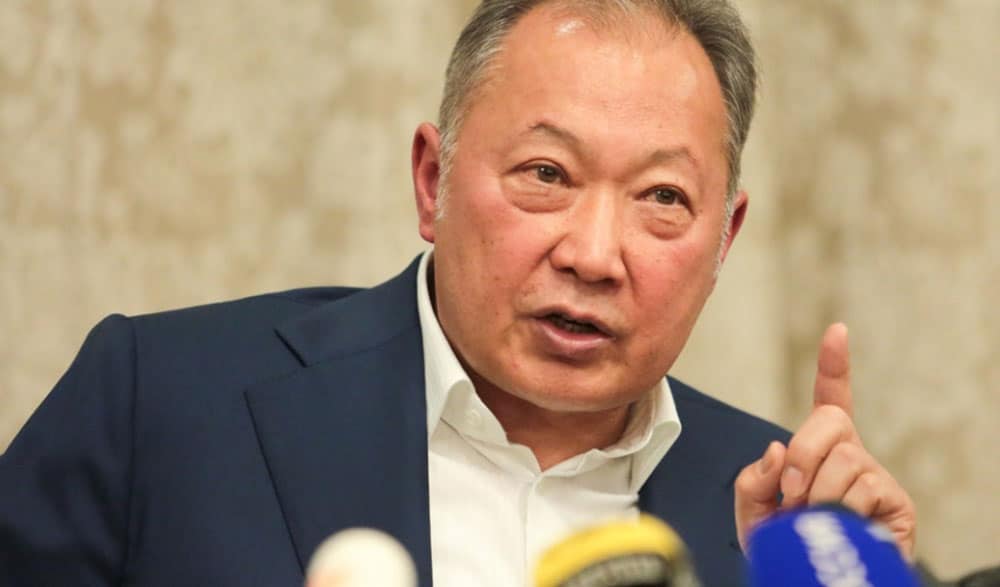 Kurmanbek Bakiyev
Kurmanbek Salievich Bakiyev was the president of Kyrgyzstan from 2005-2010, having come to power during the March 2005 Tulip Revolution that ousted former leader Askar Akaev. His presidency has been complicated by the continued north-south divide that helped spark the 2005 turnover, competing demands from Russia and the U.S., as well as internal corruption, slow economic development, and a large (and growing) foreign debt, which currently stands at about $2.1 billion.
Bakiyev was born on Aug. 1, 1949 in Masadan, Jalal-Abad. After studying at a polytechnic institute, he worked as an electrical engineer. He entered local politics in 1990, elected first secretary of the town council of Kok-Yangak, a small coal mining town in the province of Jalal-Abad.
Governorships of Jalal-Abad and Issyk-Kul followed. He moved on to the post of prime minister in 2000, a position he resigned in May 2002 following a riot that saw five anti-government protesters shot in the southern town of Aksy.
In October 2002, Bakiyev was elected to the Jogorku Kenesh (parliament) to fill a vacancy. Two years later he created a People's Movement of Kyrgyzstan (NDK) opposition party and announced his intention to run for the presidency.
Early 2005 saw Bakiyev's NDK form a coalition along with several other groups, including: Ata-Jurt "Fatherland," Jany-Bagyt "New Course," the People's Congress of Kyrgyzstan (that at the time included Almaz Atambaev and Felix Kulov – also on this list) and a citizens' union called "For Honest Elections."
With a united opposition pressuring him, in March of 2005 President Askar Akaev was ousted from power in what has become known as the "Tulip Revolution." Bakiyev, as an opposition leader, became the interim president until July elections saw the southerner receive 88 percent of the popular vote.
Bakiyev dissolved the parliament in October 2007 and called for party-list parliamentary elections to be held December 16, 2007. He formed the party called "Ak Jol," or "Genial Path," which won 71 out of 90 available seats in the new parliament.
His rule began to get rocky, with regular demonstrations taking place in the capital of Bishkek. According to some political analysts in Kyrgyzstan, the administration's nepotism, corruption and crackdowns on the political opposition showed some signs of similarity to the later years of the Akayev regime.
Immediately after accepting $2 billion in aid from Russia in February 2009, Bakiyev announced that Kyrgyzstan would not renew the lease on the base for the US military. However, in June 2009, Bakiyev agreed to allow the US to stay after it offered to pay $60 million to continue leasing the base. Many saw this as a slight to Russia. Bakiyev was also accused of diverting the aid his country received from Russia into private hands, namely those of his six brothers and two sons, who had together essentially come to run the entire government. His son Maxim, who is suspected of having ties to organized crime, had been appointed Head of the Central Agency for Development, Investment, and Innovation – which controlled vast swaths of the Kyrgyz economy.
In July 2009, Bakiyev was re-elected with 76 percent of the vote in an election criticized by the Kyrgyz opposition and the OSCE.
Public opinion of Bakiyev fell as unemployment and rates on housing and public utilities continued to rise. Starting in early 2010, several Kyrgyz news outlets were shut down for running "damaging" reports on the president and his son. On April 7, 2010, when it was reported that three leaders of the political opposition, Omurbek Tekebayev, Temir Sariev, and Almaz Atambayev, had been placed under arrest, crowds began forming in front of the White House calling for their release and opposition supporters stormed the parliament building after government forces opened fire on the crowd, killing dozens.
Bakiyev fled to the southern city of Osh where it was initially suspected that he was trying to amass and arm his supporters to return to Bishkek and resume the presidency. Bakiyev refused to step down as president until the new interim government announced that it would issue arrest warrants for him and his family if he did not. Bakiyev finally submitted his official resignation as president of Kyrgyzstan on April 16, 2010 and left the country, however he still maintains that the revolution which overthrew him was illegal.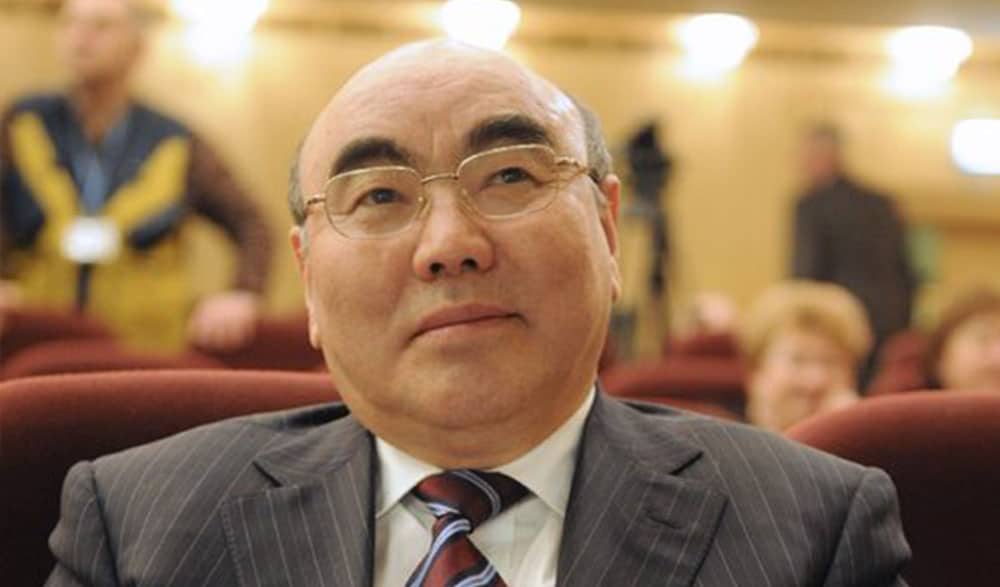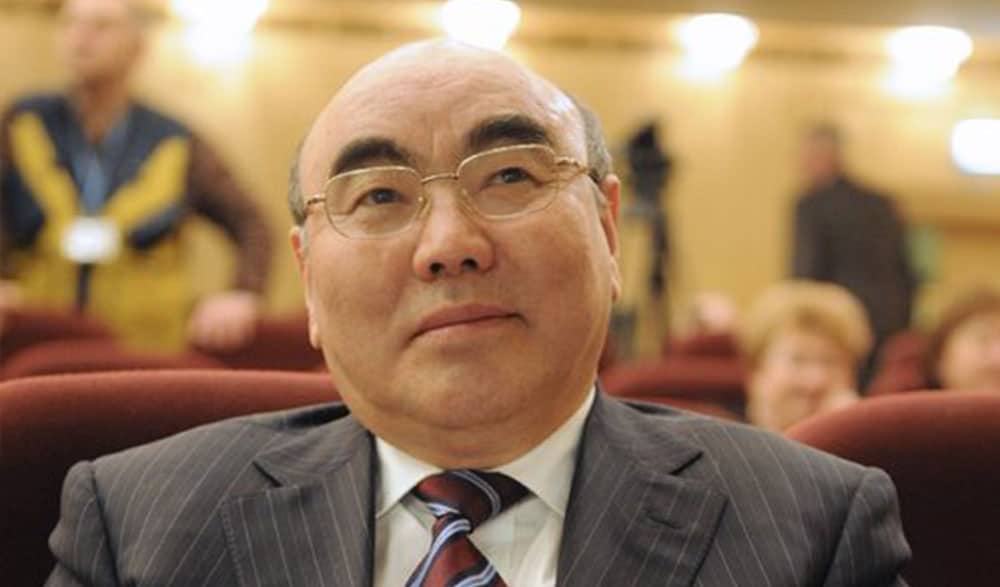 Askar Akayev
Askar Akaevich Akayev served as the first President of Kyrgyzstan from 1990 until his overthrow in the March 2005 Tulip Revolution.
Akayev was born in 1944 in Kyzyl-Bairak, a town on the outskirts of Osh. He holds a Ph.D in mathematics and computer science from the Moscow Institute of Engineering and Physics.
Akayev began his political career with the communist party in 1986. Popular and charismatic, he rapidly ascended the rungs of political power, heading the Kirghiz Academy of Sciences in 1989. The Kirghiz SSR's Supreme Soviet elected him the republic's first president in 1990 in an upset victory. Direct elections made Akayev the first president of an independent Kyrgyzstan after the Soviet collapse in 1991, and returned him to office in 1995.
Akayev initially welcomed Western advisors and advice from the International Monetary Fund, and in 1998 Kyrgyzstan was the first Soviet republic to join the Word Trade Organization. However, local politicians that remained from the communist system attempted to block Akayev's reforms. Akayev responded by attempting to expand presidential powers and directly replace local and regional officials with controversial personal appointments who then made their own appointments. This led to corruption and nepotism. In Jalal-Abad, for instance, the new provincial governor appointed family members to the most influential positions and used state funds to acquire personal property. Demonstrations continued even after the governor resigned.
In 1999, border negotiations with China led to Kyrgyzstan ceding 480 square miles of contested land. Protests erupted that were eventually put down with lethal force, leaving seven unarmed people dead. Their deaths helped unify the opposition.
Akayev still won reelection in 2000. However, the results were heavily disputed and protested.
Mounting pressure forced Akayev to promise he would leave office after his final term expired in 2005. However, his daughter, Bermet, and son, Aidar, both won seats in the February 2005 parliamentary elections. The opposition charged that those elections were also unfair and Akayev was setting up a dynastic succession. Three thousand people in Bishkek and fifty thousand in Jalal-Abad joined in public protests. Protests turned to riots in Bishkek, forcing Akayev to flee to Moscow on March 24, 2005. The subsequent regime change is known today as Kyrgyzstan's Tulip Revolution.
Akayev remains in Moscow and works as a Professor and Senior Researcher at Moscow State University, co-coordinator of the System Analysis and Mathematical Modeling of World Dynamics Program through the Russian Academy of Sciences, and as an Academic Supervisor of the Laboratory for Monitoring the Risks of Socio-Political Destabilization at the Higher School of Economics.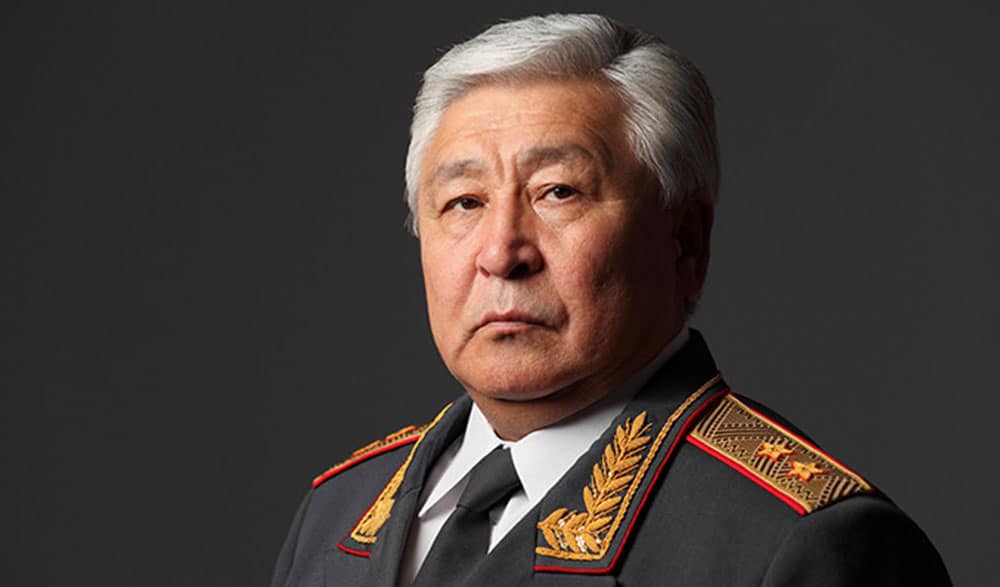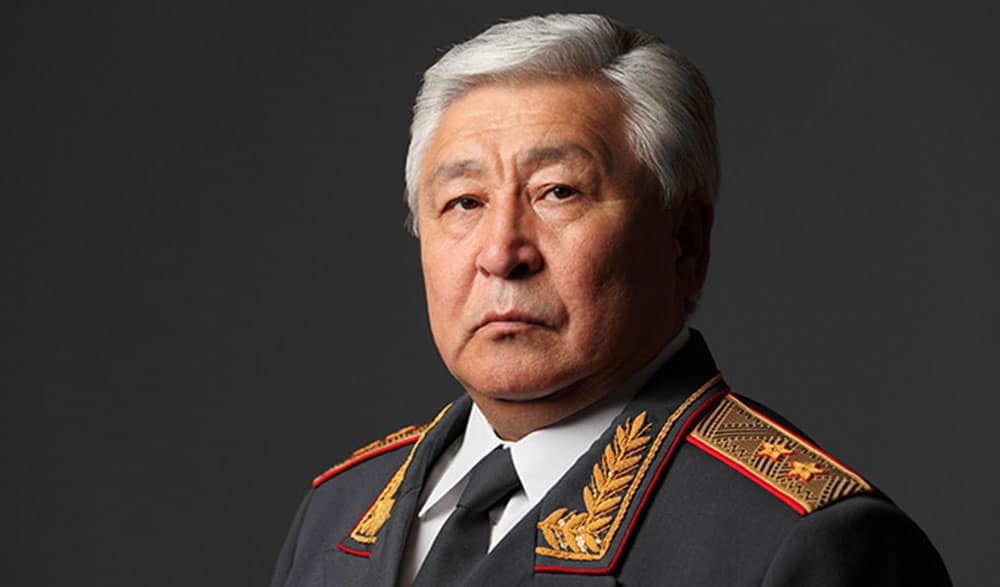 Kubatbek Baibolov
Kubatbek Kalbekovich Baibolov is the former Prosecutor General of Kyrgyzstan, a retired soviet KGB colonel turned business man, opposition politician, and deputy of several parliamentary convocations. He may not be quite a Kyrgyz Jefferson, but if there's a constitution to amend or draft, look for Baibolov's handwriting.
Baibolov was born in Chon-Aryk, a village in the northern Chui Province on February 1, 1952. He attended Kyrgyz National University before training as a KGB officer in 1979. He served as a colonel and intelligence advisor during the Soviet-Afghan War but retired in 1992 to enter the Jogorku Kenesh (parliament) as Deputy Chairman of the Committee on Criminal, Civil, and Administrative Law. Baibolov participated in the Constitutional Meeting of Kyrgyzstan to establish basic law after Askar Akayev was ousted from the presidency.
Despite co-founding the Union of Democratic Forces, a political opposition party, the ex-colonel supported Kurmanbek Bakiyev during the July 2005 presidential elections. In 2006 Baibolov joined the opposition movement For Reforms! and in 2007 aligned the Union of Democratic Forces with Temir Sariyev to form Ak-Shumkar ("White Falcon").
In November 2006, opposition leaders lead a demonstration in central Bishkek calling for constitutional reform and other changes by the Bakiyev administration. On Nov. 7, a constituent assembly was formed in parliament to draft a new constitution. Kubatbek Baibolov was elected the group's chairman. Although the draft was sent to Bakiyev, it was not adopted. The constitution that was adopted post-Bakiyev, however, would contain many of the same reforms.
Baibolov resigned from politics in January 2008 and emigrated to the United States. He returned after Bakiyev's 2010 overthrow and became Commander of Jalal-Abad. In March 2011 Roza Otunbayeva named Baibolov First Deputy Chairman of the National Security Services and Commandant of Jalal-Abad. Baibolov was immediately faced with ethnic riots there.
Otunbayeva appointed Baibolov Prosecutor General in September of the same year, but removed him on March 31, 2011 for allegedly embezzling from the nationalized Alfa Telecom company, formerly owned by Bakiyev's son, Maxim.
Baibolov has since distanced himself from politics and has focused on business. He now owns a large retail market.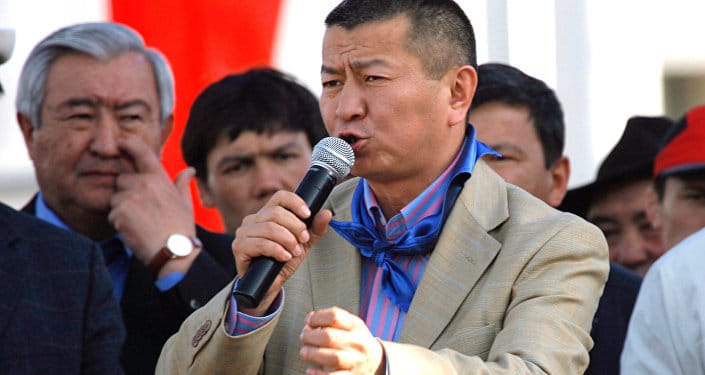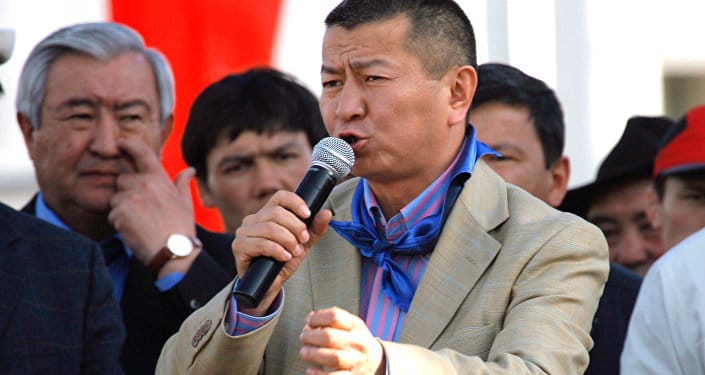 Melis Eshimkanov
Melis Asanalievich Eshimkanov was a politician and journalist in opposition to Askar Akayev and Kurmanbek Bakiyev.
Born in 1962 in the southwestern village of At-Bash, Kyrgyzstan, Eshimkanov graduated from the Journalism Faculty at Kyrgyz National University in 1985.
He founded the Kyrgyz pro-democracy movement after visiting from the Baltics, where he learned firsthand about other anti-communist campaigns. The KGB persecuted Eshimkanov for his actions and eventually he lost his job as a news anchor.
Eshimkanov founded Asaba, a popular Kyrgyz language national newspaper headquartered in Bishkek, in 1991 and remained editor-in-chief until the paper closed in 2001, allegedly due to debt amounting to almost 2 million som ($30,000 at the time). He then founded Agym, another paper, that same year.
Eshimkanov ran in the 2000 presidential elections but received only 1.08 percent of the vote against Askar Akayev. In 2004, Eshimkanov announced the dissolution of the People's Party and its unification with the Social Democratic Party and his assumption of the deputy chairman post for the social democrats.
After the Tulip Revolution, Eshimkanov failed to gain a position with President Kurmanbek Bakiyev's government and consequently clashed with Bakiyev through 2006, calling for an account of some $25 million invested by Bakiyev's son, Maxim. The opposition leader accused the regime of illegally privatizing government assets and claimed that Bakiyev was surrounded by "Akayev's team."
In 2007, Eshimkanov joined with Kulov to support the United Front opposition umbrella group which aimed to secure Bakiyev's resignation, early elections, and constitutional reform. That same night, security forces seized printing equipment from the Center for Media Support, effectively closing Eshimkanov's Agym newspaper, as well as three other newspapers.
Much to the surprise of Eshimkanov's fellow opposition leaders, Bakiyev appointed him head of the Kyrgyz National Broadcasting Corporation (NTRC). The media speculated that Eshimkanov received his post as a "reward for initiating the abolition of the November 2006 constitution. Employees of the NTRC periodically called for his resignation because of what they perceived as unjustified layoffs and "turning a state media outlet into his own personal property" by only broadcasting programs he produces
Eshimkanov retired following the 2010 Kyrgyz Revolution and suffered a sudden cardiac death on September 15, 2011.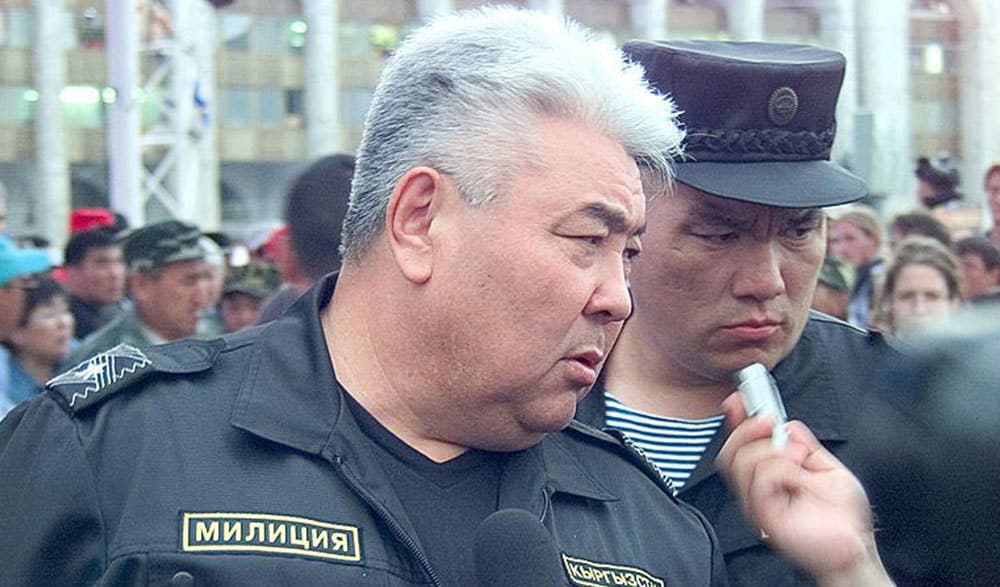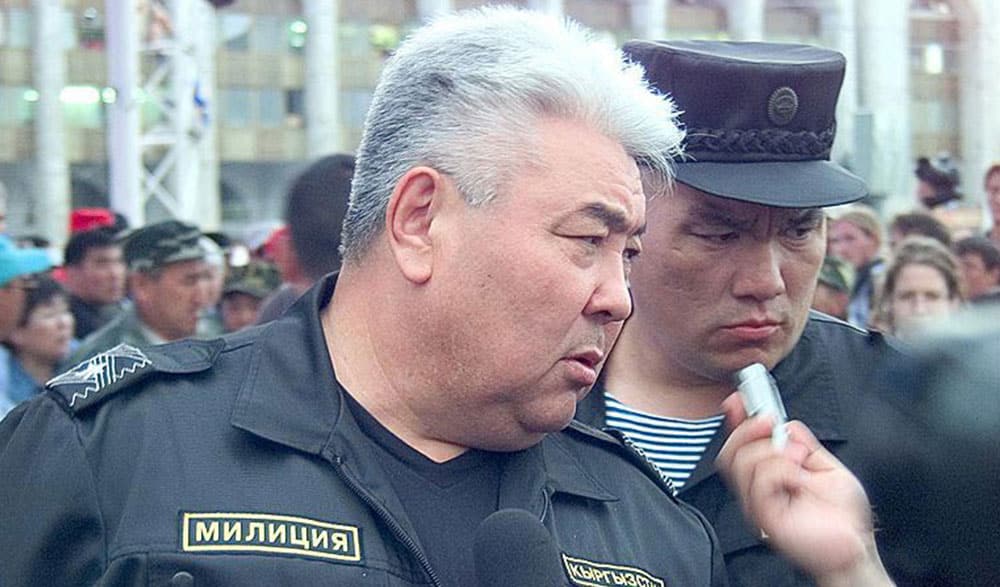 Bolotbek Nogoibayev
Bolotbek Berdibekovich Nogoibayev was the Minister of Internal Affairs and Director of the Drug Control Agency before his death in 2016.
Nogoibayev was born November 10, 1955 in the northern Chui Oblast and served as a policeman after spending two years in the Soviet Army. Over the next ten years he rose from Squad Leader to Inspector of the Criminal Investigation Department, to Deputy Chief to the Department of Internal Affairs in Bishkek.
He then sought a law degree, graduating from Kyrgyz National University in 1983.
Nogoibayev continued climbing the regional ranks throughout the 1990s, and by 1999 became Deputy Minister of Internal Affairs. He spent one year as Chief of the Criminal Investigation Department before resuming his post as Deputy Minister of Internal Affairs in 2002.
In 2005 Nogoibayev was named Chief Inspector of the Kyrgyz Security Council, and later that year, took over as Chief of the Kyrgyz Drug Control Agency—simultaneously writing his thesis on the formation and development of Kyrgyz legislation against narcotics.
On February 6, 2007 President Kurmanbek Bakiyev appointed Nogoibayev Minister of Internal Affairs. Just weeks later, opposition groups began a long protest in the center of Bishkek. At first, opposition groups and Nogoibayev's security forces, numbering some 3,000, coexisted peacefully. On April 19, violent demonstrators attacked Nogoibayev and other security forces protecting the White House. In a matter of hours, thousands of demonstrators were cleared from the city center. After this dispersal, government authorities began seeking prosecutions against opposition leaders and security forces shut down several opposition newspapers.
The strength and efficiency of this dispersal put Nogoibaev suddenly in the limelight of Kyrgyz politics.
In 2008, Bakiyev moved Nogoibayev to Director of the Drug Control Agency. However, in 2009, the Agency was reorganized and he was suddenly removed from the post.
He then became a law professor at Kyrgyz State Law Academy, where he taught until complications from the flu led to his death on December 24, 2016.