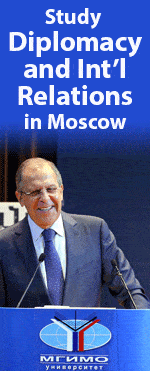 This month, we take a look at news reports on culture in Russia. Russia's TV news is increasingly focusing on cultural reporting and reporting on foreign affairs. Coverage of domestic politics and economy is increasingly taking a back seat on the main weekend programs (although extensive coverage, particularly on economic issues, can still be found on other news broadcasts, particularly on Rossiya 24). Below is a round up of major reporting from this month on art, holidays and rememberances, food culture, and education.
According to a 2016 poll by the independent Levada Center, 80% of Russians view television as their primary source of news. The same Levada poll, however, shows that only 41% trust the news as an objective source of information. The broadcasts sampled here are from Russia's most-watched channels: First Channel and Russia Channel from the Sunday news reports.
To receive SRAS's free monthly newsletter (which features new issues of this news resource) by email, simply sign up.
For People's Unity Day, A Big Exhibition Called "Treasures of Russian Museums" Was Opened in Moscow
First Channel reports that a big exhibition of 300 paintings and icons depicting the history of Russia was exhibited in Moscow's Manezh. Featured among the exhibits was the Pskov-Pecherskaya Icon of the Holy Virgin of Tenderness, which is revered as a miraculous icon by Russian Orthodox Church. Many other famous paintings collected from many museums in different cities of Russia were also shown. Some of the paintings were kept in store rooms for years, and for this reason they are known only to art critics while others are well-known to the public.
People's Unity Day Commemorated Not Only in Russia
Russia Channel reports that People's Unity Day was celebrated by some people in New York who listened to Russian folk songs such as "Valenki," and even sang and danced in a ring.
According to Russia Channel, the celebration was especially "touching" for the residents of Crimea after "Crimea reunited with Russia and became an integral part of Russia."
Russia Channel quotes President Putin as saying that on November 4, 1612, Russian people did a heroic deed by "banishing invaders from Moscow, they restored strong power and did not allow invaders to destroy, weaken the state and the unity of the Russian nation." Further, the president stated that patriotism is of special value for Russia – it is an important part of Russian national culture.
The holiday was celebrated with festivities, dances and other events, such as an exercise session in Vladivostok.
Cheese from Russia Awarded Two Medals at Prestigious Contest in Austria
Russia Channel reports that cheese produced by Oleg Sirota, a farmer from the Moscow Region, was awarded two bronze medals at the XIV Cheese Olympics in Austria, where about 500 cheese dairies from all over the world participated.
Sirota said in a First Channel interview that he intends to start exporting cheese to Europe in February, thus fulfilling a promise he gave to President Putin that "the markets of Vienna, Paris, and Berlin will be stunned by Russian cheese."
Day of Remembrance for the Victims of Political Repressions: The Memory Bell Rang All Day
Russia Channel reports that The Day of Remembrance for Victims of Political Repressions was celebrated in Russia on October 30. Memorial events were held in many cities of the country, and the biggest event took place at the Wall of Grief – the memorial opened in Moscow in 2017. There, people rang the symbolic "memory bell" all day long, commemorating those who were guiltlessly persecuted in Stalin era.
Vladimir Putin Opens First Monument to Writer Ivan Turgenev in Moscow
First Channel reports that the first monument to Russian classical writer Ivan Turgenev was opened in Moscow, commemorating what would have been the writer's 200th birthday. President Putin came to the opening ceremony, laid flowers at the monument and said that Turgenev was one of the most popular writers of his time – he depicted people, their feelings and emotions, to their true values, and for this reason people will always have interest in his writing.
Policemen Celebrate Professional Holiday
First Channel reports that on the eve of the Day of Police, President Putin visited The University of Interior Affairs where future police officers study, including future criminologists and court experts. The President looked at the university facilities and wished a happy holiday to all policemen. Meanwhile, Interior Minister Vladimir Kolokoltsev, in his greetings to policemen on the occasion of the holiday, gave them special thanks for their good work at the recent World Football Cup in Russia.
100th Anniversary of World War I: How Russians Gave Hope to France
Russia Channel reports that the Russian Empire lost the most people in the World War I. Two million, three hundred thousand Russians died while Germany lost two million, France lost 1.5 million, and the USA, 53,000 people. Most of the American soldiers were not killed but died of influenza abroad. Russia Channel states that "the flows of blood in the battlefields fertilized the soil for US industries and trade. After the World War I, the United States managed to keep 40 percent of the global gold reserves, and all the European countries had debts to the USA and become its tributaries." Russia Channel also emphasized it its report the great role of Russian soldiers in World War I: their sacrificial advancement in Eastern Prussia in 1914 helped France to stand against Germany.
Russia's Minister of Defense, Sergai Shoigu, Takes a Geography Test
Russia Channel reports that for the fourth time, the Geographical Dictation Quiz, testing geographical knowledge, was conducted in Russia, organized by the Russian Geographical Society. People from all regions of Russia participated, and the main venue for the quiz was Moscow State University, where 700 people took the quiz, including Defense Minister Sergey Shoigu. Shoigu is also the President of the Russian Geographical Society. The rector of Moscow State University, Victor Sadovnichiy, and people from 99 countries also took the quiz, including people in ten Chinese cities took the quiz.
Putin Visited Pskovo-Pechersky Dormition Monastery
Russia Channel reports that Vladimir Putin visited the Pskovo-Pechersky Dormition Monastery, which is one of the biggest and most beautiful monasteries in Russia. This monastery is known with its strong monastic tradition which has continued since the XV century. One of the most revered elders in the Russian Orthodox Church, Ivan Krestiankin, was the father superior there and was in the monastery from 1967 to the end of his life in 2006. Vladimir Putin was met by the monastery vicar, Metropolitan Tikhon. They walked around the monastery, went down to the monastery caves to the vaults, and prayed in the underground church.
Exhibition of Unique Portrait Painter Savely Sorin Opened in Moscow
First Channel reports that the first exhibition of paintings by Savely Sorin, the disciple of Repin, who emigrated from Russia in 1920. The artist who had a unique portrait style and created many portraits of many noble persons, including Queen Elizabeth II, as well as ballet dancers and singers. Art critics said in a First Channel interview that paintings by Sorin were remarkable for their virtuosity, simplicity, and the clarity of their lines.