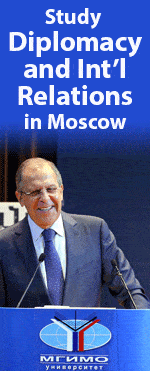 This month, we take a look at the view from Russia via its news coverage. Russia's TV news is increasingly focusing on cultural reporting and reporting on foreign affairs. Coverage of domestic politics and economy is increasingly taking a back seat on the main weekend programs (although extensive coverage, particularly on economic issues, can still be found on other news broadcasts, particularly on Rossiya 24). Below is a round up of major reporting from this month on politics, foreign affairs, and culture.
According to a 2016 poll by the independent Levada Center, 80% of Russians view television as their primary source of news. The same Levada poll, however, shows that only 41% trust the news as an objective source of information. The broadcasts sampled here are from Russia's most-watched channels: First Channel and Russia Channel from the Sunday news reports.
To receive SRAS's free monthly newsletter (which features new issues of this news resource) by email, simply sign up.
Canadian Diplomats Intend to Come to See American Who Was Detained in Moscow for Spying
First Channel reports that Russia received an official request from the Canadian Embassy in Russia to visit American citizen Paul Whelan, who is detained in Moscow on accusations of spying. The Russian Foreign Ministry states in its reply that if Whelan agrees to that visit, permission will be issued. First Channel sarcastically states that "former Marine Whelan has four passports: American, Canadian, British, and Irish." Whelan sent requests for help to the embassies of all these countries, and US Ambassador to Russia John Huntsman has already met with him. First Channel reports that "Paul Whelan was detained at the end of December while pursuing spying activity, and, if his guilt is proved, he will face 20 years imprisonment."
Explosions in Residential Buildings: Forthcoming Changes in Gas Complex of Russia
Russia Channel reports that in the morning of January 14, two apartments were destroyed and two floors collapsed in a multistory building in a multistory building in town Shakhty of Rostov region. Five people were killed, two more were wounded.
Earlier, on December 31, a gas explosion caused collapse of an apartment block in town of Magnitogorsk, where 39 people were killed. After the tragedy, President Putin said that all the survived residents of the apartment block would be relocated to new apartments.
According to Russia Channel, the government is currently working on equipping all the apartments in Russia with gas detectors. Discussions of how to allocate funds from the federal and regional budgets on such devices (a device costs 3.5 thousand rubles). In addition, the Russian Ministry of Construction, Housing and Utilities has imposed a requirement that, starting from June 2019, all new homes must be built with gas detectors installed.
Also, new laws will be adopted, making it easier for gas service workers to enter apartments having problems with gas.
Tokyo Chose a Strange Approach to Negotiate with Moscow
Russia Channel states that "at the beginning of the year, Japan sent Russia so many signals (that it was ready to negotiate on the contentious Kuril Islands) that on the first day after Christmas holidays, Japanese ambassador in Moscow Toyohisa Kozuki was summoned to the Russian Foreign Ministry.
Russia Channel presenter Dmitry Kiselev spoke for a long time about Russian people's love to Japanese culture, stating that Russians do not harbor malice against Japanese people, but rather "feel sorry for them." Kabuki was a hit in the USSR and even had Russian fans under tsarism. Japanese restaurants are popular in Russia. President Vladimir Putin is fond of judo, a Japanese martial art. Russians like karaoke and Japanese poetry. Then the Russia Channel presenter changed his tone, labeling as "tactless" the actions of Prime Minister of Japan Shinzo Abe who gave an oath on his father's gave, to achieve "closure" with Russia on the issue of the islands. Abe referred to the islands and Japanese and as occupied, which Kiselev stated as though it were a great offense. The presenter then stated that the Southern Kuril Islands are sovereign territory of the Russian Federation, quoting governor of Sakhalin region Valery Limarenko as saying that Russia is investing considerable sums into the infrastructure of the islands, and have further plans for developing them.
Lavrov Calls the Japanese "Friends" In Advance
Russia Channel reports that after long negotiations on January 14, Russian Foreign Minister Sergey Lavrov called his Japanese partners "Japanese friends." According to Russia Channel, there is one three ways to interpret this form of address: either Russia has friendly relations with Japan or the Minister was ironic, or Russia has good attitude, and "the Minister is giving the Japanese a chance by calling them 'friends'."
Russia Channel quotes Foreign Minister Lavrov as saying at a press conference at the end of 2018 that Russia and Japan are "countries which are on opposite sides of the barricades," and the fact that Japan joined a number of sanctions against Russia "is hardly the formation of a new level of relations."
Russia Channel also states that Japan considers a part of Russia's territory as its own territory, thus Japan is the only country in the world, which does not recognize the results of World War II. In addition, Japan is ready to deploy US missile defense equipment on its territory, Russia Channel reports.
n summary, the channel states that "friends" as a form of address was used "in advance," to depict the reality as it should be, but not as it really is. And the recent statements and acts of Japanese politicians set back the relations between Russia and Japan to the point they were dozens of years ago.
Residents of the Kuril Islands Do Not Consider Them Contested Areas or "Northern" Areas
Russia Channel states that, despite active cooperation with Japan, such as visa-free travel exchanges, the residents of the Kuril Islands are confident that the islands belong to Russia. Currently, Russia is investing "billions of rubles" into the islands, building schools, kindergartens, hospitals, and roads within the framework of a federal program. The local residents never have a feeling of living in some "contested area."
Residents of Kuril Islands: "These Are Our Islands, and That's All"
Russia Channel states in its report about the people living on Shikotan Island that "their history is not a history of survival, but history of development and a love of their land".
The main industry for the 3,000 people of Shikotan is fishing, which is currently booming, with a new processing plant under construction, and new equipment being installed in the current plant by specialists from Iceland.
There is a good hospital, with up-to-date equipment, on the island, and the problems, such as having too many old houses and the absence of paved roads, are being solved by the government, as the islands have a development program that will last until the year 2025, the channel states.
Most Corrupt Official in Russia Taken into Pretrial Detention
Russia Channel reports that the Head of the Serpukhov District, Alexander Shestun, who was arrested on corruption charges, owns 565 land plots with a total value of more than 10 billion rubles. Previously, all the plots had been in municipal ownership, and Shestun transferred them to his relatives and friends.
The channel states that these land giveaways were Shestun's "core activity." He directed the income generated through that into making music videos and promoting himself in the media.
The "pearl" of his property collection are two holiday resorts, with a restaurant, spa, and a horse stable, Russia Channel reports.
Priest Tells Details About the Baptism of Vladimir Putin
Shortly before Epiphany, a popular Orthodox holiday celebrating the baptism of Christ, Russia Channel interviewed a priest of the St. Petersburg Spaso-Preobrazhensky (Transfiguration) Cathedral, located near Baskov Lane where Vladimir Putin's family used to live. Father Nikolai said that Putin had shared with him some details of the sacrament when the future President was baptized in that church in his childhood. As it was the Day of the Archangel Mikhail, the priest there suggested giving the baby the name Mikhail, but his mother said they had already given him the name Vladimir. The priest responded that he would be Prince Vladimir then, pointing to the painting of Prince Vladimir who had brought Orthodox faith to Russia.
Most likely, the preacher who baptized Putin was Mikhail Gundyaev, the father of Patriarch Kirill. Mikhail Gundyaev served in that cathedral in 1952.
Orthodox Believers from All Over Russia Celebrated Baptism of God
First Channel reports that on January 19, Orthodox believers celebrate one of their main holidays – Epiphany, or the Baptism of the Lord. It was commemorated with solemn services at all churches, with blessing of waters which, as it is believed, gain special properties on that day. Many Orthodox believers in Russia also mark the holiday by submerging themselves in specially-cut holes in local ice-covered rivers and lakes. This symbolizes a "parting with their sins and the struggle against passions." People of all ages did this. Further, present were not only Russians, but also some foreign people, such as a group of Frenchmen interviewed by First Channel.
Golden Mask Theater Festival Began in Moscow
First Channel reports that the year of 2018, which was declared Year of Theater in Russia, will also see two anniversaries marked: the 25th anniversary of the Golden Mask Theater Festival and the 100th anniversary of the Tovstonogov Bolshoi Drama Theater (located in St. Petersburg). This year, the Golden Mask festival started with a performance of Thunderstorm by Ostrovsky, performed by Tovstonogov Bolshoi Drama Theater in a new form which is very close to opera.
Siege of Leningrad: Suffering and Rise of Human Spirit
Russia Channel reports that the siege of Leningrad was not only about suffering, but it was also about the rise of human spirit and creativity. For example, some technological miracles were created, such as a fuel pipeline along the bottom of Ladoga Lake, supplying the city with fuel. The composer Shostakovich completed his Symphony No. 7 in besieged Leningrad, and the symphony premiere was staged in Leningrad in August 1942. Some theaters continued working in St. Petersburg during the siege, such as Musical Comedy Theater which performed operettas. 56 actors of the theater died of hunger during the siege, and another eight actors died at the front. Circus continued giving performances, and Conservatoire gave classes to its students. The Hermitage Museum held a scientific conference in December 1941, where hunger-stricken scholars gave presentations.
World Commemorates Holocaust Remembrance Day
Russia Channel reports that on January 27, Holocaust Remembrance Day is commemorated all over the world. On that day, the Red Army liberated 7,000 thousands of prisoners of Auschvitz death camp. Russia will commemorate the date by holding Remembrance Week – a series of educational and memorial events dedicated to Holocaust Remembrance Day, Russia Channel states.