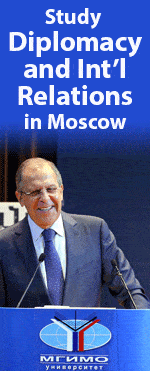 This month, we take a look at the view from Russia via its news coverage. Russia's TV news is increasingly focusing on cultural reporting and reporting on foreign affairs. Coverage of domestic politics and economy is increasingly taking a back seat on the main weekend programs (although extensive coverage, particularly on economic issues, can still be found on other news broadcasts, particularly on Rossiya 24). Below is a round up of major reporting from this month on politics, foreign affairs, and culture.
According to a 2016 poll by the independent Levada Center, 80% of Russians view television as their primary source of news. The same Levada poll, however, shows that only 41% trust the news as an objective source of information. The broadcasts sampled here are from Russia's most-watched channels: First Channel and Russia Channel from the Sunday news reports.
To receive SRAS's free monthly newsletter (which features new issues of this news resource) by email, simply sign up.
USA Planned INF Withdraw Long Before Accusing Russia of Violating Treaty
First Channel states that the US withdrawal from the Intermediate-Range Nuclear Forces Treaty is simply a continuation of US policy. First Channel asserts that Russia has been trying to вступить в диалог (engage in dialogue) with American government on disarmament issues for the past 20 years. That Channel continued, saying that Russia has been patiently выслушивать отговорки (listening to excuses) while the US "destroyed the international treaties it had signed, starting from Anti-Ballistic Missile Treaty." First Channel quotes political expert Konstantin Blokhin as saying that recently, the US has withdrawn from a number of international organizations and treaties because the post-WWII world order, established by the US, "turned out not to be beneficial for the US, and therefore they are breaking this world order, adjusting it for themselves."
First Channel also alleged that the US had violated the INF treaty with such actions as expanding production facilities for Tomahawks missiles in Arizona.
According to First Channel, Russia will "avoid an arms race and at the same time will efficiently respond to US moves."
Russia Can Land Kalibr Missiles and Bypass Missile Defenses
Russia Channel states that, in response to the US withdrawal from Intermediate-Range Nuclear Forces Treaty, President Putin promises to develop "the best weapons" to make Kalibr missiles capable of launching from sea as well as land, and to supply Russian troops with all types of up-to-date weapons.
In terms of о чем идет речь (what this is about) about the weapons, they include the Кинжал (Dagger) complex, which has air-ballistic missiles capable of traveling 12,000 kilometers per hour, Пересвет (Peresvet) lazer weapon based on "new principles of physics," used for antiaircraft and antimissile defense. Further, the hypersonic missile Avangard can overcome any система противоракетной обороны (missile defense system).
Recently, testing has also been completed for the Poseidon unmanned naval multipurpose weapons system. Also, the 5th-Generation Sarmat strategic missile shaft-based heavy ballistic missile complex will enter service. It will enable to strike a territory of a potential enemy across the South Pole, bypassing deployed anti-aircraft defenses.
Targets Have Been Planned: Zircon Missiles Will Not Let Americans Hole Up Overseas
Russia Channel reports that in the final part of the Address to the Federal Assembly, Vladimir Putin поднял тему (brought up the subject) of fairness in international relations. Putin прямо заявил (explicitly stated) the dangers presented for Russia by the US withdrawal from INF Treaty, as the missiles banned by that treaty can reach Moscow in 10-12 minutes. Putin states that Russia will have to produce tit-for-tat, asymmetric responses. It will have to create and deploy weapons which can be used not only against territories posing a direct threat to Russia, but also against territories with decision-making centers for using such missiles against Russia.
President Putin mentioned such a "promising new missile" is the hypersonic Zircon. It travels at nine times the speed of sound and has a range of more than one thousand kilometers. It can hit both sea and land targets and can be launched from ships and submarines. It is able to target the Pentagon, Camp David, and other important political and military targets in the US.
Congress Attacks Donald Trump on All Fronts
First Channel reports that US Congress атакует по всем фронтам (attacks on all fronts) President Trump: the Congress is investigating if introducing the state of emergency did not contradict the law. Also, several Congressmen are preparing a bill to prohibit US withdrawal from Intermediate-Range Nuclear Forces Treaty, but this bill is likely to be blocked as most Congressmen support the President in regard of the issue of withdrawal from the treaty, the channel states.
Т-34 Received With Success in US
Russia Channel reports that Ukrainian activists and the Ukrainian Embassy in the US campaign to get US theatres to not show the Russian blockbuster Т-34. They argued o that the movie "распространяет агрессию" (spreads the aggression) of Russia throughout the world, of which Ukraine became one of the victims." Russia Channel countered that there are no Ukrainians shown in the movie. The movie was removed only from one US movie theater, in San Francisco, but was "highly successful" in general and собирал аншлаги (played to full houses).
Defenders of Fatherland Day Celebrated at Unique Military Base at Franz Joseph Land
First Channel reports that the servicemen at the Naval military base at Franz Joseph Land celebrated Day of the Defender of Fatherland. The military men train outdoors even at the temperature of 38 degrees below zero, and these are незабываемые ощущения (unforgettable feelings), First Channel reports. The military base is very well designed, has a lot of facilities for training and recreation, and qualified personnel.
Spring Came to Central Russia for a Short While
First Channel reports that for short period, spring came to Central Russia. February 16 became the warmest day since the beginning of the winter, with air temperature in Moscow up to 4 degrees. Warm weather will last several days, so people will be able to почувствовать дыхание весны (feel the breath of spring).
Endangered Flowers Hunted by Poachers
First Channel reports that spring has come to the Southern regions of Russia and that распустились первые лесные цветы (the first forest flowers have bloomed). These дары природы (gifts of nature), however, are sought after by браконьеры (poachers). Police have confiscated many rare flowers such as snowdrop and cyclamen, which sold in great numbers on roadsides in Krasnodar and other Southern regions of Russia.
Children of Asia Winter Games Finished in Sakhalin
First Channel reports that 1st Children of Asia Winter Games finished in Sakhalin. Thousands of Sakhalin people supported the teams during competitions, sometimes having взрыв эмоций (explosion of emotions). The participants боролись за медали (fought for medals) in eight sports. According to First Channel, Sakhalin is becoming a major base for training athletes and holding sporting events.
Winter Universiade Starts in Krasnoyarsk in One Week
First Channel reports that Winter Universiade (Student Games) will start in Krasnoyarsk in one week, thus making Krasnoyarsk столица мирового спорта (capital of world sport). More than 3,000 athletes from different countries will participate in the Universiade.
In Concert Halls All Over Country, Sales of Season Tickets for New Season Started
First Channel reports that concert season ticket sales started in Russia, ценители (connoisseurs) of classical music осаждают кассы (are besieging ticket counters). The Moscow Philharmonic, for instance, had a twofold increase in attendance over the past two years. More than 650,000 spectators a year have enjoyed 200 concert programs of classic and jazz music at the Philharmonic.