How the News is Reported in Russia
Special Edition: Pride and Patriotism
May 2018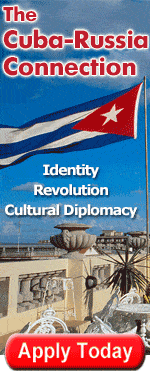 This month's TV News in Russia comes after what is arguably the most patriotic month in Russia. On May 9th, Russians celebrate Victory Day, which marks the end of the Great Patriotic War (known as WWII in the West). The event is marked with military parades and acts of remembrance for those that fought and worked for the great victory over the Nazis. Reports on the celebration dominated that week's Sunday news broadcasts. Most interesting were reports on how the day was marked abroad, including in Europe, Ukraine, and the US.
Other exceptionally patriotic events also featured prominently this month – including the opening of the internationally controversial Crimean Bridge, which now connects Crimea to the Russian mainland. The army also announced a new space program and armament program and a well-known painting by one of Russia's most famous painters was vandalized. Explore all these issues in this edition of TV News in Russia.
According to a 2016 poll by the independent Levada Center, 80% of Russians view television as their primary source of news. The same Levada poll, however, shows that only 41% trust the news as an objective source of information. The broadcasts sampled here are from Russia's most-watched channels: First Channel and Russia Channel from the Sunday news reports.
To receive SRAS's free monthly newsletter (which features new issues of this news resource) by email, simply sign up.
Victory Day Marked Across The World
First Channel reports that Immortal Regiment rallies took place in Toronto, Seoul, Sydney, Manchester, Stockholm, Barcelona, New York, Washington, Buenos-Aires and other cities across the globe. In New York, Immortal Regimen took place for the 4th time, but this time has, for the first time, been officially supported by the city government.
Russia Channel reports that many young Americans who are fond of the history of World War II, regularly participate in historical reconstructions of famous battles. For example, every year, an abandoned factory in Ohio is used as a set to reconstruct the Battle of Stalingrad. After reenacting the battle, the participants have porridge similar to what Soviet soldiers would have had, and even try filterless cigarettes which were common at that time.
The report went on to say that there are shops in the USA which sell Soviet military uniforms and other items from WWII. Additionally, Soviet military awards are sold from Ukraine and the Baltic States (in Russia, selling WWII awards is prohibited). The award "For Defense of Stalingrad" can be found for 59 dollars 99 cents while the Order of Red Star is sold for 150 dollars.
Russia Channel interviewed some Soviet veterans of WWII who currently lives in the USA. This included Reserve Guard Captain Lev Landa, who reached Berlin in his T-34 tank, and today is at a home for the elderly in Baltimore. His son emigrated to the USA at the end of the 1980s and brought his parents with him. The son and the veteran's wife have since passed away. However, an American enthusiast from Virginia, John Billeter, brought the veteran a present for Victory Day – riding an operational T-34 that he has restored. The 94-year old veteran was able to again drive a tank, which is in good condition, but has the gun permanently disabled so as not to violate safety rules.
Victory Day Marked Across Russia
First Channel reports that the annual Immortal Regiment was held again, when people carry photos of their deceased relatives who fought in the war to remember them. Millions of people of different ages went to the rally in practically all cities and towns of Russia and honored the war heroes. Russia Channel broadcast many interviews with children who participated in the rally and told about their grandparents who had fought in the war, showing that the memories are being passed on.
Despite Risk of Arrest, Thousands of People Hold Immortal Regiment in Kyiv
First Channel reports that taking part in Immortal Regiment rally in Ukrainian capital Kiev was extremely risky for the participants, as displaying red flags and St. George ribbons, common at these events, but also associated with Soviet and Russian patriotism respectively, is punishable by up to five years in prison. First Channel showed police confronting people participating in the rally, and stated that the Ukrainian authorities are in favor of the Organization of Ukrainian Nationalists, which First Channel said committed brutal crimes in the war period.
Victory Has "Genetically Connected" Peoples of Russia and Uzbekistan
Russia Channel states that 450,000 soldiers from Uzbekistan were killed in World War II. While they were fighting German troops, 300,000 children from all over the Soviet Union found shelter in relatively-safe Uzbekistan, and some of them were adopted by new families there. For example, Uzbek blacksmith Shaakhmed Shamakhudov adopted 15 orphans of different nationalities, whose parents were killed at the frontlines. Many other Uzbek families adopted a large number of orphans as well. Russia Channel reports that Uzbek President Shavkat Mirziyoyev made Victory Day an official holiday in Uzbekistan two years ago, as "everybody in Uzbekistan feels some ties with the great victory."
Crimean Bridge Opened
First Channel reports that the newly-built Crimean Bridge saw 20,000 cars pass over it on its first day of operation. The bridge, which has now connected Crimea to the Russian mainland over the Kerch Strait, has four lanes (two in each direction). The report also said that the bridge can also withstand a 9-point earthquake and "any storm." Currently, the bridge is used by motor vehicles and buses. Starting in the fall, trucks will be allowed to drive over the bridge, and a rail bridge will start operating in 2019. Also, next year, a four-lane highway is to be constructed across Crimea, which will become the centerpiece of the new Crimean transport infrastructure.
Russia Channel reports that Western media wrote that the bridge entering operation is the last step on consolidating Moscow's control over Crimea and this demonstrates that Russia has remained unyielding even under international criticism, and it will "never consider the possibility of returning Crimea to Ukraine."
Russia Channel quotes Ukrainian President Petro Poroshenko as saying that "Russians will find this bridge very useful as a road to use to retreat. After Ukraine restores its sovereignty in Crimea, we'll use it as a link to Kuban, where many Ukrainians live, by the way." The statement was denounced by spokesperson of the Russian Foreign Ministry Maria Zakharova who said that all Poroshenko's statements are a gesture of despair, and at some point, it is better to admit that you are not right.
In a Russia Chanel interview, President Putin, who went over the Crimean bridge in a truck, said that everything in the new bridge is comfortable, gorgeous and hopefully durable. The President went across the bridge at the speed of 46 miles an hour, and, as a construction worker said in a Russia Channel interview, the President was driving "very fast," and "with great confidence." Summarizing the report, Russia Channel states that the new Crimean bridge demonstrates that Russia is still able to surprise the world.
Russian Army Aims at Near Space
Russia Channel reports that on May 18, President Putin completed an annual meeting with the heads of the defense and military complex. The meeting lasted four consecutive days. Russia Channel states that near space is one of the new priorities for the Russian army, and the new S-500 missiles will be able to hit targets at super high altitudes.
Painting by Repin, Damaged by Vandal in Tretyakov Gallery, Will Be Restored Over Next Several Months
Russia Channel reports that the famous painting by Ilya Repin "Ivan the Terrible and His Son Ivan" was slashed by a visitor, who used a metal pole which held the rope in front of the painting. The damage to the painting is not as significant as in 1913, after the painting was attacked by different vandal, but it will still require several months to restore the painting, First Channel reports.