How the News is Reported in Russia
June 2018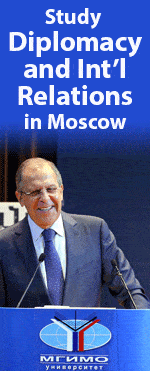 This month's TV News in Russia covers a mix of issues, including the FIFA World Cup in Russia (and particularly on the foreigners attending and reporting on the games), as well as the controversial proposed pension reforms, and several issues of international importance – including the current US trade war and family separation in the US.
According to a 2016 poll by the independent Levada Center, 80% of Russians view television as their primary source of news. The same Levada poll, however, shows that only 41% trust the news as an objective source of information. The broadcasts sampled here are from Russia's most-watched channels: First Channel and Russia Channel from the Sunday news reports.
To receive SRAS's free monthly newsletter (which features new issues of this news resource) by email, simply sign up.
FIFA World Cup: Everyone has a Place at this Celebration of Football
First Channel reports about the experiences of foreign football fans who are greatly enjoying their stay in Russia. The foreigners report befriending many Russian people, and some of them have even started supporting the Russian team. As for Russian fans, they are rejoicing in the victories of the Russian national team.
For video, click here.
Foreign Press Isn't Scared of Russia Any Longer, Instead Discovers the Real Russia
First Channel states that the reports of British media from Russia during the football cup, are no longer scaring readers with Russia, but instead writing that Russia is a good place, with nice, hospitable people. The channel quotes British fans in Moscow as calling "disgusting" those British media which state that Russia is scary place with a lot of racists.
For video, click here.
Foreign Fans: Russia is Open to Everyone
Russia Channel states that football fans from various countries are enjoying their stay in Russia. In its report, the channel quotes British football fans as saying that Russia is safer that England, contrary to their expectations. Fans feel at ease in Moscow, even playing football on Red Square. Fans even include dignitaries such as the Princess of Japan and the President of Portugal.
Stadiums Built for FIFA World Cup will not be Idle after the Event
First Channel states that the stadiums built in 11 Russian cities will not stay idle after the World Football Cup ends, quoting President Putin as saying that "all this infrastructure should work for the development of mass sport and children's sport. We need to create children's teams, youth teams, we need to organize competitions, and these facilities need to be profitable and should operate efficiently." This all is possible with a competent approach, the President states, saying that a lot depends on the regional heads; after the Football Cup is over, all facilities will be transferred to the regions.
What Has Been Done after Direct Line with Vladimir Putin
First Channel reports that after the direct line with President Putin, people who managed to reach President Putin, have seen improvements in their lives. Shareholders who were not given apartments by the developer in Lipetsk, will move in new apartments as Lipetsk government found the way to complete the construction of each of the buildings in question.
President Putin promised to a father of four children to adopt a government resolution on reducing the interest on mortgage for families who have had two or more children. Also, the President helped improve living conditions for people in Stavropol who suffered from a flood, granted the request of people from a village in Altai not to close down the school in the village (the school currently has only 46 students). People from the town of Strunino in Vladimir region asked the President to repair the town hospital, which will also be done in the near future.
How Pension Reform Will Be Conducted in Russia
First Channel quotes Russian Prime Minister Dmitry Medvedev as saying that the government proposes to have "a quite long transition period" which will start in 2019, and, step by step, the retirement age for men will be raised up to 65 years in 2028 and 63 years for women in 2034. This will enable the government to allocate additional funds on increasing pensions, and to develop social services, Medvedev says. The reform won't affect those who work in severe conditions, disabled people and mothers of five or more children.
Pensions: Kiselev Recommended Way to "Put Brains Back"
Russia Channel host Dmitry Kiselev states that the recent bill introduced by the government, aimed at increasing the retirement age is "the key transformation which is crucial for Russia's economy" as "only with everyone working together will we ensure that we have the growth rate above the world average." This will, he continued "save the country". Russia Channel quoted Federation Council Chairperson Valentina Matvienko that discussion on the proposed bill is welcome, but that the bill adoption cannot be postponed. As a benefit of the new move, Kiselev referred to the fact that the pension allowance is to be raised by 1,000 (~$16) rubles starting from 2019, which is higher than previous raises. Kiselev states that he does not agree that people are against the new bill, quoting the results of the poll conducted by Kelly Services, where 80 percent of Russian "baby-boomers" are willing to work.
Festival of Turkic-speaking people in Alma-Ata: Crossroads of Cultures and Civilizations
Russia Channel reports that people from many countries of Central Asia, Russia, Turkey, Mongolia and other countries took part at a big festival of Turkic-speaking peoples in Alma-Ata, Kazakhstan. They competed in traditional sports such as horse-riding and bow-shooting. The festival, the channel stated, is important for Russia as Russia accommodates peoples of different cultures.
Vladimir Putin Paid State Visit to China and Attended Summit of Shanghai Cooperation Organization
First Channel reports that the trade between Russia and China has recovered from the economic crisis of 2014, and now amounts to over 100 billion USD per year. During Putin's recent visit to China, some ten new agreements were signed in the areas of transportation, nuclear energy, and space exploration. China will pay Russia's Rosatom five billion dollars for a new nuclear power station. There is also a project of constructing high-speed railway from China to Europe through Russia.
President Putin recently visited the summit of Shanghai Cooperation Organization, where he discussed custom regulations between the member countries of the organization as well as problems of global governance and world trade.
Holding Money on Bank Accounts Abroad Is Becoming More and More Dangerous for Russian Businessmen
First Channel sarcastically states in its report that some Russian businessman "have an almost childlike outlook of the Western world as a world where democracy, fairness, and private property rights have triumphed." Recent moves by Western authorities have caused great concern to Russians holding wealth abroad. For example, the British government refused an entry visa to Russian billionaire Roman Abramovich and adopted laws for checking the sources of wealth held in the country. In Cyprus, where many wealthy Russians conduct financial transactions, the authorities have put the accounts of Russians under scrutiny, and many Russians have had to close their accounts there. In March, Latvia started scrutinizing accounts held by Russians as well. In Switzerland, banks have frozen about one million Swiss francs in the accounts of the Russian corporation Renova. Lastly, the Stockholm Court of Arbitrage and a Dutch court have recently passed verdicts against Gazprom, in favor of Ukraine, which is unfair and politically motivated, First Channel reports.
Trump Recognized Crimea as Russian and Was Rude to his Allies
Russia Channel reports that "the assistants of Donald Trump are trying to disrupt the preparation of his meeting with Vladimir Putin." As proof, Russia Channel quotes The Washington Post as reporting that the US President told his aides to organize talks with the Russian President back in November 2017, after the two leaders had spoken on the sidelines of the APEC Summit in Danang, Vietnam, but his request was ignored as "people around him are playing their own game."
Now, six months later, preparations have started, Russia Channel reports, stating that "probably, Trump's subordinates won't manage to drown the project in empty talk." The channel then quoted Buzzfeed which allegedly reported that Donald Trump told the G-7 state leaders at a luncheon that "Crimea is Russian because everyone there speaks Russian." The US President also allegedly asked why Western countries support Ukraine, as it is "one of the most corrupt countries in the world."
Russia Channel concluded its report by stating that so far, Donald Trump has fulfilled almost all his campaign promises except one: improving relations with Russia.
Donald Trump Withdraws from UN Human Rights Council and Threatens to Raise Tariffs on Goods from China
First Channel reports that the USA withdrew from the UN Human Rights Council as President Trump "took offence" at the UN High Commissioner on Refugees who criticized Trump's policy of taking children away from illegal migrants. Trump eventually had to sign an executive order which prohibits such separation of families, but "demonstratively pulled out of the UN Human Rights Council," First Channel reports. The report also mentioned tht Trump intends to further increase duties on Chinese imports and European cars.