How the News is Reported in Russia
Special Edition: The Far East
September, 2017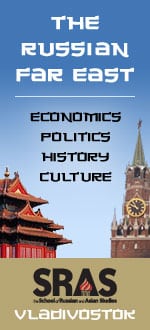 Issues concerning climate change, pollution, land use, and nature are often featured in Russian news broadcasts. Below is a collection of stories on these issues that aired on Russia's Sunday news broadcasts over the month of August. Note that all these stories come from Russia's "week in review" Sunday broadcast programs. The flooding in Houston is thus not featured in this month's broadcasts, but does make these stories especially topical.
According to a 2016 poll by the independent Levada Center, 80% of Russians view television as their primary source of news. The same Levada poll, however, shows that only 41% trust the news as an objective source of information. The broadcasts sampled here are from Russia's most-watched channels: First Channel and Russia Channel.
To receive SRAS's free monthly newsletter (which features new issues of this news resource) by email, simply sign up.
North Korean Bomb Causes Seismic Shocks In Far East
First Channel reports that Russian specialists estimated, from the seismic shocks felt in Russia after the explosion, that the latest nuclear bomb tested by North Korea was 50-100 kilotons. For comparison the bombs dropped by the Americans on Hiroshima and Nagasaki in 1945 were 20 kilotons. They killed over 200,000 people. During the latest testing, missile North Korean flew 2,700 kilometers over the Pacific Ocean, including over Japanese island of Hokkaido. Meanwhile, the distance from North Korea to the US military base on Guam Island is only 500 kilometers further. First Channel quotes specialists as saying that such missiles can fly twice as far and could reach Alaska. First Channel states that Americans are not taking actions towards North Korea because of the close proximity of South Korean capital Seoul, a city of 10 million, to North Korea's borders. The channel concludes that North Korea should not be underestimated as its economy, judging by indirect signs, is on the rise. It has an army of one million and possesses atomic and hydrogen bombs. According to First Channel, Russia and China are proposing that the USA offer North Korea a deal: the US will reduce its military exercises in the region in exchange for a North Korean freeze of its nuclear program.
Russian President Arrived in China for BRICS Summit, Negotiated with Chinese President
First Channel states that the meeting between President Putin and Chinese leader Xi Jinping at BRICS summit in China was their fourth meeting for the year. The two leaders exchanged presents and warm greetings, but the report did not highlight any other details of the meeting.
USA Might Strike Not Only North Korea, But South Korea As Well
Russia Channel states that "America appears to be the main destabilizing factor on the issue of Korea," as Donald Trump refuses to speak to North Korean leaders, "the White House threatens a preventive strike on North Korea," and with increasing US military presence in the region. This "just provokes" the North Korean leader. A US strike on North Korea would result in war and a responsive strike on South Korea, Russia Channel states.
Leaders of BRICS countries at summit in China indicated course for reducing dependency on US dollar
First Channel states that BRICS continues its successful existence, despite negative predictions from some pessimistic observers. The grouping of countries is unified by shared ideas of achieving a fairer world order. This year, China has proposed to accept more countries into the BRICS club; leaders from some of these countries such as Egypt, Mexico and Thailand, participated in the BRICS summit this year. First Channel reports that the leaders of BRICS countries "condemned economic sanctions and unilateral military interventions, and this condemnation is obviously addressed to the Western countries." One of the strategic goals of BRICS is to reduce the dependency on the USA dollar, the channel states.
Vladivostok Economic Forum Discusses Benefits for Investors in Russia's Far East
First Channel states that the main goal President Putin has set for the Far East is to stop the outflow of people; the region has already lost one-fourth of its population since the collapse of the Soviet Union. Today, the outflow has almost stopped, First Channel reports. The government established free economic zones in some Far Eastern regions, such as Vladivostok, which offer reduced taxation. In 2011, the Far East attracted only 2 percent of Russia's foreign investments, in 2016 this figure has reached 32 percent. The leading foreign investor in the region is China, but South Korea and Japan are also showing interest. The problem currently is a shortage of qualified workers in the Far East, an issue the government intends to resolve.
Russia Calls On World Community To Negotiate With North Korea, Ensure Nuclear Security
First Channel states that North Korea "must not be cornered" as "nobody wants nuclear war." The channel also stated that the North Korean leader will want guarantees "as he saw on TV how Saddam Hussein was hanged, and Muammar Gaddafi "was torn to death." The channel quoted President Putin as saying that diplomatic means, as stated in the Russian-Chinese Road Map for the Korean Peninsula, should be applied. Meanwhile, Putin was quoted as saying that Russia does not recognize a North Korean right to nuclear weapons.
On Friday, North Korea Successfully Tested Yet Another Missile
First Channel reports that the missile launched from North Korea, "as by tradition" flew over Japan. In response, South Korea has had missile tests as well, and North Korean TV commented on that by saying "our nuclear weapons are not meant for miserable South Korean puppets," meaning, as First Channel states, that these missiles are aimed at America. North Korea is on the threshold of creating a full-fledged nuclear force, the channel concludes.
Chusok Holiday To Reduce Tension On Korean Peninsula
Russia Channel reported from the village of Khasani in Primorie Region. The village is just across the river from North Korea. The local residents felt the earth shake during North Korea's nuclear tests. The Far East, the channel comments, has a substantial Korean diaspora, which increased after the collapse of the Soviet Union, when some Koreans returned from Kazakhstan where they had been exiled in 1937. In Sakhalin, Koreans constitute 10 percent of the population. They follow national traditions and celebrate special holidays such as Chusok – a peaceful day of harvest and paying tribute to one's ancestors.
Other stories of note: Russia Has Completely Overcome The Economic Crisis
First Channel quotes President Putin as saying at a government meeting that Russia has completely overcome the economic crisis, and the economy is gaining momentum. The President proposed to increase the minimum wage to 85 percent of the minimum living wage (up to 9,900 rubles from the current 7,800 rubles per month). Starting from January 1, 2019, Putin continued, the minimum wage should be equal to the minimum living wage. Economic Minister Maxim Oreskin stated at the government meeting that within the three years to come, real salaries in Russia will grow by 10 percent (with adjustment for inflation), due to the increase of labor productivity. Domestic production is growing due to the ruble's now stable exchange rate.
Hollywood Actor Morgan Freeman Tries Hand As Blogger Criticizing Russia
First Channel reports that famous Hollywood actor Morgan Freeman made a statement on a blog, saying that Russia attacked the USA with cyber weapons, as a response to the collapse of the Soviet Union. The channel mostly summarized the actor's assertions, and stated that they were made after the actor joined the Committee to Investigate Russia, which includes former Director of National Intelligence James Clapper. The First Channel host then advised the actor "who once played God" to "be more critical of his own statements" as they "resemble the scenario of a cheap Hollywood movie."