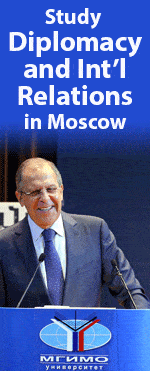 This month, we take a look at Russia's back-to-school season as well as a little of what Russians did with their summer vacations.
According to a 2016 poll by the independent Levada Center, 80% of Russians view television as their primary source of news. The same Levada poll, however, shows that only 41% trust the news as an objective source of information. The broadcasts sampled here are from Russia's most-watched channels: First Channel and Russia Channel from the Sunday news reports.
To receive SRAS's free monthly newsletter (which features new issues of this news resource) by email, simply sign up.
Innovations Await Students and Parents This School Year
First Channel reports that schoolchildren and their parents will find many changes in the new school year. Many parents complained about there being too many textbooks. These have been given expert evaluations and one-third of the books have been eliminated. The state exam for Russian will now include and oral section to test spoken skills. Exams in Computer Science will be taken on computers. Chess will become a mandatory subject in elementary school, and Astronomy – in secondary school. Also, according to First Channel, after World Football Cup was held in Moscow, the popularity of football greatly increased among schoolchildren and their parents.
What to Look for When Buying School Supplies
First Channel reports that parents spend an average of 22,000 rubles ($350) on back-to-school supplies in large cities such as Moscow, St. Petersburg, and Vladivostok. In less populous regions, such as the Republic of Buryatia, the Republic of Udmurtia, and Ulyanovsk Region the average is about 13,000 rubles ($200). The average across Russia is 17,000 rubles. Among typical expenses, are school uniforms (average cost 5,000 rubles) sport shoes and indoor shoes (5,000 rubles), other athletic clothes (1,500 rubles), and backpacks (1,500 rubles). First Channel interviewed Nadezhda, a mother-of-three, who is considering taking a bank loan so that she could buy everything for her first-grader. In many regions, Centers of Social Support help low-income parents or parents of many children with school supply kits.
Russian Schoolchildren Sweep International Olympiad
Russia Channel reports that, Russian schoolchildren swept the International Olympiads in physics, linguistics, mathematics, and computer science. Russian schoolchildren are especially successful in physics, and have won every Olympiad physics medal for the last five years. Also, this year, for the first time, Russian schoolchildren medaled in biology, taking third place.
Annual Nashestvie Rock Festival Held in Tver Region
First Channel reports that Nashestvie open-air rock festival was held in the Tver Region. This year, dozens of Russian rock stars came to the festival, such as bands Alisa, Night Snipers, and Spleen. This year, Nashestive Festival had three stages, on one of them, a contest called Vysotsky Fest, in honor of legendary Russian bard Vladimir Vysotsky, was held for solo singer-songwriters. Spectators were also treated to a flight performance by The Russian Knights, aerobatic demonstration team of the Russian Air Force, and an exhibition of military equipment. The report did not mention that several Russian bands backed out of festival this year because of its new ties to the Russian military and the fact that military recruiting booths were present at the festival.
Criminal Proceedings Likely Against Natalie Tours Travel Agency
First Channel reports that Natalie Tours, one of Russia's major travel agencies, ceased operations at the height of the August tour season. Although it did not file for bankruptcy, it cancelled tours and charter flights. In total, about 12,000 customers lost their money and the agency is currently dealing with a billion rubles (~$15 million). Customers will receive only small reimbursements, because of "legal tricks" used by the company. The Prosecutor's Office is likely initiate criminal proceedings. According to experts interviewed by First Channel, Natalie Tours operated on a "Ponzi scheme," in which the tour of one customer was funded from the money paid by the next. In June, the scheme collapsed when the number of new travellers fell. Many partners and individual travelers are also taking the agency to court. However, it will be difficult to recover money from the agency, First Channel states.
Electric Unicycles, Scooters, and Self-Balancing Scooters Are Becoming Immensely Popular
First Channel quotes analysts of online sales as saying that scooters, self-balancing scooters, and even electric unicycles have become bestselling goods of the summer. Meanwhile, the legal status of drivers of such electric scooters and unicycles is not established in Russia. For now, they are considered pedestrians and can ride along pedestrian lanes, however, they pose a hazard to others and themselves, causing several injuries this summer. A new law is being considered which will force riders of such vehicles to obtain training and licensing.
Vladimir Putin Dances at Wedding in Austria
Russia Channel reports that "on the way to Germany for negotiations with Angela Merkel, the Russian President made a stop in Austria where he visited the wedding of Austrian Foreign Minister Karen Kneissi. According to Russia Channel, Vladimir Putin "brought presents, made a toast in German and even had a dance with the bride." Putin also met with Austria's leaders who had come to the wedding. Vladimir Putin gave the newlyweds a painting depicting an Alpine meadow, a samovar from Tula, and an antique oil press. He also brought a Cossack Choir which sang songs and danced at the wedding. First Channel noted in its report that Vladimir Putin was invited to the wedding during his visit to Vienna earlier this year and stressed that Austria is "one of few European countries which did not toe the mark of Great Britain and did not expel Russian diplomats in the aftermath of the allegations of poisoning of Yulia and Sergei Skripal."