This month: Sergey Lavrov on US-Russia Relations; Major Forum Held on Implementation of National Projects; International Summit On Municipal Infrastructure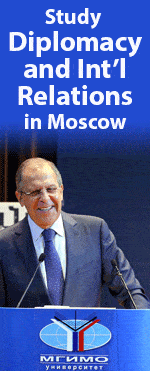 This resource looks at Russian news broadcasts and presents each with rhetorical and contextual analysis as well as a brief vocabulary list aimed at intermediate-level Russian students. We hope that these will be of interest to anyone hoping to build Russian language skills or to better understand policy, policy implementation, and policy spin in Russia.
According to a 2016 poll by the independent Levada Center, 80% of Russians view television as their primary source of news. The same Levada poll, however, shows that only 41% trust the news as an objective source of information. The broadcasts sampled here are from Russia's most-watched channels: First Channel and Russia Channel.
To receive SRAS's free monthly newsletter (which features new issues of this resource) by email, simply sign up.
Sergey Lavrov on US-Russia Relations
First Channel gave a very short report on statements made by Foreign Minister Sergey Lavrov on US – Russia relations. The report maintains a flat, matter-of-fact tone while starting negatively and ending on a positive note.
First, the main negative arguments were framed by recent events in Venezuela, where the US and Russia have been at opposing ends. While the US has actively worked to bring down the Maduro government, Russia has actively supported it. Lavrov was quoted as saying that the US intends to "drown and press" other countries "for the sake of maintaining its exclusivity in the world."
The report then shifted, however, to positive aspects of the two countries' relationship. Despite all this, between Moscow and Washington, there are disagreements, but productive contacts continue including on issues such as space, Afghanistan, and the Korean Peninsula.
Phrases to watch for:
особенности внешней политики – features of foreign policy
топить и прижимать другие страны – drown and press other countries
ради сохранения в мире своей исключительности – for the sake of maintaining its exclusivity
наглядная иллюстрация – evident illustration
не оставляют попыток свергнуть режим – continue attempting to overthrow the regime
получили перевес – got the advantage
разногласия есть, но контакты продолжаются – there are disagreements, but contacts continue
Major Forum Held on Implementation of National Projects
First Channel devoted a lengthy report on the initial work to implement Russia's 12 National Projects. Mandated by President Putin, the projects will together see a total investment of 20 trillion rubles into various social and economic spheres in Russia. A major forum was recently held in the Moscow region that called a wide array of governors, federal officials, academics, and others together to discuss how the projects will move forward.
The report said that the first year of the six allotted for the implementation of the national projects, was spent on developing a detailed action plan. Prime Minister Dmitry Medvedev told the forum participants that "we all are in the same boat" and "the most important thing is for this boat to go in the right direction." The national projects include investment into physical infrastructure like roads, rails, and housing, as well as into human capital – developing education and healthcare.
Much of the report was devoted to showing, in passing, flowcharts and graphics as well as a number of very well-known faces either attending or presenting, giving the impression that something is ready to be done even though a full year has been spent only on planning. However, the report also stated that each project has strictly designated deadlines, and the regional governors will be given broad powers to implement the projects at their discretion, leaving one to wonder if power is being decentralized or if the governors will assume their traditional roles as scapegoats if the projects are not realized successfully.
Phrases to watch for:
период, отведенный на – period allotted for
разработка детального плана действий – development of a detailed action plan
мы все в одной лодке – we are all in the same boat
шла в правильном направлении – was going in the right direction
строго обозначенные сроки – strictly designated deadlines
расширение полномочий – broadening of powers
большая свобода действий – greater discretion
International Summit On Municipal Infrastructure
In another report focused on infrastructure, First Channel looked at the Leaders of Urban Transport Summit, which took place in Moscow. The report covered road building and public transport efforts, but focused mostly on the Moscow Metro, which has been expanded greatly over recent years. The report stated that "foreign participants" learned that the Moscow metro is now "far ahead its foreign counterparts in length, beauty and comfort" also adding that "public transport is now fashionable." To drive home the point, a representative from New York was later shown saying that "If you've seen the New York Metro, you wouldn't ask me for advice."
According to First Channel, all big cities in the world are trying to solve the issue of traffic jams by convincing motorists to give up their private cars. Moscow is having success in this with the launch of a large circular above-ground metro line to carry more passengers on an already successful network. Additional lines and a third circular line are now being built as well.
Moscow Mayor Sergey Sobyanin was given extensive screen time. He was shown saying that the city government, in parallel to developing public transport, adopted a giant program of road infrastructure development. For the eight recent years, the city government built and reconstructed over 815 kilometers of roads and 14 major traffic intersections. Many new roads are currently under construction or are planned.
Other policy efforts currently being also include the rapid development of car sharing, pedestrian streets, city bikes, and scooter rentals.
Phrases to watch for:
далеко впереди – far ahead
отказаться от личных автомобилей – to give up private cars
развитие общественного транспорта – development of public transport
приняли гигантскую программу – adopted giant program
возвели и реконструировали – was built and reconstructed
транспортные развязки – traffic junctions
дороги будут проложены – roads will be paved