Russian Foreign Affairs in the News




March, 2018
Russian foreign policy and foreign policies concerning Russia have been of particular interest to those following world affairs lately. With Russia's more assertive stance on the world stage, Russia's absorption of Crimea, and resulting sanctions, arms buildups, and global geopolitical restructuring and repositioning, keeping a close eye on this part of the world is especially important to understanding global security and international politics.
As Russia's situation is also closely tied to events in its near abroad, particularly within the former USSR, this resource also follows countries within that geographic area.
This free resource serves to track and analyze these issues as they develop in Eurasia.
US Relations
America's IR Schools Are Broken
In short, the author argues that academic international relations programs do well at teaching what should work – but neglect to fully connect students to real-world situations to see what actually does work or how to change a strategy to improve outcomes.
Americans, Particularly, Democrats, Dislike Russia
Americans view Russia more negatively now than they have in three decades of Gallup polls.
Stanford Suspends All Undergraduate Programs in Russia
More fallout from the State Department's "Level Three" rating for Russia.
Is the US Hypocritical to Criticize Russian Election Meddling?
"On the whole, U.S. electoral meddling has decreased significantly since the Cold War years."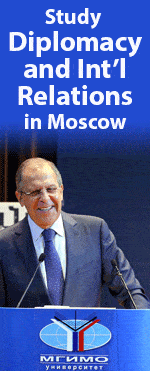 Planned Russian Statue Starts Mini-Cold War in NC City
A Russian-American joint commission on POWs and MIAs wanted the monument in Elizabeth City because of a (then) top-secret World War II operation at the Coast Guard station there. Declassified just a few years ago, Project Zebra helped train about 300 Soviet aviators. Their mission was to find German submarines and to bomb them.
Anti-Russian Propaganda Attracts US Tourists to Russia
"In the first nine months of 2017, the Federal Security Service's Border Service observed a 25% rise in U.S. tourist arrivals in Russia, as compared with the corresponding period of 2016," Safonov said.
We'll See What Happens': For Russian Immigrants, Closure of Seattle Consulate Means Frustration, Uncertainty
The closures hit an area of the country with sizable Russian populations. Washington has the fourth-largest number of Russian immigrants — 26,000, according to census data. California has nearly 90,000 Russian-born residents, many clustered around Los Angeles, San Francisco and Sacramento.
Russians Were Once Banned From a Third of the US
During the Cold War, the United States government to blocked Soviet visitors from accessing many areas of the country. As of November 11, 1957, when this map was made, anyone traveling to the United States on a Soviet passport was forbidden from visiting Long Island, much of Northern California, and nearly the entire east coast of Florida. In all, about a third of the country was off limits to citizens of the Soviet Union and Eastern Bloc countries.
US Firms in Russia Plan to Expand Business
"The diplomat added that there were many areas in which cooperation between the two countries continued, noting that problems in the bilateral relations between Moscow and Washington would always exist, but it was necessary to resolve them gradually."
Trump Tariffs Are a Gift for OPEC and Russia. Not Shale.
Currently, only 23% of US pipelines are wholly locally made.
Russia Warns It Will Respond to New US Sanctions
The US announces still more sanctions – Russia vows to respond in kind.
In the West, Russia Rules the Headlines. In Russia, a Collective Shrug
Yevgeny Prigozhin — a confidante of Russian President Vladimir Putin indicted by special counsel Robert Mueller for allegedly meddling in the 2016 election — reflected the official mood when he said he "couldn't care less" about the new US sanctions, and that he would "stop going to McDonald's," state news agency RIA-Novosti reported Thursday.
Trump's Man in Moscow
On John Huntsman and his current tenure as American ambassador to Russia so far…
Why Trump Should Meet Kim in Vladivostok
Some good arguments for the case – although it might not be politically optimal for Trump to travel to Russia while still under federal investigation…
Putin Tells Megyn Kelly Russia Will "Never, Never" Extradite Accused Hackers to the United States
In an exclusive interview with Megyn Kelly, Russian President Vladimir Putin says that the his government had nothing to do with any meddling in the 2016 election.
A Russian Threat on Two Fronts Meets an American Strategic Void
The threat that Russia poses on both fronts has helped push the United States to declare a fundamental shift on national security: Defense Secretary Jim Mattis asserted in January that "great power competition," not terrorism, is now the primary American focus.
Ukraine
Q&A: Tillerson Out, Pompei In. What Does It Mean for Russia and Ukraine?
Most of the experts quoted in this roundup seem to believe the change in Secretary of State will signal more of the same – or tougher – policies toward Russia.
Ukraine at Crossroads: Scenarios for the Reintegration of Donbas
A very interesting article detailing some of the nuts and bots of some the proposed plans to reintegrate Donbas to Ukraine – and the logistical and political hurdles they face.
A Ukrainian Prisoner of War Reflects on the Photo that Saved Her Life
It's been four years since the conflict between pro-Russia sepratists and the Ukranian army broke out. It's also been four years since Irina Dovgan was tied to a lamppost and tortured, capptured in a photograph that was circulated in The New York Times: Dovgan, tied to a pole, draped in a Ukrainian flag and holding a sign that read "she is a spy and a child-killer". Read Dovgan's reflection on the photo that saved her life.
Russians In Ukraine Blocked from Voting in Presidential Elections
How the Russian elections played out in Ukraine.
Gazprom Must Pay Ukraine's Neftgaz $2.5bn after Arbitration Decisions
Gazprom did not comment.
Russia and Ukraine: From Brothers to Neighbors
The Ukraine crisis is usually seen as an act of final liberation of the second largest former Soviet republic from imperial Russia. The significance of the reverse effect, of Russia finally drawing the border between itself and Ukraine, is often overlooked. Yet its importance is huge.
Skripal Affair
Former Russian Spy Scandal Suggests the Old Espionage Rules Are Breaking Down
It is still unknown whether Sergei Skripal, a Russian military intelligence officer turned British espionage asset, was poisoned in his new home town of Salisbury.
The Poisoning of Former Russian Double Agent Sergei Skripal, Explained
A nerve agent was used to poison former Russian double agent Sergei Skripal and his daughter Yulia in the southern English city of Salisbury, Britain's top counter-terrorism officer said.
Sergei Skripal Is Not Litvinenko – And This Is What That Really Means
It is cruel to say so, but Litvinenko seems almost to have been more use to the UK in death – as a totem of Russia's general badness – than he was in life.
Soviet Scientist Behind Nerve Agent Rules Out Russian Hand in Spy Scandal
Professor Leonid Rink told the RIA news agency that the attack did not look like Moscow's work because Sergei and Yulia Skripal had not died immediately.
The British Government's Reaction to Sergei Skripan Proves We've Learnt Nothing from the Iraq War
What happened to the burden of truth and the requirement for evidence?
Unanswered Questions Linger Over the Salisbury Poisoning
An anti-Russia smokescreen may prevent the truth of the poisoning of former double agent Sergei Skripal from ever being known.
Sanctions
US Expels 60 Russian Intelligence Officers in Response to Ex-Spy's Poisoning
The expulsion is in response to the poisoning of a former Russian spy and his daughter in the UK. Of the 60, 12 of the Russians being expelled are currently serving in the UN in New York. Russia is likely to expel another 60 US embassy staff from an already strained staff roll there after so many expulsions. The US is also closing Russia's Seattle consulate.
Russia Closing Down US Consulate in St. Petersburg, Expels 60 Diplomats
Those planning trips abroad – especially students heading to St. Petersburg – should know that all embassy services remain open in Moscow.
U.K. Expels Russian Diplomats Over Ex-Spy Attack
The U.K.'s response to the recent spy poisoning, per PM Theresa May's statement.
Spy Poisoning: NATO Expels Russian Diplomats
NATO itself has now joined the list of Western entities expelling Russian diplomats.
Politics
Russia Will Expel 23 British Diplomats as Relations Worsen Over Nerve Agent Attack
"Russia's response to Britain's expelling of 23 Russian diplomats from Britain:
1. 23 British Diplomats expelled from Russia
2. British Consulate in St. Petersburg closed
3. British Council (Britain's education arm abroad) shut down."
Other
Who Is Vying for Africa and Trump's Belligerence Brings Two Koreas Closer
When struggles for influence collide…
Putin and Xi Are Dreaming of a Polar Silk Road
"On the logistical downsides of Arctic shipping:
In addition to a small window of ice-free passage, the route can only handle ships a fraction that run between Europe and Asia and bypasses the Mediterranean and Southeast Asia, key shipping hubs."
Military
Russia 'Hopeful' After US Senators Urge Weapons Dialogue
Three Democratic senators, joined by independent Senator Bernie Sanders, sent a letter to Secretary of State Rex Tillerson on Thursday calling for U.S.-Russia strategic dialogue.
Russia's Nuclear Weapons Buildup Is Aimed at Beating US Missile Defenses
However, while the Russians are developing a host of new weapons, there will likely be little overall impact on the strategic balance between Moscow and Washington.
RANKED: 5 Most Powerful Armies on the Planet (In 2030)
In what is probably no particular order – the author points to India, France, Russia, China, and the US as the military powerhouses of 2030.
Vladimir Putin Boasts Russia's Nuclear Weapons Can Pierce Any Defense
Vladimir Putin used his state-of-the-nation speech to unveil several new military technologies and lash out at adversaries.
General
Putin Pledges Russian Mars Mission in 2019, Ahead of Musk and Trump
Putin's promise comes days after California-based entrepreneur Elon Musk announced plans for his private company to launch a rocket to Mars as early as in 2019.
Russia Is attempting Something that Nobody but America has Tried in 30 Years': Why Is Mosow's Foreign Policy Is What It Is?
To learn more about how Moscow makes it foreign policy, Meduza special correspondent Konstantin Benyumov talked to Maria Zakharova, the spokeswoman for Russia's Foreign Ministry, and interviewed several experts who have studied Russia's global behavior for decades.
Europe
Post-Poisoning, Russian Expats Feel London Heat
There is an old Soviet joke, roughly translated, which she says has become her watchword: "Don't read the news before lunch, it will ruin your digestion."
Russia to Rescue as Europe Draws More Gas in Siberian Chill
A cold snap severely tested Europe's energy network in early March. Spot gas prices tripled to a record, drawing in more Russian supplies by pipeline and promping a tanker of liquid fuel toschedule arrival in the UK next week.
By Banning Russian Propaganda, the UK Will Help Putin in His Campaign Against Press Freedom
The west needs to understand that the Kremlin's reaction vis-a-vis freedom of speech and human rights depends on their reaction. Not least of all because the Russian authorities love appealing to the west's double standards.
Moldova's Conflict: Unfreezing, in a Good Way?
The mood of realism … gives more space for international engagement with Transdniestria and more of a chance to integrate its economy and people into a world they have been isolated from for 25 years.
Central Asia and Caucasus
The World's First Democratically Elected Muslim Woman Was from Georgia
Just when you thought Georgia couldn't get any more awesome…
The Silent War: Documenting the Harsh Reality of Being a Young Male in Nagorno-Karabakh
Although the war technically stopped, peace was never declared. In the meantime, Armenia and Azerbaijan, have become two of the most militarized states on Earth as the neighboring countries have constantly been preparing for the next battle…
Former Afghan President Sees Russia as Key to Peace with Taliban
His comments may also raise eyebrows in a country that was invaded by the Soviet Union in 1979 before its retreat a decade later left the nation mired in civil war and conflicts between rival warlords.
Nowruz: Bringing People Together at Times of Conflict
Norwuz is a major holiday in some Central Asian countries find out more about its intercultural importance in this article!
China Looking to Become Co-Owner of Russia's Biggest Oil Company
According to the Russian producer, the deal will increase direct supplies of crude oil to the "strategic Chinese market and ensure a guaranteed cost-efficient export channel for the company's crude sales."