Russian Foreign Affairs in the News




February, 2018
Russian foreign policy and foreign policies concerning Russia have been of particular interest to those following world affairs lately. With Russia's more assertive stance on the world stage, Russia's absorption of Crimea, and resulting sanctions, arms buildups, and global geopolitical restructuring and repositioning, keeping a close eye on this part of the world is especially important to understanding global security and international politics.
As Russia's situation is also closely tied to events in its near abroad, particularly within the former USSR, this resource also follows countries within that geographic area.
This free resource serves to track and analyze these issues as they develop in Eurasia.
US Relations
Peculiar Business of Being Russian-American in Trump's USA
The Russian-American identity has always been complicated. Now, this article, says, it's paradoxes have gone to extremes.
Russia's Clash with the West Is About Geography, not Ideology
"In trying to assure the Russians that NATO was not a threat, the Clinton administration had taken it for granted that legitimate Russian interests, in an era following glasnost and perestroika, would not clash with NATO interests. But this view presumed that the Cold War had been driven by ideology and not geography."
Funding to Deter Russia Reaches $6.5B in FY19 Defense Budget Request
The Pentagon has requested $6.5 billion for the European Deterrence Initiative, a program dedicated to confronting Russia. The program received $3.4 billion in 2017 – then equal to about 5% of Russia's entire military budget.
State Department's Answer to Russian Meddling Is About to be Funded
The new boost to the State Department's media arm comes as Congress also rescinds a long-standing ban on the material it creates being aimed at American citizens.
State Department, USAID Face Drastic Budget Cut
The US military will gain about 10% in their budget. Meanwhile, the U.S. diplomatic corps and development programs are facing their biggest cuts since the 1990s.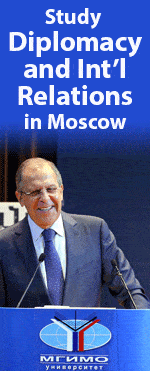 US Lists Every Russian Billionaire in New "Kremlin Report" (in Russian)
The US recently announced an "oligarch list" – officials and businessman who may be sanctioned in the future… The list was mandated by Congress, but seems to have been put together by the Trump Administration haphazardly using cut-and-paste. The report here states that the list of Kremlin officials appears to have been lifted directly from the Kremlin's website, the 96 oligarchs listed appear to be anyone worth more than a billion on Forbes' list of the 200 richest Russians and the section on state company executives was lifted from RBK's (a major Russian-language business publication) Top 500 list…
Who Are These 'Oligarchs'?
Meduza, a publication run by Russian dissidents, asks the question: Does Russia even still have oligarchs?
First Badminton Match Played in Space Between Russia, US and Japan
Far above their respective countries, Japanese, Russian, and American astronauts played the first badminton match in space! A new Olympic sport, perhaps?
We Can and Must Improve Ties with Russia
OpEd by US Ambassador Huntsman: "In spite of the difficulties we face in the U.S.-Russia relationship, we have no choice but to commit ourselves to working to build trust, identify common ground, get results and move forward."
Why the Director of Russia's Intelligence Agencies Visited Washington
High level intelligence also continued as Crimea and sanctions were still recent events under Obama and, in 2017, the US CIA Director Mike Pompeo visited Moscow as news of "Russian interference" in the U.S. elections was still fresh.
Russian Senators List 100 Examples of US Meddling in Foreign Nations' Affairs
Russia plans to make the list public in the coming weeks.
US and Russia Revive Cold-War Game of Provocative Street Names
In case you forgot, the Cold War never ended, Russia and the U.S. continue to provike each other, this time with street names. The streets on which the Russian and American Embassies have been slated for new names. The proposed name for an alley near the United States Embassy is 1 North American Dead End. On January 10, the City Council in Washington changed the name of the block of Wisconsin Avenue where the Russian Embassy sits to 1 Boris Nemtsov Plaza.
Enemy of the State
Bill Browder helped craft U.S. policy toward Russia. Was it for the better?
What the Russian Oligarchs Think About the US 'Kremlin Report'
Most agreed to speak only off the record. Here's what they said.
Russia Questions US Compliance with Key Nuke Accord
The dire assessment came as Moscow said it has met its own requirements under the New START agreement that was signed in 2010 and entered into force a year later. It restricts both the U.S. and Russia to 1,550 deployed strategic nuclear warheads on a maximum of 700 deployed intercontinental ballistic missiles and strategic bombers. The deadline to verify both countries' compliance was Monday.
Ukraine
Politics Over Peace? Critics Say Ukraine's President Sidelining Minsk Accords
President Poroshenko is set to sign a bill that will redefine the conflict between Kiev and Eastern rebels. But the goal of the legislation seems to be less about ending the fighting and more about winning upcoming elections.
Ukraine's Blacklists in Defense of Democracy and National Security are Doing It No Favors
Fresh bans on Russian and Ukrainian cultural production are signs that Ukraine could be losing its hard-won freedom.
Olympics
Russia Is Banned from Paralympics, Again, for Doping
Russian athletes have also been banned from competing in the Paralympics, citing concerns about doping. Unlike their Olympic counterparts, Paralympic officials had not previously allowed Russian athletes to bypass the ban and compete as individuals outside of qualifying events this fall.
28 Russian Athletes Win Appeals of Doping Bans
The Court of Arbitration for Sport ruled Thursday that there was insufficient evidence that the athletes — including some medal winners — breached antidoping regulations at the 2014 Olympics in Sochi, Russia.
15 Russians Not Invited to Olympics Despite Doping Ban Repeal
Justifying the decision to snub Russian athletes cleared by CAS, the IOC said it had considered "additional elements and/or evidence" which was not available to the Oswald Commission, but was presented to the IOC panel by WADA.
Russian Biathletes Sue Doctor Who Alleged Widespread Doping
Russia's banned Olympic athletes are taking their fight to America's courts. The complaint was filed Tuesday in New York State Supreme Court in Manhattan.
All About the 'Olympic Athletes from Russia' Competing in Pyeongchang Despite the Doping Ban
Here's a glimpse at what the not-Russian Russian delegation looked like at the Olympic Opening Ceremony.
Russia Rues Ban as OARs Deliver Nation's Worst Winter Olympics Gold Medal Hall
In 2014, Russia fielded 229 athletes. In 2018, Russia still sent 169 athletes, but many that had previously meddled in their sport had been banned. The OAR team walked away with only two golds for this Olympic season.
Russian Athlete Leaves for Seoul After Failed Doping Test
Certainly not good news for a group of athletes who have already faced numerous roadblocks on their Olympic journey.
Military
Starving Wolf No Longer: Can Russia Sustain Its Military?
Russia is having to balance its demand for more advanced weapons with a slew of other priorities
Russia's Arctic Strategy: Aimed at Conflict or Cooperation?
This four article series critically examines Russia's military, energy, and shipping interests in the Arctic and how Russian policies and actions compare to the existing academic and journalistic rhetoric about the Arctic region.
Europe
Understanding the Macedonia Name Dispute
What happens when your country declares independence and now needs policies that will support a new national identity? Anyone who has studied Eurasia post-1991 can tell you: it's always complicated.
Poland Just Passed a Holocaust Bill That Is Causing Outrage. Here's What You Need To Know
Supported by Poland's ruling Law and Justice party (PiS), the bill calls for up to three years in prison or a fine for accusing the Polish state or people of involvement or responsibility for the Nazi occupation during World War II. Opponents say it whitewashes the involvement that individual Polish citizens had in the Nazi-led genocide. The US and Israel have booth said that this will impact international relations.
Dutch Foreign Minister Admits to Lying About Meeting Vladimir Putin
You can't make this stuff up…
Central Asia and Caucasus
Georgia's Communists, With Chinese Help, Fight to Preserve Stalin's Press
A museum in Georgia housing Stalin's old printing press is now very popular with Chinese tourists and, largely abandoned by the Georgian government, may soon be getting funds to support it directly from the Chinese Communist Party.
Kazakhstan Changes Its Alphabet. Again!
Kazakhstan had just implemented a new alphabet – ditching a Cyrillic-based system for a Latin-based one. Apparently enough people complained about certain aspects of the new system that they just changed the alphabet… again.
Lost in Translation? Kazakh Leader Bans Cabinet from Speaking Russian
Kazakhstan, having recently abandoned its Cyrillic alphabet for a Latin-based one, has now banned Russian from being spoken in cabinet meetings.