Russian Foreign Affairs in the News




December, 2017
Russian foreign policy and foreign policies concerning Russia have been of particular interest to those following world affairs lately. With Russia's more assertive stance on the world stage, Russia's absorption of Crimea, and resulting sanctions, arms buildups, and global geopolitical restructuring and repositioning, keeping a close eye on this part of the world is especially important to understanding global security and international politics.
As Russia's situation is also closely tied to events in its near abroad, particularly within the former USSR, this resource also follows countries within that geographic area.
This free resource serves to track and analyze these issues as they develop in Eurasia.
Russia's Foreign Policy: Looking Towards 2018. Summary
The authors hope that the ideas and conclusions provided in this report will be of use to the Russian authorities when making foreign policy decisions, and will come in handy for experts in international affairs, researchers and journalists.
Main Results of 2017: Energetic Russia and the Greater Eurasia Community
The main achievement in Russia's foreign policy for 2017, and for several years prior to that, has been the development of a strategic concept, for the first time since 1991.
Declassified Documents: Western Leaders Did Promise No NATO Expansion Repeatedly
Recently declassified documents show that the Russians were indeed given verbal assurances, repeatedly, from Secretaries of State, Foreign Ministers, Presidents, and Prime Ministers of multiple major Western powers that NATO would not expand…
US Relations
The Return of Global Russia: An Analytical Framework
"Russia has engaged in a broad, sophisticated, well-resourced, and—to many observers—surprisingly effective campaign to expand its global reach." How should the US react?
Don't Call Trump Strategy a 'Return to Sanity,' Aide Says
The new National Security Strategy of the US has very tough words for Russia and China. However, in the speech President Trump made to introduce the document, he spoke more warmly of Russia, even pledging to build a "great partnership" with both Russia and China – language not found anywhere in the document itself.
The Russification of US Deterrence Policy
The new U.S. National Security Strategy (NSS), which was unveiled on December 18, is a thoroughly realist document that places premium on effective deterrence—which, the document says, has degraded in the recent years.
"Smarter Not Stronger": Putin Reveals Counter-Strategy to US Buildup
Let them be unreasonable. Why should we care?
Putin's Spokesman Says 'Exemplary' CIA Tip-Off Helped Save Many Lives
"Certain contacts between the two countries' intelligence services take place sporadically, but in this case there was extremely effective information that helped save many lives"
Imperfecto: Trump Objects to Russia Provisions as he Signs $700 Billion Defense Bill
President Trump signed a $700 billion defense policy bill, but also signed a statement objecting to various provisions within the bill that mandate a tougher stance on Russia.
US VCs Steer Clear of Russian Startups
The decline began in 2012, but has now reached 0 for 2017.
A New Way to Measure Schools; Russia Readers Beat US
Fourth-grade students in Russia are among the top scorers on the PIRLS 2016, a test given globally to measure reading skills and comprehension.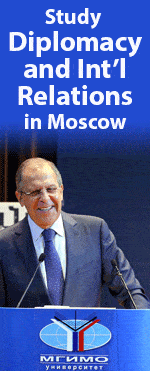 Russia Studies in the US: From Academic Ghetto to Political Mainstream
"Under the current conditions, people with no real expertise have a huge advantage, but they are willing to make unsubstantiated sensational statements, while serious experts are not welcomed."
Dysfunction in US-Russia Relations
We can hit the Russians as hard as we want, to "punish" them for bad behavior, but as long as they have the ability to hit back, they will do so, and the cycle will continue. Such escalation carries unacceptable risks.
Russian Parliament Bars Radio Free Europe and Voice of America from Premises
Russia has named Radio Free Europe, Voice of America, and seven other media outlets as foreign news agencies. This move comes in retaliation for the treatment RT has received in the U.S.
US Consulates Resume Visa Services in Russia
Non-immigrant visa processing had been suspended in August after Russia ordered the U.S. to cut its staff to 455.
It's Not Just Anecdotal: the US Is Rejecting More and More Visa Requests from Russians
In 2009, the tourist visa denial rate was 4.9%. It has risen sharply in recent years, hitting 11.6% so far for 2017.
US Slaps 5 Russians with Sanctions over Human Rights
The United States has imposed sanctions on five Russians, including the leader of Chechnya.
Number of Russian Citizens under US Sanctions Reaches Almost 200
Russian Foreign Ministry spokeswoman Maria Zakharova called the decision of Washington was "grotesque and not based on reality." At the same time, she confirmed that Russia will take retaliatory measures.
Russians Worried of Secret 'Blacklist' Launching in February
Estimates range from an additional 50 to as many as 200 people being added.
Military
US Plans $200 Million Buildup of European Air Bases Flanking Russia
The spending plan includes roughly $214 million to construct installations in Iceland, Norway and much of Eastern Europe.
Taking the Tsar's Shilling: The Economics Driving Russian Recruitment and PMCs
A fascinating look at the psychological and economic factors behind the rise of the Russian military's boosted prestige among Russians and its attractiveness as an employer for young people.
Russia to Shell Out $46bln on Defense Spending in 2018
Putin said "it [the level of defense expenditures] will be 2.85-2.86% of GDP in the next year and it will be reduced further later on. The question arises: can we be self-sufficient in such conditions and with such capabilities, can we reliably and unconditionally support defense capability of our state? We can, we must, and we will do that."
We Are Smarter, Stronger and More Determined
Relations between Russia and NATO are deteriorating. Kremlin foreign policy advisor Sergey Karaganov speaks with SPIEGEL about the risk of war, NATO's aggressive posturing and the West's inability to understand Russian values.
Russia and China Are Doing Joint Air Defense Drills to Prepare for a Surprise Attack
"The drill aims to help the two sides cope with any sudden or provocative attack of ballistic or cruise missiles in the countries' territories," reads a Chinese Defense Ministry statement.
How Secret Talks with Russia to Prevent Election Meddling Collapsed
There have actually been several discussions on forming a "Geneva Convention on Cyberwarfare" over the last several years – 2009 and 2013 also saw major efforts. These have not been really "secret" – just not reported on. The US has typically been shy of these agreements as, until recently, the US intelligence community has argued that it's "practically impossible" to establish the source of a cyber attack and, thus, such an agreement would be difficult to enforce. Secondly, the Russians want inclusions in such an agreement that would hamper US policies of democracy promotion, a central tenant of US foreign policy (which the Russians terms "meddling in internal affairs").
Russia To Limit US Military Surveillance Flights over Russia Next Year
The new restrictions Russia is introducing will limit the scope of U.S. flights by preventing U.S. air crews from using certain Russian air bases, Russia's state-run RIA Novosti news agency cited Foreign Ministry official Georgiy Borisenko as saying.
US Has De Facto Left the Missile Treaty, Russia Will Not – Putin
Putin also warned that Washington would jeopardize international security if it unilaterally withdraws from the New START (Strategic Arms Reduction Treaty).
An End to the Treaty that Ended the Cold War? US-Russia Spat Puts INF at Risk
The Trump administration recently accused the Russians of actually deploying a ground-based cruise missile of intermediate range – a charge which the Russians strenuously deny but would indeed destroy the treaty if true. In early November the US Congress voted $58 million to start development of a medium-range US missile, which would also wreck the deal if the weapon reached testing stage.
Red Robots Rising: Behind the Rapid Development of Russian Unmanned Military Systems
Military robotics in Russia is advancing in everything from defensive, offensive, intelligence gathering, and cleanup applications.
Russia Activates Early Warning Radar in East Amid North Korean Missile Tests
The new radar stations all sit near Russia's borders with Kazakhstan and Mongolia, but with an operating range of 6,000 kilometers, they have the Korean Peninsula and chunks of Russia's Pacific coastline in range.
Syria
Russia Will Use Syrian Seaports to Export Wheat to the Middle East
Last year, Syria offered Russia the rights to explore and develop land and offshore oil and gas deposits. In particular, Russia was invited to upgrade the Baniyas refinery and construct a refinery with Iran and Venezuela.
Putin Announces Russian Troop Withdrawal from Syria During Visit
President Vladimir Putin ordered the partial withdrawal during an unannounced visit to Syria on Monday. This is third announcement of withdraw that Russia has made.
Putin Drafts Bill for Expansion of Russian Navy Base in Syria
The development would be for a term of 49 years and would grant the Russian Navy access to the territorial waters and to various ports of the Syrian Arab Republic.
Russia Begins Development of Syrian Bases to Host Nuclear Warships & Warplanes
Damascus has agreed to host Russian forces for at least 49 more years.
Other
Can Russia Help Solve the North Korean Crisis?
Since North Korea fired four ballistic missiles towards Japan on March 6, the Russian government has devoted considerable diplomatic resources to resolve the nuclear standoff. Many analysts have cited Russia's desire to increase its influence in the Asia-Pacific region and alignment with the North Korean regime as rationales for its expanded diplomatic involvement in the Korean peninsula.
Facebook Says Russian-Linked Accounts Spent Just 97 Cents on Ads over Brexit
Facebook sent its findings to the Electoral Commission which is examining how digital campaigning is affecting politics in Britain, including activity funded from outside the country.
Russia, US and Other Nations Restrict Fishing in Thawing Arctic
While the relationship between Russia and the United States is particularly icy right now, they share a mutual interest in preventing the overfishing of a rapidly thawing Arctic. Russia, the United States and three other countries with Arctic coastline control the exclusive economic zones near their shores, but overfishing in the international waters at the central Arctic Ocean could collapse fish stocks.
Putin Wants to Keep Foreign Ships Out of Russia's Northern Sea Route
Russian ships could get exclusive rights to transport oil and gas along the Northern Sea Route, according to Russian President Vladimir Putin who proposed the measure to boost the country's shipbuilding industry.
Sweden Ships Dozens of Bison to Bolster Biodiversity in Russian Caucasus
Russia has been working for years to slowly reestablish herds of European bison in Russia. The programs have been largely successful.
Turkey, Russia Finalize Deal on Anti-Missile Defense System
The deal, which would make Turkey the first member of the military alliance to own Russia's most advanced air defense system, comes amid strengthening ties between Turkey and Russia and Ankara's deteriorating relations with the United States and other western countries.
These Baltic Militias Are Readying for War with Russia
Tomaso Clavarino is an Italian documentary photographer who spent nearly a month reporting and photographing paramilitary groups from Eastern Europe and the Baltic states, including the Lithuanian Lietuvos Šaulių Sąjunga ("Riflemen's Union"), the Estonian Defense League, and the National Guard, which was recently folded into Latvia's 1,500-strong National army. While these groups have existed for decades in various forms, their ranks have swelled in recent years in response to perceived Russian aggression.
Outcry over Polish Government's Changes to Second World War Museum
The row comes at a time of growing nationalism in Poland; in November, far-right nationalists led a march of 60,000 in Warsaw calling for a "white Europe".
Russia Aims to Prohibit Commercial Ownership of Asteroids
The U.S. and Luxembourg have previously allowed companies to explore mining asteroid without ownership. According to the Izvestia newspaper, ignoring such a law could spark conflict over extraterrestrial resources.
Abkhazia's Youth: Building Their Own World
Growing up in places that don't exist: Abkhazia edition. With unrecognized borders, economies are blockaded. Without international recognition, your passport doesn't exist and getting visas can be impossible. How do youth in these areas cope with this?
Ukraine
To Understand Ukraine
The Ukrainian issue, figuratively speaking, was narrowed down to the size of rockets, ships and the notorious "gas pipeline," while the problems in relations were set aside.
EU and Ukraine Drawing up Plans for a Marshall Plan
According to the document, Kyiv could obtain five billion per year in the medium term (2018-2020).
Ukraine Adds 2nd (Western) Christmas to Official Holidays
Ukraine now has two official Christmases – Orthodox and Catholic/Protestant. The parliament there just declared Dec 25 an official day off (and took one day from the usually two-day International Workers Day holiday at the start of May).
Defense Budget Authorizes Provision of Lethal Weapons to Ukraine, Expands Support
The defense budget for 2018, signed by U.S. President Donald Trump, provides $350 million to promote security in Ukraine and authorizes the country to provide lethal weapons, the Ukrainian Embassy in the United States has said.
European Leaders Hail Exchange of Hundreds of Captives in Eastern Ukraine
The deal, which will see all prisoners held on both sides released to the other, was negotiated, in part, by Patriarch Kirill, head of the Russian Orthodox Church.
Ukraine's LGBTQ Soldiers Hope Their Service Will Change Hearts and Minds
With the Ukrainian conflict in its fourth year and a death toll exceeding 10,000, some members of the country's LGBTQ community serving in the military hope now more than ever that their contributions will help alter Ukraine's perception of sexual and gender minorities, in the military and beyond.
Russian Railway Passenger Lines to Bypass Ukraine
Ukraine faces going from a traditional bridge between east and west to becoming an "island" as a result of Russia's actions.
Central Asia
Unpacking Lavrov's Claim about a Caspian Settlement
Is the Caspian is a sea or a lake? This has sparked intense international debate for two decades now, as the difference greatly affects oil drilling rights. Recently, Russia announced that countries surrounding the sea may be finally coming to a consensus.
In Kazakhstan's Battle for Cable TV, Russia Stands Its Ground
The re-transmission of Russia television channels will continue in Russia despite Kazakh government efforts to restrict its presence in favor of national and local media in the Kazakh language. Cable companies currently air around 150 channels each, of which around 70 percent are foreign. This means they are exempt from domestic restrictions, such as those requiring a certain amount of content to be broadcast in the Kazakh language.
Kyrgyzstan Takes Authoritarian Turn with Renewed Assault on Media
There had been some hope that newly elected President Sooronbai Jeebenkov might seek to nurture goodwill after assuming office last month. Instead, officials have now taken aim at a television station known to be controlled by Jeebenkov's main rival in the October 15 presidential elections, Omurbek Babanov.
Kyrgyzstan Goes Back to Russia for Hydropower Project Help
It has been nearly two years since Kyrgyzstan's parliament voted to rescind an agreement with Russia to construct hydropower plants in Kyrgyzstan.
Tug-of-War: Uzbekistan, Kyrgyzstan Look to Finally Settle Decades-Old Border Dispute
Just over 200 kilometers of unresolved border stands in the way of ending a tug-of-war that stems from the divide-and-conquer rule of Soviet dictator Josef Stalin. Bridging the differences means tackling the biggest sticking points: five small exclaves and the complex problems associated with them that have spurred riots, detentions, shootings, and killings in recent years.