Russian foreign policy and foreign policies concerning Russia have been of particular interest to those following world affairs lately. With Russia's more assertive stance on the world stage, Russia's absorption of Crimea, and resulting sanctions, arms buildups, and global geopolitical restructuring and repositioning, keeping a close eye on this part of the world is especially important to understanding global security and international politics.
As Russia's situation is also closely tied to events in its near abroad, particularly within the former USSR, this resource also follows countries within that geographic area.
This free resource serves to track and analyze these issues as they develop in Eurasia.
Military
Is A New Russian Black Sea Fleet Coming? Or Is It Here?
Last summer, Russian Defense Minister Sergei Shoigu said that Russia will continue to strengthen its forces around the Black Sea in order to "neutralize the security threat in the Black Sea region from NATO." This rhetoric highlights the change in threat perceptions that has taken place on both sides in the region in recent years.
Russia Can't Afford Its New T-14 Armata Tanks, Turns To Updated Older Designs Instead
More than three years after Russia's T-14 Armata tank made its widely touted and much scrutinized public debut, the country has made it clear it has no plans at present to buy more than 100 of them.
Russia Is Slowly Declining as a Space Superpower
The first country to launch a satellite is losing its space advantage to leakers, competitors like SpaceX, and most importantly to China.
Noble Partner 2018
Noble Partner 2018 is a Georgian Armed Forces and US Army Europe cooperatively-led exercise in its fourth iteration.
More US Marines to Train in Norway, Closer to Russia
The United States will more than double the number of Marines stationed in Norway, in line with plans first outlined in June, the Norwegian defense ministry said on Wednesday.
US Relations
Suspected Russian Spy Found Working at US Embassy in Moscow
US counter-intelligence investigators discovered a suspected Russian spy had been working undetected in the heart of the American embassy in Moscow for more than a decade, the Guardian has learned.
Rand Paul Continues His One-Man Détente With Russia, This Time in Moscow
There may be little that pleases Senator Rand Paul, the libertarian-leaning Kentucky Republican, more than thumbing his nose at Washington groupthink.
Despite Tensions, Russia Seeks US Help to Rebuild Syria
Russia has used a closely guarded communications channel with America's top general to propose the two former Cold War foes cooperate to rebuild Syria and repatriate refugees to the war-torn country, according to a US government memo.
What is Eurasia to US (the US)?
This article examines US policy toward the supercontinent of Eurasia from the collapse of the Soviet Union to the present.
Trump Signs Defense Bill Suspending Funding for Open Skies Treaty
The United States has suspended funding for the Open Skies Treaty following the signing of a $717-billion national defense policy act into law by US President Donald Trump on Monday, August 13.
Factbox: US Companies with Exposure to Russia
Although the United States and Russia have imposed economic sanctions on each other since 2014, several large US corporations, including PepsiCo Inc (PEP.O) and McDonald's Corp (MCD.N), still count Russia as a growth market.
Looking West from Red Square
A journey to Moscow to discover what Russians really think of America.
Are Russia And China Trying To Kill The Dollar?
Russian Foreign Minister Sergei Lavrov suggested Tuesday that countries facing sanctions like Iran, Turkey and Russia may start doing business in their national currencies, suggesting that the days of the US dollar as the international reserve currency may be numbered.
Remarks – Wess Mitchell Assistant Secretary, Bureau of European and Eurasian Affairs
As delivered to the Senate Foreign Relations Committee.
Attempted Hacking of Voter Database Was a False Alarm, Democratic Party Says
The suspected hacking attempt of the Democratic National Committee's voter database this week was a false alarm, and the unusual activity that raised concern was merely a test, party officials said on Thursday.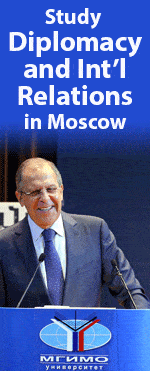 Sharp Increase in Positive Views of US among Russians after Trump-Putin Summit, Poll Finds
For the first time in over four years, Russia's leading polling agency has found that the number of Russians who have positive views of the United States is greater than those who have negative views.
Leaked Document: Putin Lobbied Trump on Arms Control
Vladimir Putin presented President Donald Trump with a series of requests during their private meeting in Helsinki last month, including new talks on controlling nuclear arms and prohibiting weapons in space, according to a Russian document obtained by POLITICO.
Trump Adviser Bolton to Meet Russian Officials Next Week: Kremlin
The Kremlin said on Wednesday preparations were underway for a meeting in Geneva next week between Russian officials and White House national security adviser John Bolton, the first top-level meeting since the Russian and US presidents met in Helsinki.
Trump's Helsinki Hopes Fade After Putin Rejects Microsoft Charges
Donald Trump strode into his summit with Vladimir Putin in July aiming to get relations with Moscow back on track. It hasn't worked out.
US Declares Economic War on Russia
The US announced yet another round of sanctions on Russia earlier in August that explicitly target Russian domestic treasury bills, OFZs. If these sanctions are passed into law then they will be the most significant yet and will really hurt the government's ability to finance its budget deficit.
Russia to Treat Further US Sanctions as an Open Declaration of Economic War
Prime Minister Dmitry Medvedev has warned the US that any sanctions targeting Russian banking operations and currency trade will be treated as a declaration of economic war and retaliated against by any means necessary.
Tougher Russia Sanctions Face Skepticism From Senate Republicans
An effort to slap new financial penalties on Russia ahead of the midterms is facing pushback from Senate Republicans who question whether that's the best approach.
Here's How We Know Sanctions Against Russia are Working
Last week, a bipartisan group of senators introduced a bill that would extend sanctions on Russia in retaliation for interference in US elections, despite Trump's reluctance. Would such sanctions matter?
Economic Effects and Political Impacts: Assessing Western Sanctions on Russia
The brief assesses the effectiveness of Western sanctions on Russia as well as their likely future impact and examines the unique features of Russia as a sanctions target in the context of global sanctions experience.
Russia Sanctions Bill Tweaks in Senate May Curb Spillover Risks
The leading effort in Congress to deter Russia from meddling in the US midterm elections is likely to be rewritten to minimize unintended effects on global economies from stiff automatic sanctions on sovereign debt and energy.
Europe
Busting Nord Stream 2 Myths
The proposed expansion of the capacity of the Nord Stream gas pipeline in Europe's north, running from Russia's Yamal gas fields to the German coast, has split Europe down the middle. Its detractors claim it will make Europe more dependent on Russian gas and give the Kremlin a bigger club with which to bully the rest of Europe. Its supporters say it will diversify routes into Europe, improve energy security and most importantly provide the EU with cheaper gas.
Turkey's Crisis a Golden Opportunity for the Kremlin
The Turkish meltdown is a golden opportunity for the Kremlin to further its goal of breaking up Nato and loosening the alliance that Washington has been trying to build to contain Russia's European ambitions.
Acute Labour Shortages Limit GDP Growth in CEE Countries
Six countries in Central and Eastern Europe have acute labour shortages, which can reduce their economic growth and even lead to recession, according to a report of Colliers International.
Timoshenko Remains Favorite Among Ukraine's Possible 2019 Contenders, Survey Suggests
More than half of Ukrainian nationals have said they will vote in the Ukrainian presidential election in 2019, where the leader of the Batkivshchina party, parliamentarian Yulia Timoshenko, remains the favorite among the possible contenders, suggests a survey by "Rating" pollster.
Central Asia and Caucasus
Russia Warns of "Horrible" Conflict if Georgia Joins NATO
An attempt by NATO to incorporate the former Soviet republic of Georgia could trigger a new, "horrible" conflict, Russia's prime minister said Tuesday in a stern warning to the West marking 10 years since the Russia-Georgia war.
Caspian Summit Delivers Less Than Expected
The leaders of Azerbaijan, Iran, Kazakhstan, Russia, and Turkmenistan met in Aqtau, Kazakhstan, on August 12 for what was supposed to be the long-awaited signing of a convention on the legal status of the Caspian Sea.
Kyrgyzstan, Uzbekistan Agree To Work On Land Swap Near Border
Kyrgyzstan and Uzbekistan are working on a possible land swap near the border between the two Central Asian states, some parts of which have not been formally delineated since the collapse of the Soviet Union in 1991.
Kocharian's Arrest: "Velvet" Victory Or Vendetta?
Robert Kocharian became the first former head of state of an ex-Soviet republic to be jailed after a court in the Armenian capital, Yerevan, on July 27 ordered him to be held in pretrial detention.
Other
Dispatched
Mapping overseas forced labor in North Korea's proliferation finance system.
Russia Signs Military Deal with the Central African Republic
Russia and the Central African Republic (CAR) signed a military deal on Tuesday paving the way for Moscow to step up training of CAR's armed forces, Russian news agencies reported.