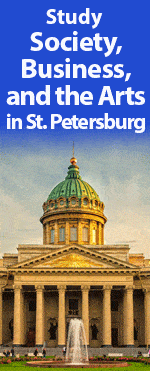 This resource serves to track domestic news inside Russia – focusing primarily on demographics, public opinion, economy, and major domestic political events inside Russia.
It is intended to give students who are otherwise following major issues and events within Russia greater context from which to view those issues and events. This resource lists useful but often under-reported information that can help build a pragmatic and objective view of Russia's domestic situation.
Polls
TV Still Russia's Biggest News Source, but Trust Plummets
Television remains the biggest news source for Russians but has become less trusted over the past decade, according to a new poll published by the independent Levada Center.
Russians Are Much Less Willing to Protest Retirement Age Hike
Fewer Russians are willing to take to the streets against government plans to raise the retirement age, according to an independent Levada Center poll.
New Polling Shows a Resurgence of Xenophobia in Russia
Xenophobia in Russia has grown by 12 percent in the past year, according to a new national survey by the Levada Center.
Anti-Semitism in Russia Falls Since USSR, Sociologists Say
Anti-Semitism is on the decline in Russia, particularly since the Soviet period, according to a report by the independent Levada Center commissioned for the Russian Jewish Congress.
US Dollar and Rouble Equally Attractive to Russians as Means of Savings Poll Shows
About a quarter of Russians said they prefer to keep savings in US dollars but almost an equal share of population said that they consider Russia's rouble stable enough for this purpose, according to a recent online poll.
Demographics
Russia's Population Decreases for First Time in a Decade
The Russian population has decreased in 2018 for the first time in almost a decade as the country battles a demographic crisis that threatens its economy, according to new data.
Wages in Russia's Regions are Well Behind the National Average
Wages are starting to grow again in Russia after several years of shrinkage, leading economists to hope that consumption will return as an economic driver in the second half of this year. However, drilling into the distribution of wages, the recovery is clearly very mixed.
Infrastructure
Russia's Mega Gas Pipeline to China Almost Complete
One of the world's longest gas pipelines – the Power of Siberia – which is being created to deliver natural gas from Russia to China, is now 93 percent complete.
Russia's Nord Stream 2 Pipeline May Now Be Unstoppable
On the afternoon of September 5th, a ship called Solitaire in the Gulf of Finland started laying the first deep water pipes for the controversial Nord Stream 2 project – a strong signal that the new pipeline from Russia to Germany is now unstoppable.
Shipping's New Arctic Routes Won't Thaw Cold Economic Reality
The ballyhooed sailing of a container ship shows how far the Northern Sea Route lane has to go to provide a viable alternative to traditional commercial shipping lanes between Asia and Europe.
Economy
    — Business
The Man Who Became Russia's Stockbroker
An obsession with volume turned an old-school rocker from Siberia, Oleg Mikhasenko, into Russia's largest stockbroker. Now U.S. sanctions are swelling his fortune by pinching his Kremlin-connected competitors.
Russia's Biggest Oil Producers Have Never Had It So Good
Russia's oil and gas companies are living through the best of times, simultaneously enjoying record production and the highest prices ever in the local currency.
Retailers in Central Moscow Will Take Part in Pilot Project Testing Tax Free System
Prime Minister Dmitry Medvedev signed a resolution to expand the list of participants in the pilot project on VAT compensation to foreign citizens when they export goods they purchased in Russia. The relevant document was published on the government's website on Tuesday, September 18.
Russia Has Positioned Itself to Be a Global Oil Price-Maker
Moscow's influence set to grow further once US sanctions on Iranian exports begin.
Russia Oil Production Jumps to a New Post-Soviet Record
Russia's crude production has jumped to a new post-Soviet record, boosting the nation's budget revenue as it prepares for talks with OPEC+ on further cooperation, according to a government official.
— Political Economy
Putin's Big Bang in the Russian Far East
Russia's usually sleepy Far East finds itself at the center of global attention today, as the high-profile Eastern Economic Forum gets underway in the port of Vladivostok, while the massive Vostok 2018 war games are ignited across 7,000 km of terrain.
Pension Changes to Require $7.3 bln in Six Years
Federal budget costs for implementation of proposals made by Russian President Vladimir Putin in respect of the pension system changes will amount to about 500 bln rubles ($7.3 bln) in six years, First Deputy Prime Minister and Finance Minister Anton Siluanov told reporters.
Russian Government Split on Controversial Data Storage Law
Weeks after being enacted, the Russian controversial law on data storage, known as the "Yarovaya Law," is still under fire by critics from within the government, making tech companies uncertain about how to comply with it.
    — Technology and Innovation
Russia's Uphill Struggle With Innovation
There are clear steps the country can take to become more competitive.
What's the Source of Russian Tech Entrepreneurship?
Over the past several years, Russia has produced a number of ambitious tech startups with an eye on international markets. Education has a lot to do with fostering this enterprising culture, according to the latest research.
     — Banking and Finance
Capital Flight Figures to Make Your Eyes Water
Looking over Russia's capital flight data, you could be driven to tears. Since 1994, when the Central Bank of Russia (CBR) started publishing capital flight data, a total of $581bn has left Russia as private sector outflows.
Russia's CBR Front-Loads Key Rate to 7.5% to Tame the Market
The Central Bank of Russia (CBR) surprised analysts by hiking its monetary policy rate by 25bp to 7.5% – the central bank's first increase in interest rates since 2014.
Rouble at Strongest since mid-Aug, Stocks at Record High
The Russian rouble recovered against the dollar to its strongest since mid-August and stocks hit an all-time high on Thursday, September 20, helped by Russia's month-end tax payments and globally better sentiment towards emerging markets.
Russia's Eastern Economic Forum Wrap Up: De-Dollarization Tops Agenda
The Eastern Economic Forum (EEF) was held in Vladivostok on Sept.11-13. Founded in 2015, the event has become a platform for planning and launching projects to strengthen business ties in the Asia-Pacific region.
Russian Stocks in a Time of Uncertainty
Russia's economy is recovering. Incomes are rising again. The budget is in surplus. Growth has returned, albeit modest. And Russian companies are paying the highest dividends in the world. Yet none of this matters, as Russian business is entirely overshadowed by the escalating US sanctions on business and businessmen. The leading RTS index has been range bound for almost four years. How is it possible to work in these conditions?
Russia Inc. Isn't Waiting for Central Bank to Brave a Rate Hike
The cost of money is rising for Russians well ahead of any potential central bank move to lift interest rates for the first time in almost four years amid concern the U.S. may impose fresh sanctions.
Introduction of Personal Credit Scores in Russia Seen Helping Banks and Consumers
In the first quarter of 2018, Russian banks turned down 48 percent of applicants for loans and charged those who did get them higher rates than they otherwise might because the banks had no good way to ensure that they were only offering loans to those who would repay them.
Domestic Politics
Kremlin on Far East's Gubernatorial race: Legitimacy Is Priority for Putin
The Kremlin comments on the possible cancellation of the vote results in the Far East's Primorsky Region.
Pamfilova Makes Decisions Without Anyone's Instructions, Didn't Bother Putin on Situation With Election in Primorye
CEC head Ella Pamfilova says she has not bothered the president about issues relating to the cancellation of elections, including in Primorye.
Russia's Ruling Political Party Blows Another Two Gubernatorial Runoff Elections, Prompting a Wave of New Speculation about What it All Means
Over the weekend, LDPR candidates routed the incumbent governors in two runoff elections. In Vladimir, Governor Svetlana Orlova lost to Vladimir Sipyagin, 37.46 percent to 57.03 percent, and in Khabarovsk, acting Governor Vyacheslav Shport lost to Sergey Furgal by a whopping 27.97 percent to 69.57 percent.
Putin Appoints New Acting Governor in Far East Region where Communist Challenger was Poised to Win Third-Round Election
The Kremlin has revealed its next step in Primorsky Krai, where invalidated voting results recently snatched away the incumbent governor's suspicious runoff election victory.
In a First for Russia, Moscow Agrees with Locals that Their Election Was Rigged
Westerners often assume that Russian politics is wholly corrupt. But the response to blatant ballot stuffing in Russia's Far East shows some limits to what Russia will tolerate – and such fraud may be on its way out.
Who Putin Is Not
Falsely demonizing Russia's leader has made the new Cold War even more dangerous.
Civil Society
Russia's Leading Opposition Figure is Waging War on the Media
The talk of the month in Russia's media community is a conflict between the most popular opposition politician, Alexei Navalny, and reputable business daily Vedomosti — one of the few relatively independent Russian media outlets (and a former partner of The Financial Times and The Wall Street Journal).
Russian Communists Say Election Stolen by pro-Putin Candidate
Hundreds of Russian Communist Party supporters took to the central square of Vladivostok on Monday to protest against what they said was the rigging of a regional election in favor of a politician backed by President Vladimir Putin.
Daily Life
Russia's Murder Rate: a Quiet Miracle
Murder rates across Russia have fallen in all regions, to levels not seen since the Soviet glory days of the 1960s.
Buddhism Flourishes in Siberia, Opening Window on its Pre-Soviet Past
Orthodox Christianity may be Russia's most high-profile religion, but it is only one of the country's four official "founding" faiths. Another of the four, Buddhism, has been experiencing a rebirth in post-Soviet Russia.
Culture
Russia's Orthodox Church Freezes Ties with Constantinople over Ukraine Spat
Russia's Orthodox Church said on Friday it would no longer participate in structures chaired by the Ecumenical Patriarchate of Constantinople, deepening a row in Orthodox Christianity over the Ukrainian Church's bid to break away from Moscow's orbit.
A Brief History of Russian Religiosity
There's been a discussion over whether or not Russian religiosity has increased since the end of the USSR, when for obvious reasons people weren't polled on these questions. Today we have hard numbers.