Russia on the Ground
October, 2017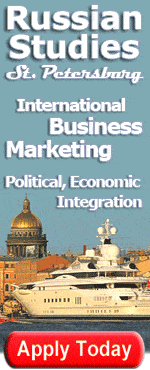 This resource serves to track domestic news inside Russia – focusing primarily on demographics, public opinion, economy, and major domestic political events inside Russia.
It is intended to give students who are otherwise following major issues and events within Russia greater context from which to view those issues and events. This resource lists useful but often under-reported information that can help build a pragmatic and objective view of Russia's domestic situation.
Daily Life

Russia Fails to Remember Stalin's Victims (or not)
Although most reports would have you believe that Russia is awash in Stalin-devotion and history white-washing, several major memorials to the victims of Stalin's purges have been opened recently or are nearing completion. This article explains…
Why Russian Television Sticks to Foreign Stories
Apparently Russian media talks about the U.S. as much as U.S. media talks about Russia. This article argues that Russia talks about the U.S. so much specifically to avoid having to face domestic reality. Do you agree with this take? Does the U.S. media do something similar?
Russians Don't Do Nursing Homes — Abhor the Idea
Russians, for the most part, take care of their elderly relatives at home and find the idea of shipping them off to a nursing home abhorrent. This article explores some reasons behind that – including the Orthodox faith and traditionally strong family structure (respect for elders is common throughout Eurasia). The article doesn't mention it, but access to affordable healthcare (and doctors that can make house calls) also probably figures into this.
Polls

Poll Shows Handful of Russians Intend to Celebrate Halloween
The Russian Orthodox Church disapproves of Halloween and the holiday has never been part of Russian traditions. However, it is making inroads into Russian culture – at least in Moscow – where several clubs and restaurants were more flamboyantly decorated this year at the street level, but also through other, less obvious recognition of the holiday – such as book stores putting out horror-themed book displays. While making some inroads, Halloween is still a marginal (and considered a distinctly foreign) cultural element in Russia.
84% of Russian Students Want a Public Debate About the Red Terror
A majority of 71% said that Russia needs to develop a culture of memory, and specifically to build memorials for those who were repressed during the Great Purge. 34% said they had relatives they knew of who were repressed.
Almost Half of Russian Students Ready to Vote for Putin at Presidential Polls
Russian students describe themselves as the "Putin Generation," and intend to support the incumbent president in the presidential election, a recent poll shows.
Russians Say New Revolution is Unthinkable
90% of Russians hold this opinion. This is up from 78% five years ago. 5% today said that a new revolution was necessary (13 percent in 2012).
Russians Believe Men Should Be "The Breadwinner"
A majority of Russians believe that men have sole responsibility for being the breadwinner of the family. The vast majority also believes that men and women should equally share housework and responsibility for raising children.
Poll Shows Russians Satisfied with Life, Ready for Hard Times
As many as 41% of those polled said that hard times were yet to come, while 31% think that hard times have ended. At the same time, 21% of Russians say that the country is currently going through the hardest times.
Россияник назвали достаточный для счастья уровень дохода
This Russian-language article details how much Russians earn (average: $670 a month) and what they think they would be need to be "happy" ($870) and/or rich ($1725). There are wide discrepancies based on location and age. It's also important to consider that many things in Russia – such as food, medicine, transport, cell phone plans, and medical care, are much cheaper than in, for instance, America.
Nearly 90% of Russians Approve of Armed Forces' Activities
The survey showed that young people praised its combat capabilities more than anyone else (97 percent).
Russians Are Becoming Less Afraid of Terrorist Attacks
The poll indicates only 16 percent of Russians fear that a terrorist attack could take their lives.
Military
Queens of the Sky: The Girls Taking Russia's Air Force by Storm
No women have served as military pilots in Russia since 1991. This year, 16 young women enrolled in Krasnodar's Higher Military Aviation School, after scores of Russian females appealed to the Ministry of Defense. This article details their diverse and moving stories.
Russia to Build New Home Base for Caspian Flotilla
Russia is planning to create a new home base for its Caspian Flotilla, moving it from Astrakhan to Dagestan by 2020. The new base will be one of Russia's most technically advanced naval facilities, Ministry of Defense officials have said.
Foreigners Can Now Fight in Russia's Overseas Military Campaigns
Foreign citizens can now be deployed on Russian military operations abroad, according to a new decree signed by President Vladimir Putin on Sunday, October 8. Previously, they have been allowed to enlist, an attempt by Russia to legalize the status of of citizens of former Soviet Republics already serving in the Russian military.
Environment
Russia Wants to Protect Itself from Climate Change—Without Reducing Emissions
"Climate-related economic damage in the Moscow region, home to 20 million people, is expected to reach $4.3 billion a year by 2025, a figure comparable to the national toll, on average, in recent years."
Baikal Being Destroyed by Putrid Algae, Poaching, Pollution
Lake Baikal is currently facing many challenges related to the degradation of its stunning environment by an influx of tourists. One environmental NGO has actually proposed closing the lake to all tourism for 20 years to allow the area to recover and proper infrastructure to be built to handle the influx of people.
2018 Elections
Communists Seek Alliance for 2018 Presidential Race
"Russia's Communists are looking for ""national-patriotic"" allies to work with in fielding a presidential candidate for next year's election. The head of the Communist Party of the Russian Federation, Gennady Zyuganov, is now 73 and reportedly having health issues. This article seems to confirm that he is resisting running again this year, although he has been the perennial Communist candidate. Most interestingly, it seems the Communist party may be trying to revitalize itself by drawing in right-wing voters (including nationalists and monarchists), by trying to agree on a shared economic program while pushing ideology aside."
Sobchak for President: What the Rumors Reveal About Russian Politics
The possibility of TV anchor Ksenia Sobchak as a presidential candidate has morphed from the dream of one of Vedomosti's Kremlin sources into a political fact and a model for all of Russian politics.
Alexei Navalny – Modern Liberal Nationalism
Alexei Navalny has emerged as Russia's strongest opposition leader in large part because he has managed to build support bases among both nationalists and liberals. He has also reportedly reached out to the communists as well, the Russian opposition's third major wing. Uniting these very different factions is an essential, but very difficult, first step to making Russia's non-systemic opposition a politically viable force.
Russian Opposition Leader's Fraud Conviction Arbitrary, Europe's Top Rights Court Says
Europe's top human rights court ruled on Tuesday that Russian opposition leader Alexei Navalny's conviction for fraud in 2014 had been "arbitrary and manifestly unreasonable" and ordered Russia to pay him compensation.
Economy
Red October: Russia of 1917 and 2017 Closer than Might Be Expected
A Russian investment bank has published a list of numbers that show that Russia, especially in comparative global economic terms, is in a position today compatible to where it was in 1917.
Sanctions Spark Better Russia-Produced Products
This is the consequence of change in demand as well as change in supply. Demand has changed because before 2014 Russians still distrusted their compatriots and believed that everything made in their country was rubbish. The Ukraine crisis, the reunification with Crimea, the war in Donbas, and the upsurge of patriotism prodded folks to try their own. What Russia has now is a virtuous cycle: the Russian people expect better and what they are getting is better.
No Miracles': Labor Shortage Set to Hit Russia's GDP
Russia's birth rate hit a low in 1999 after living standards fell following the Soviet Union's collapse. The impact is being felt now as people born at that time reach school-leaving age.
Brains, Not Oil, Should Fuel Russia's Economy
If Russia is to remain a globally relevant power in the 21st century, it will have to win one of two bets on technology — or possibly both.
Russia's Economy Would Be Growing A Lot Faster Today If It Hadn't Spent So Much Money on Rearming
Former finance minister and co-head of the presidential council Alexei Kudrin released a paper detailing exactly how much Putin has sacrificed to win a geopolitical game.
This Is as Good as It Gets
The buoyant picture should be maintained through 2018, but after that things become more uncertain.
Saudia Arabia Invests $1 Billion in Russia
Politics may remain behind closed doors at the Moscow summit but it is widely expected that several mutually beneficial trade and investment deals may be agreed or at least MOUs signed.
Russia's Trade with China up 22% to $61bln
Russia's drive to make China its most important trade partner in terms of dollar turnover is on track as trade between the two new found friends increases steadily. The partners are hoping that trade will hit $80bn this and $200bn by the end of the decade. To help the process along, China has established a new ruble-yuan payment system for settling contracts.
Bankruptcies on the Rise in Russia
Russia has emerged from one of its deepest post-Soviet recessions and put in an unexpectedly good 2.5% GDP growth in the second quarter of this year. But that is not good enough for many firms still hurting from nearly eight years of economic sloth.
Owners of Collapsed Lender Binbank Transfer Assets Worth RUB70bn to CBR
Russia has held the owners of a collapsed bank at least partly financially responsible for its state rescue.
Russia Hopes to Launch Its Own Digital Currency
Communications Minister Nikolay Nikiforov has confirmed plans to launch a state-controlled digital currency. While it would use blockchain to decentralize control and improve trust, it reportedly cannot be mined. Instead, it would be issued and tracked like conventional money. This would theoretically let Russia boost its internet economy without tying the fate of its currency to other countries or third-party brokers, an idea that seems to grow out of Russia's fierce sufficiency and resistance to transnational digitization.
Russian Government Announces First Blockchain Project
The Moscow city government plans to put its property into a digital blockchain.
Russia is Growing Fond of ICOs
Initial Coin Offerings (ICOs) have exploded in 2017 despite the debate among market regulators and financial players over how to regulate this new financial instrument. The issue of coins or tokens generated from "mining" blockchains is now en vogue, and Russia has immersed itself fully in the ICO frenzy. It is positioning itself as a leader in the legalisation of blockchains and virtual currencies in the global arena.
Plentiful Harvests: Why Some Farms in Russia, Ukraine, Belarus, and Armenia Are Thriving Despite Institutional Challenges
Two-time SRAS grad Suzanne Wengle on the revival of food production in Eurasia. It's not sanctions, but a result of a slow accumulation of capital and better technology. Suzanne is now an assistant professor at Notre Dame.
Russia's Industrial Output Up by 1.8% through September
It can be expected that output will rebound towards the end of the year, given the strong link between state spending and industrial output and the spending seasonally soaring in November-December.
Russia's Services Sector Continues Its Strong expansion
The rate of job creation also accelerated to the fastest in over four years, as Russia's unemployment is at historic lows – just under 5% of the population.
Carmakers Gear up for Recovery in Russia
In the first six months of 2017, sales have risen an annual 12.4 per cent, and production is up by almost a fifth, according to the Association of Russian Automakers.
GM in Talks to Re-launch Russian and Uzbek Assembly Sites
GM is considering re-opening its shuttered St. Petersburg plant as Russia's car market comes back online post-crisis.

Russia on Track to Become a Global Energy Storage Leader
Moscow expects oil refining to go up to 284 mln tones and gasoline demand to rise 1% in 2017.
Russian Airline VIM-AVIA Heads for Receivership
VIM-AVIA, Russia's 10th largest carrier, said it was planning to go into receivership due to financial hardship and called for state support as tour operators urged the authorities to help avert an industry-wide crisis.
Domestic Politics

Upper House Gives Legal Definition to Foreign Interference in Russia's Affairs
"This definition will become a starting point in developing the future "law on undesirable behavior" – an act detailing the procedure of expulsion of foreigners involved in attempts to influence Russian politics or other internal affairs of the Russian state."
Unhappy Russians Nostalgic for Soviet-Style Rule
While this article is 10 months old, the theme of Soviet nostalgia is persistent in contemporary Russia. This study aims to understand and quantify the "happiness gap"- what it is and why it exists.
The Rise of Russia's "Violence-Prone Alt-Right"
Conservative, nationalist beliefs are experiencing a revival throughout Europe and America. Russia is also seeing such a rise.
Putin Is Firing a Whole Bunch of Governors Again. Why Does This Keep Happening?
In the past two days, Vladimir Putin has fired two governors, and another pair have announced their own forthcoming resignations. Over the next few days, the leadership in nearly a dozen Russian regions is expected to change. Meduza looks at the main questions raised by these major shifts in power.
Protests in Russia's Far East Reveal the Dangers of Overcentralization
On current efforts to develop Russia's troubled and de-populated Far East Region. Needs there tend to be practical, but development projects tend to be grandiose.
Russia's Internet Law Is Changing on 1 October. Here's What You Need to Know
Russia's new laws, approved earlier this year, are coming into effect in several instalments starting on 1 October.
Kremlin Dismisses Accusations over Journalist Knife Attack
The assault comes after a string of attacks against prominent figures, the highest profile of which was Boris Nemtsov, an opposition leader gunned down on a bridge near the Kremlin in 2015.
Putin's Next Target Is Russia's Abortion Culture
The Soviet Union was the first country to legalize abortion in 1920, and it remains legal in Russia today. Foreign Policy explores the current political and religious pressures to ban abortion in Russia, and why its legal status may or may not change.
Art and Popular Culture
Sacrificial Roosters and Offended Feelings
What do a film about a Tsar's mistress, Pussy Riot, the opera Tannhäuser, voodoo magic, and bloggers from Bryansk have in common? They've all "offended the feelings of believers"…
Russian Culture Minister Slams Pressure On Cinemas Over Tsar Film Matilda
The film by Alexei Uchitel, which depicts a romance between Nicholas II and ballerina Matilda Kschessinska before his marriage and coronation, is set for release on October 26.
Moscow Metro to Introduce Fare Payment Rings
Functional urban design just got a new accessory.
Russian Gym Chain Offers Selfie-Only Membership
Russian chain Alex Fitness has introduced a new membership for clients who just want to look like they work out- the "selfie only" membership, a steal at just 999 rubles per month.
Winning Design Announced for New Leningrad Siege Museum
Russian architectural firm Studio44 has been selected to design a new home for the Leningrad Blockade Museum. On a site by the River Neva, the museum will be based around three towers — the "famine tower", the "mourning tower" and the "fire tower", according to sketches on Studio44'a website.
Russian State-Run TV Is Marking the Revolution with a New Biopic of Leon Trotsky
Channel One will mark the hundredth anniversary of the revolution with an eight-part biopic of Trotsky. While Trotsky has a strong following among Western leftists, he is seen in Russia as at best, a "pitiful curiosity". So why did Channel One choose him as the focus? This article discusses some of the inevitable (and diverse) political speculation that comes with what seems like a very unusual choice. PS- it's also got an impressive, all-star cast!
Hermitage Re-Starts Clocks Stopped at the Moment Bolsheviks Seized Power
When the Bolsheviks stormed the Winter Palace in Saint Petersburg in 1917, the country's rapidly deteriorating Provisional Government was arrested in a dining room.The clock in the room was stopped at the moment of the arrest — 2:10 a.m., 26 October 1917. And it has remained frozen ever since, until today.
About 100 Rare Films From the Archives Discovered During Restoration of VDNKh Pavilions
Massive restoration work has been underway at VDNKh in Moscow for a few years now. At several pavilions, documents and films have been uncovered and are now being restored.
Matilda,' Heretical to Some in Russia, Mostly Elicits Giggles
"Matilda" has trickled onto screens in pre-release screenings. The scene that caused months of protest among conservative and religious Russians instead roused…well, nothing. "'The famous scene, in which Matilda Kshesinskaya exposes her breast right on the stage of the imperial theater, brought on not trembling but some quiet laughter," wrote Gazeta.ru, a news website. "It shows, it seems, just how far contemporary Russia is from the epoch" of the czars.'