Russia on the Ground




June, 2018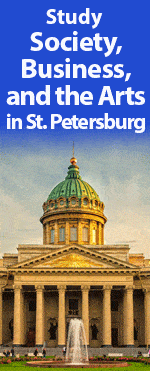 This resource serves to track domestic news inside Russia – focusing primarily on demographics, public opinion, economy, and major domestic political events inside Russia.
It is intended to give students who are otherwise following major issues and events within Russia greater context from which to view those issues and events. This resource lists useful but often under-reported information that can help build a pragmatic and objective view of Russia's domestic situation.
Polls
Over Half of Russians Describe Efforts to Curb Corruption as Successful
55 percent of the respondents said they have noticed the positive results of the nationwide anti-corruption campaign.
Patriotism in Russia at Highest Level in 18 years
The share of Russians who describe themselves as patriots is now at 92 percent, the highest number in 18 years, according to a public opinion poll conducted by the state-run agency VTSIOM.
Западные санкции: перемена участи?
More and more Russians start to believe that western sanctions had positive consequences rather than negative ones, VTSIOM states. (Article in Russian)
Poll: Half of Russia Wants Putin for President Beyond 2024
Over half of Russians polled by the independent Levada Center said they would like Vladimir Putin to stay on as president after 2024.
Russians' Interest in World War Two on the Rise, Poll Shows
45 percent of the poll participants said that they had attended meetings with veterans, 61 percent visited military museums and memorial sites, 88 percent of citizens watched the war-themed films.
Kremlin Shrugs off Rare Dent in Putin's Ratings Over Retirement Age Hike
The Kremlin shrugged off a rare fall in President Vladimir Putin's popularity ratings caused by plans to raise the retirement age sharply, saying there was no need to dramatize the situation.
Lenin, Stalin and Last Emperor Nicholas II Top Popularity Rating of Russian Historical Figures
Nicholas II is now the most popular of all historical figures throughout the volatile 20th century – 54 percent of respondents said that they sympathize with the monarch. Joseph Stalin was second with 51 percent and Vladimir Lenin was third with 49 percent.
Массовые протесты в Армении: мнение россиян
According to Levada center, 40 percent of Russian poll participants don't think they fellow countrymen would take part in public protests – the way Armenians did in late April/beginning of May, when ex-president of the country Serzh Sargsyan was reelected to be prime-minister. (Article in Russian)
Протесты 5-го мая
Another poll by Levada center monitors the awareness of Russian people of public protests which happened on May 5th in different cities across the country. Several thousand people took to the streets, protesting against Vladimir Putin's reelection. (Article in Russian)
Infrastructure
Russia's Proton Rocket, which Predates Apollo, Will Finally Stop Flying
Technical problems, rise of SpaceX are contributing factors.
Russia's World Cup Will Pay Off. Just Not Today (Op-ed)
With a price tag of around $50 billion, headlines in the run-up to the Sochi Winter Olympics in 2014 were quick to dub them "the most expensive Games ever." The World Cup also comes with a big bill — and criticism.
Russia's World Cup Lumbers Some Regions with Stadia they Can't Afford
Some Russian regions will not be financially capable of maintaining their 2018 FIFA World Cup facilities in the long run after the tournament is over, Fitch said in a report released on June 15.
Economy
Kremlin Attempts to Uproot Corruption, Clear the Field for a Spending Leap
The Russian Audit Chamber that is now headed by ex-Finance Minister Alexei Kudrin will be given carte blanche to scrutinise regional spending, Vedomosti daily said on June 4 citing the amendments to the Budget Law approved by the government and prepared for hearings in State Duma.
Meeting with Accounts Chamber Chairman Alexei Kudrin
The President met with the new Chairman of the Accounts Chamber Alexei Kudrin. Alexei Kudrin was appointed Chairman of the Accounts Chamber on May 22.
Adidas Had Big Hopes for Russia's World Cup
Adidas's business boomed in the country but sanctions in recent years have caused revenue there to plummet.
Russia Tries Rebranding Itself As A Digital Economy
For about as many years as any close Russia watcher can remember, Vladimir Putin, the figurehead and the conductor of the Russian economy, has at least paid homage to Russia becoming the tech power he thinks it should be.
От 60 до 120: сколько зарабатывает средний класс в России
To be considered "middle-class" in Moscow, one would have to earn at least 121 thousand rubles a month (~$2000), says ACRA, Russian Analytical Credit Rating Agency. For other regions of Russia this number is twice as low – around 60 thousand rubles. (Article in Russian)
Russia Sets Record for Millionaires, Report Finds
Despite a lackluster economic growth rate, Russia has set a new worldwide record for growth in the number of dollar millionaires, according to the latest global wealth report.
Russian Banks Out of the Woods, but no Walk in the Park
Russia's banking sector has returned to profit and the Central Bank of Russia (CBR) said in June that the sector clean up is nearly over. After more than two decades of "wild cat" banking, the dead wood and dodgy banks have largely been expelled from the sector, which is starting to look increasingly "normal", even if there is still a lot of work to do.
Russians Get the Investment Bug
Russia's falling interest rates have fundamentally changed the way the average Russian thinks about their life savings. Following the years of hyperinflation during the 90s the interest rate sensitive Russians have traditionally sought out banks that pay the highest deposit rates in an effort to at least slow the attrition from inflation.
Domestic Politics
Three Prospective Reforms Likely to Hurt Putin with His Political Base in the Population
Vladimir Putin has the coercive resources and elite support to remain in office regardless of whether the population supports or deserts him, but at least some of his power depends on his ability to mobilize his base which consists of government employees, industrial workers, and especially pensioners.
Federal Tax Service Named Russia's Priciest Bureaucracy
The Federal Tax Service has been named Russia's most bloated and expensive bureaucracy.
Bullying the Big Cities: The Kremlin's New Approach
The expulsion of old regional barons is risky: the banner of public pushback and local patriotism could be picked up by new regional politicians who might be even less convenient for Moscow.
Left in a Corner
Politically isolated and facing repression, the Russian left is pondering its future.
Russia to Raise its Valued Added Tax
The Russian government's World Cup news dump didn't end with pension reform: Medvedev also announced that Russia will raise the Value Added Tax from 18 percent to 20 percent, though existing VAT benefits on foods, children's goods, and medical supplies will remain untouched, to ensure that "the burden doesn't fall on [ordinary] people," the prime minister said.
As World Watches Russia, Opposition Seeks To Score With Pension Protests
As World Cup fever mounts in Russia, opponents of a government plan to raise the retirement age find themselves jostling for political position, with a handful of protests announced against the proposed measure set to coincide with soccer's centerpiece event.
Russian Press on the World Cup: Joyful Foreign Fans Praised From Different Political Views
Russians are embracing their role as hosts for jubilent soccer fans. While some commentators say the international guests will help dispel Western media myths, others argue the exchange could undermine Kremlin control.
How Bad are Things for Russia's Oldest Liberal Democratic Political Party? Well, it's Currently Suing Itself in Moscow
The federal bureau of the "Yabloko" political party is being sued for refusing to nominate Moscow branch leader Sergey Mitrokhin as the party's candidate in this September's Moscow mayoral election.
Union-Led Protests Against Pension Reform Approved in 30 Cities
The Russian government's announcement on the eve of the World Cup that it would raise the retirement age has been met with near-universal opposition. Despite a presidential decree that essentially forbids political protests during the World Cup, unions and opposition figures have scheduled several pension reform protests.
Russian Supreme Court Softens Rules for Street Protests
The Russian Supreme Court has ruled that municipal authorities cannot deny a request for a protest rally because of inconveniences it could bring to non-participants, but noted that protests should not obstruct traffic.
Open Russia Activists Detained in Far East Office Opening
At least five Open Russia pro-democracy activists have been detained in a police raid on the opening of a new office in Russia's Far East.
Communists Seek Nationwide Referendum as Russian Cabinet is Set to Raise Retirement Age
Russian Communist Party head Gennady Zyuganov has described the proposal to raise the retirement age in Russia as "insanity" and says the issue should be decided by a nationwide referendum.
Civil Society
All RAS Institutes to be Subordinated to Science Ministry
All institutes of the Russian Academy of Sciences (RAS) formerly subordinated to the Federal Agency for Scientific Organizations (FASO) will now fall under the jurisdiction of the Ministry of Science and Higher Education.
Putin's 2018 Marathon Call-In Show, Boiled Down to Two Paragraphs
Meduza breaks down Thursday's 4.5-hour event into two short paragraphs.
Volgograd Workers Raise Alarm Over Mass Layoffs
Workers at the Red October factory in the southern Russian city of Volgograd have raised the alarm over mass layoffs and salary delays in the run-up to this summer's FIFA World Cup.
Russia says Gulag Records are 'Kept Forever' Amid Reports of Secretly Evaporating Archives
Gulag documents are "kept forever" in accordance with strict regulations, the Russian deputy minister of internal affairs said. The statement comes amid reports that prisoner records are being destroyed under a secret order.
Young Russians Are Not Just Young and Russian
Thinking in broad, generational terms about Russia's young people will only lead to conflated and patronising conclusions.
Daily Life
My Street: Moscow is Getting a Makeover, and the Rest of Russia is Next
Blagoustroistvo is an untranslatable Russian word referring to the improvement (and/or beautification) of public services or infrastructure. Despite this mundane meaning, its etymology is quite grandiose — literally, blagoustroistvo means something like the arrangement, provision or construction (ustroistvo) of a blessing (blago).
Russian Special Forces Are Turning to Paganism, Church Warns
Russia's athletes and military personnel are increasingly turning to ancient pagan beliefs, the head of the Russian Orthodox Church has warned.
«Страна пустеет изнутри»
Going from big cities to the countryside is becoming a new trend in Russia, sociologists say.
World Cup has Divisive Legacy for Russia's Environment
Russia claims its World Cup stadiums meet the highest environmental standards, yet some have been built on top of ecologically sensitive areas.
Use of Pirated Software in Russia Lowest Since 2013
The amount of pirated software used in Russia in 2016-2017 declined by 2pp to its lowest level since 2013, but illegal software remains installed on two thirds (62%) of all devices, Vedomosti daily said on June 20 citing a study by Business Software Alliance (BSA)
A Temporary Thaw for Russia's LGBT Community
Since the World Cup started, an apparent thaw has swept across the country: Football player Agapov waved a rainbow flag at the opening match and a British LGBT activist named Di Cunningham also flew a gay flag at an England match, after confirming with Russian authorities that it would be allowed. But outside the stadium, public LGBT events were met with a harsher hand.
Regulators Have Revoked their Accreditation of the Moscow School of Social and Economic Sciences, one of Russia's Last Major Private Colleges
The Moscow School of Social and Economic Sciences, known as "Shaninka," is one of Russia's main universities for the study of the humanities.