Russia on the Ground




July, 2018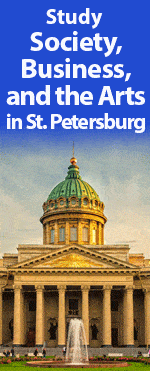 This resource serves to track domestic news inside Russia – focusing primarily on demographics, public opinion, economy, and major domestic political events inside Russia.
It is intended to give students who are otherwise following major issues and events within Russia greater context from which to view those issues and events. This resource lists useful but often under-reported information that can help build a pragmatic and objective view of Russia's domestic situation.
Polls
Red Tide Retreating
A large opinion poll about Russian attitudes towards the Revolution, the Civil War, and various historical figures has been released.
Almost 90% of Russians Oppose Raising Retirement Age
An overwhelming majority of Russians disapprove of raising the retirement age and believe that the current age is optimal for both men and women, the Levada Analytical Center said in a statement obtained by Interfax on Thursday, July 5.
Majority of Russians Want to Live in Russia, Poll Indicates
A total of 88% would not want to leave Russia to live in some other country, the Russian Public Opinion Research Center said.
Trust in Putin Drops Below 50 Percent
The Russian public's trust in President Vladimir Putin has dropped below 50 percent for the first time in five years, according to a survey by an independent research body.
Доверие политикам
Many of Russia's major leaders are experiencing a major downturn in their ratings, according to a recent poll by Levada Center (Article in Russian).
A Better Life Prevails Over Political Protests For Russia's Young People
Young Russians turn to social networks to get their news and tend to have conservative views, according to a study by the Centre for East European and International Studies.
Craving Respect: The Russian Public's Wish List in Helsinki
Opinion polls and focus groups show that, despite intense anti-American feelings in Russia, Russians do pin hopes on the Putin-Trump summit. They want to see a de-escalation in confrontation and a re-focus away from foreign affairs by Putin, and they want Washington to show respect for Russia.
Working-Age Russians Now More Pessimistic about Future than Pensioners
The continuing stagnation or worse of the Russian economy has "upended the pyramid of social optimism" in Russia, Mikhail Sergeyev says. Instead of older people being the most pessimistic about the future of their country as is typically the case, now working age Russians are.
Russians' Ideal Family: over 40% Believe it Consists of Two or Three children
"The share of those who believe an 'ideal' family must have three children has grown sizably (from 28% in 2014 to 43% in 2018). Another 42% believe two children make the family happy," the pollster said in a report issued on Tuesday, July 17.
Infrastructure
Russia Is Building $320 Million Icebreakers to Carve New Arctic Routes
The 1,000-foot-long vessels for hauling liquefied natural gas can cut through ice up to 7 feet thick.
Russia Plans National Road Reconstruction Project Essential to Economic Growth
About 9,000 kilometers of highways and roads in Russia will be transferred to federal ownership by 2021 before a major rebuilding project to boost the country's road infrastructure and the national economy.
Putin Orders Construction of World's Longest Bridge
Russian President Vladimir Putin has instructed the government to work out a plan to construct a bridge connecting Sakhalin Island in the country's Far East with mainland Russia.
Russia Transforms Its Infrastructure for World Cup
Russia's flexible steel-framed football stadiums ensure a sustainable, post-World Cup sporting legacy.
The Most Ambitious Park in Russia
Grafting interactive culture onto wilder urban landscapes, Zaryadye Park in Moscow aspires to be the emblematic park of the 21st century.
Economy
Impact Of Football Games On Russian Economy – Part I
Propaganda aside, did the games have any impact on the Russian economy?
Russia Plans $80 Billion Debt Spree Despite Sanctions Scare
Russia's Finance Ministry laid out its most ambitious borrowing program yet with a plan to raise almost 5 trillion rubles ($80 billion) domestically over the next three years, even as warnings sound over the global buildup of debt and foreign investors turn cautious after U.S. sanctions.
Russia to Spend $47.2 bln on Pension Hikes over Six Years
The government's bill on changes into the Russia pension system has passed its first reading in the State Duma on Thursday, July 19.
Russian Orthodox Church Slams Proposal to Continue Selling Beer at Stadiums
Beer sales in the 11 host cities rose by up to 39 percent during the tournament, bringing additional tax revenue to city administrations.
What's Russia's Average Pension? How Much Money Will the Government Save by Raising the Retirement Age?
The surprising numbers behind Russian pension reform.
Large Russian Companies Are Turning Inward
The mobile operator Megafon's plan to delist in London is the latest sign that the West is becoming inhospitable.
Bonds Go Like Hotcakes in Russia After Brief Sanctions Scare
Investors were quick to move past a threat of more punishing U.S. sanctions against Russia, ensuring plenty of demand at a weekly debt auction as the ruble erased the drop it suffered the previous evening.
Resilient Russia
There is a particular breed of Russia watcher who likes to predict the country's imminent collapse. For such 'experts', Russia is perpetually on the brink of social unrest, instability, and possibly even revolution. The fact that the Putin regime stubbornly refuses to collapse or even show any tangible signs of serious weakness doesn't deter pundits from repeating these ideas.
Domestic Politics
Who Was German Klimenko and What Does His Dismissal Mean for the Russian Internet?
Earlier this month, Russian President Vladimir Putin sacked his internet adviser, German Klimenko. The dismissal has injected rare optimism into those hoping for a thaw of sorts in the battle for the Russian internet. That optimism may be misplaced.
Illusory Stability: Putin's Regime Is Readier Than Ever for Change
The events of the last four years in Russia show that its fabled stability and lack of change have stopped being the top political value. Today, the Russian regime is more ready than ever for transformation.
New Law Requiring Russian internet Companies to Keep Records of Client Traffic Comes Into Force
TA Russian law requiring internet service providers to keep records of their clients' traffic and hand them over to the state security services on demand came into force on July 1.
Here's One Area Where Russia Beats the U.S.
By several key measures it has the world's best economic management, says the IMF's former top man in the country.
Bitter Pill: Putin Says All pension Reform Options Look Unappealing to Him
Russian President Vladimir Putin has stated that he and the majority of government officials disliked all of the proposals to raise the retirement age, but without pension reform, Russia would face a serious crisis.
7 Key Bills of the Russian Duma's Spring Session
July 27 marks the last day of the Russian State Duma's spring session, in which lawmakers in the lower house of parliament considered a total of 900 bills, of which 343 bills were passed. Click through to see a list of the most resonant bills that lawmakers approved in the spring session.

Civil Society
Meet Anton Krasovsky, the Gay Man Running for Mayor of Moscow
Anton Krasovsky stands alone: the only out LGBTQ person willing to stand for election in Russia. That's if the authorities allow him to run for mayor of Moscow this September.
'We're begging. What else can we do?' The Humiliation of the Moscow Mayoral Race's 'Municipal Filter'
On the evening of June 26, at the Moscow Municipal Council building, mayoral hopefuls met for a second time with municipal deputies to give speeches and try to convince the elected officials to endorse their candidacies.
Users of Telegram Messenger in Russia Reach 3.7mn Despite Ban
Despite the Russian government's best efforts to crush the encrypted messaging service Telegram, the number of its users has risen not fallen: the number of economically active users in big Russian cities reached 3.67mn people, Vedomosti daily said on June 29 citing the data of Mediascope.
There Is A Russian Civil Society. But You Might Not Like It
Approximately 100,000 Russians took part in the remembrance march marking the centenary of the murder of the Romanov family.
Maybe Russia's Economy Doesn't Need Democracy
An economist who advises the government says other things hold back growth.
Demographics
Russian population falls by 77,800 in 5M 2018
Russia's de jure population was an estimated 146.8 million on June 1, 2018, down 77,800 since the start of the year, the Federal State Statistics Service (Rosstat) said.
Will Russia Enjoy a Rising Population by 2036?
Russia's national statistics service predicts that the nation's population may grow from the current 146 mln inhabitants to 157 mln people in 2036, according to an optimistic version of its forecast that was published on the service's website on Tuesday, July 24.