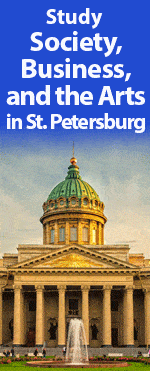 This resource serves to track domestic news inside Russia – focusing primarily on demographics, public opinion, economy, and major domestic political events inside Russia.
It is intended to give students who are otherwise following major issues and events within Russia greater context from which to view those issues and events. This resource lists useful but often under-reported information that can help build a pragmatic and objective view of Russia's domestic situation.
Polls
Societal Problems
What are the societal problems that worry Russians the most? (Poll by Levada Center).
Russians' Willingness to Protest is Highest in 2 Decades, Survey Says
More Russians are willing to participate in economic and political protests now than in the past two decades, according to a new survey released by the independent Levada Center pollster.
What Russia's Youth Are Thinking
While most young Russians approve of Vladimir Putin and oppose completely overhauling the status quo, they are not blind to the system's problems.
Most Russians Approve of Putin's Performance and Country's General Direction
Over two-thirds of Russians approve of Vladimir Putin's performance as president, and almost half believe the country is developing in the right direction, an independent opinion poll has revealed.
Significant Share of Citizens Feel Capable of Influencing Russian Nation
Ordinary Russians have started to trust in themselves and their ability to influence the life of their nation, according to recent research by a leading economics university.
"No Trust": What Russians Think About the Pension Reform Plan
According to polling, the public vehemently and almost universally opposes the proposal to raise the pension age from sixty to sixty-five for men and from fifty-five to sixty-three for women. The Levada Center found that 89 percent of Russians viewed the pension reform plan negatively while no more than 8 percent approved of it, an unprecedented degree of dissent.
Protests
86% of Russians say they would not take part in the mass protest if took place in their area, according to a recent poll by Levada center.
The Hidden, Self-Reliant Russia (Op-ed)
The pension age hike has shed light on Russians' tendency to rely on themselves, not the state.
More than Half of Russians Say Neither Side in August 1991 Putsch was in the Right
Fifty-three percent of Russians say that neither those who launched the August 1991 putsch against Mikhail Gorbachev nor those who defended the legitimate government were in the right, a figure that has remained more or less constant over the last 12 years, the Levada Center reported on August 14.
Russians Say Their Government Did Not Try to Influence U.S. Presidential Election
In the wake of allegations that the Russian government used social media and other tactics to disrupt the 2016 United States presidential election, roughly seven-in-ten Russians believe their government did not try to influence the election. Only 15% say their government did try to meddle, a new Pew Research Center survey shows.
Ruble Slump Hits Russians' wallets, Not Their Support for Putin
Alexei Nikolayev, one of more than 56 million Russians who re-elected President Vladimir Putin in March, is already counting the likely cost of a weaker ruble: less spending power abroad, higher prices at home, and another round of belt tightening. But Nikolayev, a 56-year old graphic designer, blames the West, not Putin, for the pain and has no regrets about voting for a politician he sees as the right man to guide Russia through troubled times.
Infrastructure
Russia Offers 2.5 Million Acres of Land to Chinese Farmers
A deal with Moscow could help China feed its voracious appetite for soybeans, but analysts are sceptical about the quality of the plots on offer.
New Plan on the Infrastructure Development Was Offered to Russian Government
Russian Ministry of Economic Development came up with a plan for improving the country's infrastructure. The total cost of its realisation goes up as high as 7 trillion rubles (Article in Russian).
Why is Internet Service in Russia So Cheap?
While prices in Moscow are definitely not the lowest in the world, and the cost of dinner in a trendy restaurant is twice that in Mexico City, the cost of Internet service in the Rusisan capital is surprisingly reliable and affordable.
Russia's Gazprom Is Investing More In Oil & Gas Worldwide Than Rival Exxon
Got money? The Russians do. Lots of it.
World's Biggest Shipping Firm to Test Russian Arctic Route
Danish shipping group A.P. Moller-Maersk said Thursday it will send a cargo vessel through the Russian Arctic for the first time as a result of melting sea ice.
Economy
Russian Growth is Stymied by a Crisis of Confidence
Russia's economy is doing fairly well but what is holding it back from faster growth is a crisis of confidence amongst its businessmen: corruption and red tape are problems, but it is the increasingly predatory nature of the state-owned enterprises that make some businessmen wary of taking the kind of risks needed to fuel faster growth.
Asian Investors Replace Western Players in Russia's FDI
A number of investments from western countries in Russia are on hold, but the situation is more than made up for by new investors from Asia. Foreign investors put up capital for 238 projects in 2017 – a record number for Russia, according to an annual survey by EY.
Russia Can Weather Any New U.S. Sanctions, Says Moody's
Russia will be able to weather new sanctions from the United States following a series of steps it took to reduce its vulnerability to future penalties, said Moody's analyst Kristin Lindow.
Why is Russia Setting up Offshore Zones?
The Far East and Kaliningrad regions will compete with jurisdictions in exotic locations to attract international investors.
Putin's Wealth Shift Aims at Russian Economy's Idled Engine
As the U.S. tightens the noose of sanctions, Russia's new plan to rewire its economy is counting on old-style state-led investment to drive growth rather than consumers.
In Siberia, Former City Dwellers Find Harmony in Cheesemaking
TWhen Alexei Dubovets and his wife Natalia Kurochkina yearned for a change from Russian city life, they moved to a village in Siberia and began to dabble in the art of cheesemaking.
Russia to Increase Oil Production to New Record Highs in 2019
Russian oil producers have already returned oil production to record levels this year and will boost crude production further next year thanks to the launch of several greenfield projects, the Organization of Petroleum Exporting Countries (OPEC) said in a report on Aug. 13.
Russia's Financial Authorities are Putting the Economy on an "Economic War" Footing as Sanctions Bite
The sanctions based assault on Russia by the US and its expanding sanctions regime is starting to take its toll as the Russian government and financial authorities scramble to manage the damage that is now affecting everything from corporate profits to foreign currency reserves.
Russian Unemployment at Lowest Level Since 1991 due to Demographic Dip in Shock Therapy Years
Unemployment in Russia fell by 2,400 to a total of 684,700 as of August 15, its lowest level since the fall of the Soviet Union in 1991, Minister of Labour Maxim Topilin said on August 20.
Russian Supermarkets Max Out Store Penetration, Switch Focus to Profits
After a decade of growth, Russian supermarket chains are running up against the limits to growth – both in terms of saturation in local markets and market share limits imposed by the Federal Antimonopoly Services (FAS) – and are switching their focus to improving profits instead of opening more stores.
Russia's Rossiya Airline Runs out of Russian Pilots, Hires Foreigners for the First Time
Finding pilots willing to work for Russian airlines has become so tough that for the first time the state-owned Rossiya carrier is looking to recruit from overseas, RBC reports.
Domestic Politics
Putin's Pension Headache
For the Russian President and his team, social security reform is no walk in the park.
The State Duma Debated Pension Reform. Here's What You Need to Know
Russian experts review the State Duma's two-day discussion on the unpopular bill.
Daily Life
1030th Anniversary of Baptism of Rus Celebrations
Vladimir Putin attended events to mark the 1030th anniversary of the Baptism of Rus.
Buddhism Flourishes in Siberia, Opening Window on its Pre-Soviet Past
Orthodox Christianity may be Russia's most high-profile religion, but it is only one of the country's four official "founding" faiths. Another of the four, Buddhism, has been experiencing a rebirth in post-Soviet Russia.