Russia on the Ground




April, 2018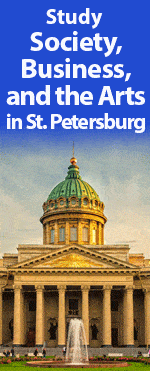 This resource serves to track domestic news inside Russia – focusing primarily on demographics, public opinion, economy, and major domestic political events inside Russia.
It is intended to give students who are otherwise following major issues and events within Russia greater context from which to view those issues and events. This resource lists useful but often under-reported information that can help build a pragmatic and objective view of Russia's domestic situation.
Polls
Declining Discontent: Poll Shows Fewer Russians Frustrated with Life
32% of Russians expect their life situation to improve, while 13% of those surveyed hold a negative outlook for the future and 39% believe that nothing will change.
Russians' Trust In Putin Drops to Below 50% After Election — Poll
The state-run VTsIOM pollster registered Putin's trust levels dropping from a high of 58.9 percent on January 21 to 48.4 percent on April 15.
Информационные источники
Where do Russians get their news? 85% use TV news, with 72% tuning in every day or practically everyday. 51% believe TV news to be the most trustworthy source available.
Nuclear Power Wildly Popular in Russia, Independent Poll Shows
Nearly 74 percent of Russian citizens want their government to maintain and develop the country's nuclear industry, a sector they consider to be safe and clean despite Moscow's troubled history with the technology and the government's lack of transparency about its use, according to a recent poll.
Nearly 90% of Russians Are Unwilling to Protest, Poll Says
Eighty-six percent of Russians surveyed by Levada late last month said they would not participate in political protests, against 8 percent who said they would.
Where STEM Girls At: Russian Women in STEM
According to UNESCO, 29% of people in scientific research worldwide are women, compared with 41% in Russia. 15 percent of inventors in Russia are women, compared to just four percent in the UK.
Demographics
World War Still Haunts Putin as Popuation Decline Taxes Economy
There are about 70 percent more Russians in the oldest bracket of workers, 55 to 59, for example, than in the youngest, 15 to 19. By comparison, the gap is about 30 percent in Japan and less than 10 percent in both the U.S and the U.K. This gulf is starving employers of younger employees and complicating the government's efforts to improve efficiencies in everything from health care and education to policing and public transport.
Demographics
Some fascinating graphs for understanding Russia's current demographic position. (Short story – low birth rates and high death rates remain a problem – but the overall picture is not all bad.)
Economy
The Yuan's Vacation: Why Chinese Tourism Barely Benefits Russia's Budget
Russia's tourism industry is questioning how Russia's state policies encouraging tourism are actually playing out. A good article for policy wonks.
Is Moscow the World's Next Fashion Capital?
The fashion council sponsoring the successful event says they hope to "establish Moscow as a fashion capital. Not a shopping capital." This has long been a problem of Russia's economy. It's able to develop amazing technology and amazing ideas and culture, but not able to integrate them into the economy to develop, diversify, and expand. It's great to be able to hold to ideals, but commercialization does have an important place in the national economy.
Importing Apple Trees Instead of Apples, Russia Secures Food
How Russia is boosting domestic production for fruit, vegetables, and dairy by importing food sources rather than food itself…
Putin's Stealth Economic Weapon Loses Its Punch
"Defense output, the 'dark matter' of manufacturing, hinders any meaningful interpretation and [creates] an uncomfortable sense that the aggregates are being moved by powerful yet invisible forces." – VTB Capital
As State Runs Out of Cash, Private Companies Move In To Build New Arctic Infrastructure
How Russia is building its Arctic infrastructure – and what it may mean to Russia's Arctic regions.
Russia Will Not Cancel Liberalization Steps for Business, Putin Says
Putin on how the Kemerovo tragedy will affect business.
Russian Stocks Take Worst Hit Since Crimea on Sanctions, Syria
"In response to the new sanctions by the US: The benchmark MOEX Russia Stock Index sank 8.7%, the ruble fell 3.3%, and stocks of companies owned by Deripaska took massive hits. Rusal, the world's second largest aluminium company, saw shares plunge 41%…"
Russia's Ruble Under Worst Selling Pressure Since January 2016
The ruble has fallen by about 10% since the new sanctions were announced. This article is good, short explainer for what this might mean long-term for Russia (short version – it's still manageable.)
Russia's Bondageddon
Russian assets were hot until the new sanctions, with foreign investors piling into Russia's sovereign ruble-denominated debt as one of the best ways to make money in the global zero-interest world.
Bulls Sharpen Knives as Russia Panic Dishes Up Bargains
Central Bank Governor Elvira Nabiullina, who won praise for her handling of the previous sanctions upset, said on Tuesday the lender won't hesitate to buy dollars or raise interest rates to halt the ruble's decline if necessary.
Russia's Drive to Replace Western Power Technology Hits Snag
"The turbine fell apart," said the first source, who spoke on condition of anonymity because of the sensitivity of the subject. "They tried to repair it in time for March, but they did not manage it."
Kudrin Notes Stability of Russian Financial Market Tuesday After Monday's Crash
Alexei Kudrin on economic stability in Russia.
Can Russia Afford Its Save-a-Billionaire Relief Program?
Economists are convinced that the least productive response would be to impose counter-sanctions, as Russia did in 2014.
Russian Market Sell-Off to Push Up Inflation, Cap Economic Recovery
The overall impact is likely to be limited for now.
Moody's Says Russian Economy Resilient to Latest US Sanctions
Moody's assessment is in contrast to that of Fitch Ratings, which said last week the U.S. sanctions would limit Russia's potential economic growth and severely impact targeted companies.
Russia Defies the West with Two Bond Issues
While the number of issues from CEE was down year-on-year to only five new bonds worth a total of $2bn versus 15 issues that raised $10.7bn a year previously, the CIS and Russia in particular were more active, with six issues that raised $5.8bn and four issues that raised $4.9bn respectively in the first quarter – both well ahead of the volumes raised a year earlier.
 Российские власти хотят создать офшоры для помощи попавшим под санкции олигархам
Russia is considering developing "onshore offshores" – as a new way to entice Russian businessmen to bring capital back to Russia. The proposed structures would put something that looks a bit like America's Delaware in the Vladivostok and Kaliningrad areas.
Domestic Politics
Grudinin Named Communist Party's "New Russian National Leader"
Pavel Grudinin has been named "a national leader" for the Communist Party of the Russian Federation. This may be a further step in having him replace longtime leader Zyuganov, but the post of "national leader" seems to have been created for Grudinin and is, as of yet, completely undefined. Zyuganov remains the functioning head of the Communist Party.
Григорий Явлинский: «Яблоку» нужны новые кандидаты в президенты
"Grigory Yavlinsky has announced that he will not run for president again. Yavlinsky, now 65, is the long-time leader of the Yabloko party, which has been Russia's largest and most successful liberal political party since the 1990's. In his announcement, he also encouraged his party to begin fielding new candidates to run in the next election now. Many of Russia's major political parties are currently headed by aging leaders, most of which have been around since the 1990s. Watching who the batons get passed to over the next six years will be a major occupation of Russia watchers."
Russias Turn to Bots To Report Fire Traps After Deadly Siberian Blaze
Russian civil society can now use an online service to report fire hazards directly to the Prosecutor General's Office. This was developed in response to the tragic shopping mall fire whose high death toll stemmed in large part from locked exit doors.
Russia Is Trying To Block Telegram, But It's Failing. Why?
Telegram refused to provide its encryption keys as required by Russian law, so the Russian government has moved to block it. However, the service is enormous and the government is trying to block whole servers and ranges of IP addresses, which has yet to take down Telegram, but has affected several other online services and businesses – some of whom now plan to sue.
Direct Mayoral Elections Are Abolished in Yekaterinburg
There were also plans to vote on legislation that would have preserved Yekaterinburg's mayoral elections, but the author of the bill withdrew it shortly before Tuesday's vote.
Kremlin's Political Clans Start Competing Ahead of Possible Reshuffle
There are already signs that his long-time prime minister, Dmitry Medvedev, is being reined in amid maneuvering by Moscow's political clans.
Russia's New War Cabinet To Be Headed by Sergei Sobyanin
When the first serious gossip began to circulate last October of Sobyanin's promotion, he told one Moscow reporter: "You probably know very well that if there are such rumours, it means that this is almost 100% likely not to happen."
Putin Blasts Russian State Companies, Warning of 'Cartel Danger' to Economy
Putin also raised the growing issue of "regional protectionism," a practice where local administrations create favorable conditions for companies from their own regions.
Daily Life
Scenes from Central Asian Migration to Russia
This photo essay shows the struggles that some immigrants to Russia face. It also shows how many of Central Asia's poor view Russia as their best opportunity for advancement and building a better life for their children. An interesting read.
WWF Begins Project To Preserve Traditional Life of Russian North's Indigenous Peoples
"WWF Russia announced beginning of a 7-year project to preserve traditional life of the low-numbered indigenous peoples in Chukotka, Nenets Region, Taimyr and Evenkiya (Krasnoyarsk Region) under conditions of the changing climate. The 7-year project will seek to preserve traditional, indigenous lifestyles in Chukotka, the Nenets Region, Taimyr, and Evenkiya (Krasnoyarsk Region) as climate change challenges the ability to live the lives locals have lived for centuries.
С ликвидами на жительство
Russia's Kommersant newspaper reports that an uptick in Russian real estate is being driven by Russians living abroad seeking to return to Russia as, the paper says, they increasingly "experience problems" abroad.
Pride, Loneliness in the Deep North: The Russians Who Refuse to Leave Dying Arctic City
As the population of Vorkuta shrinks, it's actually getting younger. But this is a problem as most of the older generation lived in the center and none of the younger generation wants to buy out the older apartments there. This has left a doughnut-shaped population pattern that is inefficient to provide city services for, leading to major challenges for city authorities already battling low budgets and massive ice…
Anyone Would Do the Same:' Tajik Shopkeepers Save Lives in Kemerovo
Finding beauty and heroism in tragedy… "We didn't even take the money from the till. We only wanted to save people's lives… We did what anyone would do in that situation. It's just a normal thing."
Are Russians Ready to Separate Their Garbage
"A rash of landfill-related mass protests has recently hit Russia. These have mostly focused on improperly run landfills being run, in some cases, literally next door to communities. Cleanup plans have already been announced for some of these – but any long term solution will require create people to produce less waste and to better manage the waste they do produce."
Russian Consumerism May Be Poisoning This Town. But Nascent Civil Society Is Pushing Back.
As Russia's consumer culture has grown since the fall of the USSR, trash processing systems have simply not kept up. This is starting to cause problems – that Russian citizens are now starting to push back on.
Parents' Group Urges Tartarstan To Revive Tartar Classes
In its open letter on the social network VKontakte on April 6, the group of Tatar parents — which has more than 11,000 members — implored the government to reverse the Tatarstan parliament's November decision to cancel mandatory Tatar classes.
Culture
The President's Vacation': A Trashy Film Reinvigorates Russian Cinema with a Comedy About Putin
The President's Vacation is a Russian comedy about an unnamed commander in chief (clearly modeled on Vladimir Putin) deciding to travel Russia incognito to learn more about his people.
Self-Defense, Soviet Style
It's an odd combat style to observe. There's quite a lot of slapping and swaying. At other times, Maksimtsov exhibits raw power combined with fluid agility. Systema advocates a straight-edge lifestyle and instructs fighters to discard ego, fear, and tension in the heat of combat. In its purest form, this martial art is non-competitive and doesn't rely on belts, grades, or titles.