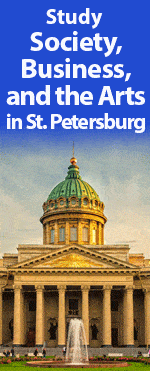 This resource serves to track domestic news inside Russia – focusing primarily on demographics, public opinion, economy, and major domestic political events inside Russia.
It is intended to give students who are otherwise following major issues and events within Russia greater context from which to view those issues and events. This resource lists useful but often under-reported information that can help build a pragmatic and objective view of Russia's domestic situation.
Polls
Poll: Acceptance of Corruption Has Grown
A new study suggests that Russians have become more tolerant of corrupt practices in the years since the fall of the Soviet Union.
Poll: Putin Youth Have Fallen in Love with the West but Not with Democracy
Putin's "Generation Z" love the West but not democracy and because of their numbers assume that they won't be able to change things in Russia and are thus even less inclined to support the opposition of take part in demonstrations, according to Denis Volkov of the Levada Center.
Trust in Vladimir Putin Declines Steeply Among Russians
Trust in Vladimir Putin and Russia's ruling party have declined steeply over the past year with analysts pointing to the government's controversial pension changes as the main reason.
Why Russians Now Trust the Army More Than Putin (Op-ed)
The army is now the most trusted institution in Russia, eclipsing long-time frontrunner President Vladimir Putin. The two traded places when Putin's approval rating of 78 percent plummeted last year to only 58 percent now. In the meantime, support for the army has remained a constant 66 percent to 69 percent.
Putin's Approval Rating Falls to 66% in September
The popularity of Russian President Vladimir Putin took a hit following the approval of hikes to retirement ages this summer, as his approval rating dropped from this year's high of 82% set in May to 66% in September, according to independent pollster the Levada Center's most recent survey.
GeoHistory Commentary: Note that "Approval" and "Trust" are not the same rating. "Approval" measures how many people like the president. "Trust" measures how many trust him to act in their best interests. "Trust" is usually substantially lower than "approval."
Institutional Trust (link in Russian)
To what extent should the president – and various governmental institutions – be trusted? Results of a new poll performed by Levada Center are now available (Article in Russian).
Infrastructure
Russian Railways and Gazprom May Build Most Ambitious Ever Arctic Railway
Russian Railways (RZD) and state-owned gas monopolist Gazprom could take on building what has been dubbed "the most ambitious railway project ever," a train line that cuts through the icy northern territories to Arctic port of Sabetta, Vedomosti daily reported on October 29 citing unnamed federal officials.
Russian Arctic Sea Route Shipping More than Quadruples in 5 years
Cargo shipping in Russia's northernmost territorial waters has increased by more than four times since 2013, according to Aleksandr Kalashnikov, the department head at the Northern Sea Route Administration. 
Economy
Russia Attracts Global Investors
On Monday, October 15th EU foreign ministers discussed two sanctions packages in Luxembourg against countries that carry out cyber attacks and use chemical weapons. Russia may become their key target. In the meantime, foreign investment continues to flow into Russia.
Russia Inc is More Profitable than in 2008 and Heading for a Record-Breaking Current Account Surplus
What a difference a year makes. Russia was facing the prospect of a double deficit last year when the balance of trade surplus very briefly went into the red, but this year thanks to rising oil prices it is on course to turn in a record current account surplus north of $100bn.
Russia Climbs in Global Competitiveness Index
The Russian economy has climbed two spots in an annual rating of the world's most competitive economies published by the World Economic Forum (WEF).
Can Russia's Far East Feed China With Soy?
The trade war with the United States has piqued China's interest in Russian soybean imports. Russian officials are optimistic about the prospects of increasing soy exports to China, but their expectations might be unrealistic.
Saudi Arabia to Invest $5bn in Russia's Future LNG Project in Arctic
Riyadh is ready to invest $5 billion in the LNG 2 (liquefied natural gas) project in the Russian Arctic, the head of Russian Direct Investment Fund (RDIF), Kirill Dmitriev, said at the Saudi Arabian investment forum on Tuesday, October 23.
    — Business
Russia's Newest Billionaire Made a Fortune From Cheap Booze
Sergei Studennikov opened his first discount liquor store near the gritty industrial hub of Chelyabinsk on the Asian side of the Ural Mountains a dozen years ago. Today, his Krasnoe & Beloe chain is the fastest-growing major retailer in the country, with 6,700 outlets in 57 of 85 regions.
What Sanctions? Russia's Richest Are Biggest Winners This Year
The mood among the average Russian may be souring with inflation eating into their purchasing power, but the country's richest are world beaters when it comes to making money.
Corporate Russia Feels Insulated From Sanctions
Companies restructure and pivot away from western finance to soften impact.
Let Them Eat Cheese: Russian Plant Thrives Amid Sanctions
Production at the plant in Sernur, some 90 kilometers east of the republic's capital of Yoshkar-Ola, is up as Russia's ties with the West are down.
     — Political Economy
Russia's Whole Economy Is Based On Worst-Case Scenarios
More sanctions? Check. Oil price collapse? Check. Bring it on, says Russia's central bank. They are ready for it.
Russian Finance Minister Rules Out Progressive Income Tax
Russia will not introduce a progressive income tax system, First Deputy Prime Minister and Finance Minister Anton Siluanov said on October 29, but admitted Russian inequality is too high.
Russian Economy Stable Thanks to Soaring Foreign Reserves – Putin
Russia is financially stable despite sanctions, President Vladimir Putin said at a meeting with Central Bank officials on Tuesday. Higher reserves and falling dependence on oil are the key factors, according to the president.
'Putin's Paradise': How Russia is Revamping Moscow to be one of Europe's Most Vibrant Cities
In Moscow, Soviet-era drab and tacky are out. When it comes to public spaces, the people of Moscow are experiencing a new kind of freedom.
Lock, Vladivostok, and Two Smoking Barrels
This year's Eastern Economic Forum (EEF) in Vladivostok – the fourth in its history – has proven far more eventful than last year. Xi Jinping attended for the first time; Russia held talks with North and South Korea; Shinzo Abe attempted again to deal over the Kuril Islands; and Mongolian president Khaltmaagiin Battulga came too. Throughout, China dominated the headlines.
Time To Bet On Putin? How The Iranian Sanctions Will Boost Russian Stocks
Love him or hate him, now might be the time to place a bet on Russian President Vladimir Putin. Well, not exactly him, but rather the Russian stock market.
ACRA Analysts Highlight Major Risks for Russian Economy
Russia's economic figures over the next 5-10 years will be affected by events taking place within its trade and financial partner countries, according to analysts from the Analytical Credit Rating Agency (ACRA).
Macro Advisors: Mapping the Consequences of Inevitable Sanctions on Russia
Lenin famously said "everything is connected to everything else" and with more, possibly "crushing," sanctions due to be imposed on Russia soon the effect on the Russian economy and capital markets is profound, but not all bad.
Inflation Stalking Russia Adds to 'Hopelessness' Among Consumers
The mood among Russian consumers is souring just as inflation increasingly eats into their purchasing power.
Domestic Politics
Russian Fugitive Flees London to Return Home. But Why?
Britain was great to Sergei Kapchuk. After fleeing Russia to avoid prosecution for alleged fraud in 2005, then escaping from Abu Dhabi on the back of a camel to avoid extradition in 2010, he landed at Gatwick airport with his twin brother's passport. Eight years after that things got really weird.
From Nuclear Holocaust to Playing Hockey: Five Takes from Putin's Valdai Talk
Vladimir Putin showed up at the Valdai Club on Thursday, October 18, to discuss some of the hot topics for Russian and international politics. Click throgh to have a look at the five top takes from the event.
Putin Calls Himself Nationalist Fighting for Preservation of Multi-National Russia
Russian President Vladimir Putin assumingly sees himself as a nationalist who advocates the preservation of a multi-ethnic Russia, not as the "caveman" kind.
Putin Calls for Tougher Gun Laws
Russian President Vladimir Putin has demanded that the Russian Guards should put forward proposals for stricter gun control legislation.
Civil Society
Release of Lankina Russian Protest Event Dataset
The Lankina Russian Protest Event Dataset has been now released. Its data were collected from namarsh.ru, a website run by Russian opposition activists and dedicated to harvesting and dissemination of information on protests occurring throughout Russia.
Land Grab? Why The Ingush Are Furious With Chechnya
Magas, the capital of the southern Russian region of Ingushetia, has been at the center of fresh controversy in the volatile North Caucasus region of late. For nearly a week, people have been gathering in the city center to voice their anger over a land-swap deal signed by Ingush leader Yunus-Bek Yevkurov and his Chechen counterpart Ramzan Kadyrov on September 26.
Mass Protest in Ingushetia
In late September, the leaders of two North Caucasus regions, Chechnya and Ingushetia, signed an agreement on the demarcation of the administrative border between their two territories. In Ingushetia, this caused mass discontent and protest rallies in the Ingush capital, Magas.
Do Russians Trust Their Police? Reform Must Start From the Top
Despite some recent, seemingly half-hearted efforts, the police remain one of Russia's most unreformed bureaucracies and Russians' trust in police has been low throughout the post-Soviet period.
Russia Honors Victims of Political Repression
October 30 is an annual day of remembrance for victims of political repressions, officially established by the Supreme Soviet of the Russian SFSR [Soviet Federative Socialist Republic] on October 18, 1991.
Teen Wins 'Gay Propaganda' Case In Rare Russian LGBTQ Rights Victory
In an unexpected victory for gay rights, the first minor to be charged in Russia for promoting homosexuality won a court appeal on Friday in defense of his right to post photos on social media of men embracing.