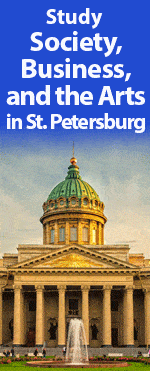 This resource serves to track domestic news inside Russia – focusing primarily on demographics, public opinion, economy, and major domestic political events inside Russia.
It is intended to give students who are otherwise following major issues and events within Russia greater context from which to view those issues and events. This resource lists useful but often under-reported information that can help build a pragmatic and objective view of Russia's domestic situation.
Polls
Domestic well-being key in making Russia great, say polls
While Russians still want to see Russia as a "great power," it should be conditioned first and foremost by the ability of the state to maintain the well-being of its citizens, a study by the RAN Institute of Sociology cited by Kommersant daily on November 7 shows.
Don't worry be happy: Poll reveals majority of Russians have upbeat outlook
According to the pollster, family is what still brings Russians happiness.
More than a third of Russians skeptical of opinion poll results
More than one-third of Russians (37%) view poll results with skepticism, according to a survey published by the Russian Public Opinion Research Center on Wednesday.
86% of Large Russian Companies Fear New U.S. Sanctions – Report
Almost nine out of 10 large Russian companies say they are wary of looming U.S. sanctions, according to a new survey conducted by a private consulting firm.
One in five top managers in Russia agree sanctions positive for business, poll says
More than a half of Russian corporate CEOs believe the sanctions imposed on Russia adversely affected business management.
Eastern and Western Europeans Differ on Importance of Religion, Views of Minorities, and Key Social Issues
The Iron Curtain that once divided Europe may be long gone, but the continent today is split by stark differences in public attitudes toward religion, minorities and social issues such as gay marriage and legal abortion.
Putin's Ratings Fall: Back to the Soft Authoritarian Normality of His 'Sistema'?
Much has been made in Russian and Western media about Russian President Vladimir Putin's declining approval ratings. However, despite the major ratings decline, Putin's approval rating remains far above any Western leader.
Poll: 40% of Russians would vote for Putin
(Article in Russian) A recent Levada Center poll shows that only 40% of Russians would vote for Putin if the elections were held soon. More Russians are starting to see him as fully responsible for the country's problems.
Presidential Approval Ratings – November
(Article in Russian) Putin is holding at 64% approval and his trust rating is currently at 37%. GeoHistory Commentary: Note that "Approval" and "Trust" are not the same rating. "Approval" measures how many people like the president. "Trust" measures how many trust him to act in their best interests. "Trust" is usually substantially lower than "approval."
Balancing personal budgets: Poll says a third of Russians don't save up for a rainy day
At the same time, according to the survey, Russians have been raising their levels of financial literacy and well-being.
Poll shows more than 20% of Russians tightening belts
According to the poll, Russians can be divided into four groups based on their consumer well-being
Infrastructure
Russia's Gazprom has secretly borrowed €3.5bn abroad since August (Pipelines)
Russian gas giant Gazprom borrowed €3.5bn abroad in August-October 2018, but has not announced it publicly given the sanctions environment, Interfax and Vedomosti reported citing financial reports of the company.
Warmer climate could add an extra month per year to Northern Sea Route navigation
Global warming that has already produced consistently higher temperatures mean that the navigation along the Russia's Northern Sea Route could be extended by one additional month each year, Tass said on November 12 citing Professor Oleg Anisimov of the State Hydrology Institute said on Friday.
Moscow ranks 6th in World Best Cities report
Russia's capital ranked sixth in the World Best Cities report published by the Resonance Consultancy, making it into the top 10 along with London, Paris, New York, Tokyo, Barcelona, Chicago, Singapore, Dubai and San Francisco, Tass reported on November 12.
Russia Takes Major Leap In European Gas War (Pipelines)
On November 19th, President Putin will stand shoulder to shoulder with President Erdogan during a ceremony to celebrate the completion of the first string of Turk Stream.
Russian utility major RusHydro launches wind power plant in the Arctic
Russian hydropower generation holding RusHydro launched a 90KW wind power plant in the remote Arctic settlement of Tiksi in the Yakutia region, Tass reported on November 7.
Putin says Russia might beef up share of domestic equipment in oil, gas sector to 90%
Russia may increase the share of domestic equipment in the oil and gas sector to 90%, in the case of new sanctions, President Vladimir Putin told the VTB Capital's investment forum Russia Calling!
Economy
Russian economy expands in October but consumption slows
Russia's economic growth accelerated in October thanks to higher output in the agriculture and industrial sectors, the economy ministry said on Tuesday, but other indicators showed growth remained patchy.
Russia, wary of U.S. sanctions, puts saving before growth
Russia's drive to fill state coffers to give itself a $200 billion buffer against threats like new U.S. sanctions is prudent, analysts say, but will come at the expense of economic growth.
Russian Oil May Gain a Lot by Giving a Little on OPEC U-Turn
Russia's oil industry is feeling the pressure of a possible return of production caps. In fact, by sacrificing a fraction of output, the companies could see their stocks rise.
Where Is Russia's Amazon?
The country's fragmented e-tailing market is poised for rapid growth—and consolidation.
Over 6.4 mln tourists visit Crimea in 2018
This season is considered the most successful for the entire post-Soviet period, regional Minister of Resorts and Tourism Vadim Volchenko stated
Russia to see a record fish catch of over 5mn tonnes in 2018
Russia will record a fish catch in 2018 of over 5mn tonnes — a post Soviet record, Vasily Sokolov, deputy head of the Russian Fishery Agency, told reporters on November 20.
Russia's grain exports surge more than 54% this year
Exports of Russia's wheat and meslin flour expanded by 54.3 percent from January through September of 2018 against the same period a year ago, according to the latest statistics from the Federal Customs Service.
     – Banking and Finance
Russia sells €1bn bonds despite Azov crisis
Russia placed €1bn worth of seven-year bonds under close subscription yielding 3%, with foreign investors accounting for 75% of the placement, Reuters said on November 28 citing the deputy head of VTB Bank Yury Solovyev.
Putin Is Throwing His Weight Behind the Euro
Even as Russia steadily cuts holdings of U.S. assets, it's planning to sell bonds denominated in the EU currency.
Threat of new Russia sanctions forces foreign investor rethink
The Kremlin's latest standoff with Ukraine in the Azov Sea is forcing foreign investors to reconsider Russia, which faces the possibility of even more stringent Western sanctions.
Number of Russian banks falls below 500 as sector clean-up enters its end game
The number of banks in Russia has fallen below 500 for the first time since the 1990s, as the Central Bank of Russia (CBR) campaign to clean up the sector moves into its end game.
Russians pile into mortgages as Moscow property market revives
Moscow's property market is showing signs of life as Russians pile into mortgages ahead of expectations of rising interest rates.
Opposition Politics
"Dozens leave St. Petersburg's Yabloko branch over differences with Yavlinsky" – Interfax
Mikhail Amosov, a deputy of the St. Petersburg Legislative Assembly, said he is leaving the Yabloko party.
Police Detain Demonstrators As Russians Mark National Unity Day
Russian police have detained at least six protesters in Moscow at two small, state-sanctioned antigovernment rallies coinciding with celebrations of Russia's National Unity Day holiday, according to a monitoring group.
Communists' Religious Feelings Were Violated by Proposal to Replace Lenin's Body, Party Official Says
A Communists of Russia party official has called for the criminal prosecution of a regional lawmaker for insulting religious believers by calling to bury Lenin's preserved body.
Politics
Kremlin not considering cancellation of 'municipal filter'
The Kremlin does not deem the cancellation or liberalization of the "municipal filter," the assignment of another date for the unified elections day, or other drastic modifications of the electoral system to be necessary, a source close to the presidential administration told Interfax.
The Kremlin is ready to modernize electoral legislation
CEC hopes to postpone the unified voting day and soften the municipal filter
Red governor: Communist to lead Russia's region in Siberia after being only runner on ballots
In classic Soviet style, a Communist party candidate was elected head of the Republic of Khakassia after running with no other candidates on the ballot. The candidate defeated the incumbent from United Russia in round one.
The Kremlin's New Man in Dagestan: Corruption Supplants Security as Moscow's Chief Concern
Vladimir Vasiliev was appointed acting head of the republic of Dagestan. Vasiliev replaced the outgoing leader, Ramazan Abdulatipov, who had guided the region for just over four years and cited age as the key factor in his departure.
New investigative report explains how the Kremlin conquered Russia's Telegram channels
In a new investigative report for the website Proekt, journalists Mikhail Rubin and Roman Badanin explain "how the authorities turned Telegram into television" by colonizing and buying out the medium.
Technocrats vs Aristocrats: How the Russian Political Elite is Changing
The career paths of Russian officials Maxim Akimov and Dmitry Patrushev could hardly be more different, yet, in 2018, both landed roles in Vladimir Putin's fourth government.
Annual messages from heads of regions: in search of a lost agenda
A review of governor's speeches shows most avoiding social benefit issues and focusing instead on vaguer claims of economic growth. Likely, they want to distance themselves from recent reforms and focus messaging towards the Kremlin.
Putin says not going to leave presidential office yet
When speaking about Russia's future development, the leader highlighted the importance of twelve national projects.
Demographics
Migration to Russia exceeds one million: Influx offsets population decline
More than one million people were granted Russian citizenship in 2012-2017
Russian savings rate drops to the lowest level in 15 years as Russian start to spend more freely
The rate of household savings (the ratio of personal savings to income) in August-September decreased to values significantly below the levels of 2013–2014, the Central Bank of Russia (CBR) said on October 30.
One-Fifth Of Russians Live In Poverty, 36 Percent In 'Risk Zone,' Study Finds
More than one-fifth of the Russian population now lives in poverty, according to a new study by a research institute with ties to the Kremlin.
HIV and AIDS in Eastern Europe & Central Asia Overview
At the end of 2017, an estimated 1.4 million people were living with HIV in Eastern Europe and Central Asia. It is the only region in the world where the HIV epidemic continues to grow rapidly, with a 30% increase in annual HIV infections between 2010 and 2017.
Moscow Rejects HIV Rates Reported By WHO Study
Moscow has rejected a fresh report co-authored by the World Health Organization (WHO) that shows Russia registered the highest number of fresh HIV cases in Europe last year.