Russia on the Ground




March, 2018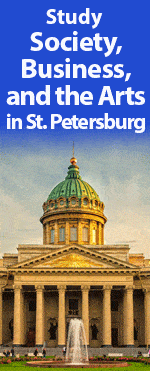 This resource serves to track domestic news inside Russia – focusing primarily on demographics, public opinion, economy, and major domestic political events inside Russia.
It is intended to give students who are otherwise following major issues and events within Russia greater context from which to view those issues and events. This resource lists useful but often under-reported information that can help build a pragmatic and objective view of Russia's domestic situation.
Polls
82 Percent of Russians Favor Gender Equality in Families
72 percent of those in a relationship saying they make important decisions together.
Why Russians Are So Hopeful for the Future
According to a January survey by the Levada Center, 63% of Russians say they are hopeful about 2018 – more than at any time in the past 15 years.
Russian President Vladimir Putin's Popularity in Large Cities Tumbled by 12 Points in February
These are the same cities that anti-corruption blogger and opposition activist Alexei Navalny targeted last summer for a campaign of protest rallies.
All-Russia Student Survey Places MGIMO in Top 3 Best Universities
Very interesting that Moscow State is not in the top 10, as it's often regarded as "Russia's Harvard." Instead, students are favoring universities on oil and gas, finance and languages.
Election
Putin Is Sure of Victory, But Little Else
Lots of graphs and infographics on Russia's current domestic and foreign challenges.
Meeting with Candidates for the Post of Russian Federation President
Vladimir Putin met with candidates who ran in the presidential election.
Putin's Hawks Got the Confirmation They Wanted
The Russian president defeated his strongest opponent – voter apathy.
Votes for Vladimir Putin Surged Among Russians in the West
The findings also provide new data points documenting the growing estrangement between Russians and the West.
President Putin's Acceptance Speech
"A free, politics-themed language lesson from GeoHistory!
President Putin's acceptance speech presented with subtitled video and side-by-side transcript and translation!"
Russian Voters Go to the Polls – In Pictures
Vladimir Putin has been announced the winner of the 2018 Russian Presidential Elections with some 74% of the vote. Turnout was reported at just above 67%. Here's a collection of photos of how Russians voted.
Blockchain Technology Introduced for Forthcoming Russian Presidential Polls
The technology has been introduced to ensure transparency of data collection and protection against hacking.
On the Russian Presidential Campaign Train in Siberia; Part One: Ksenia Sobchak
An interesting long read on how Sobchak campaigned in Novosibirsk.
Communist Party Candidate Withdraws from Debates as TV Discussion Descends into Chaos
The candidate went on to accuse the Central Elections Commission and federal television management of having a deliberate plan to damage the public attitude to the presidential election.
I Did Not Run for the Result': Sobchak Tells RT of Plans to Unite Liberal Opposition
The ex-socialite then boasted that she received more votes than all other liberal candidates and concluded that this could be the basis for a new coalition.
Moscow Approves Left-Wing Demonstration After Presidential Elections
The city has pre-approved a protest of the elections led by someone just recently released from prison for "organizing mass disorder."
Economy
From Russia, With Love: Wheat for Half the World
The record amount was mostly due to exports of wheat and frozen fish, while sugar volumes also surged.
Chinese Tourism to Russia Hits Record Numbers in 2017
To accommodate growing tourist numbers from China, Russia has introduced visa-free travel for Chinese tour groups and hired Chinese-speaking staff at airports and train stations.
100 Days to the World Cup: How Is Russia 2018 Shaping Up?
FIFA is getting closer – how ready is Russia?
Rusiano' Revolution: How Moscow Does Coffee
The explosion of coffee shops (both large chains and local businesses) has been part of the general dramatic transformation that has swept large Russian cities in the last couple of years. The shops have been helped by city renewal plans and extensive systems of pedestrian streets that have been launched.
How Capital Inflows Transformed Rural Russia
Susanne Wengle (University of Notre Dame) discusses her research project on how rising global prices for agriculture products have led to an influx of capital that has transformed rural economies in Russia.
Like It or Not, Startups Are Soaring in Russia. Here's Why.
This year, Moscow emerged as the No. 2 city for fast-growing private companies, according to the results of the fourth-annual Inc. 5000 Europe list. St. Petersburg clocked in as the ninth.
The Yuan's Russian Vacation: Why Chinese Tourism Barely Benefits Russia's Budget
Russia's tourism industry is questioning how Russia's state policies encouraging tourism are actually playing out.
Tight-Fisted Putin Has Russia Out of Sync with Brazil Rating
Both Fitch Ratings and S&P now have Latin America's biggest economy at three notches below investment grade.
Moscow Earned Nearly $400mn in Parking Fees and Fines in 2017
Parking fines and fees have earned Moscow the equivelent of the annual average budget of a region in central Russia last year.
Making Russia's Stock Market Predictable
But may be the most exciting and significant change has been the rush of retail investors opening individual accounts and starting to play the market.
Russian e-Commerce Firm Ozon Shareholders to Inject $92mn into the Company
Dubbed the "Russian Amazon," he better part of the capital injection will come from Mobile TeleSystems (MTS), which invested in Ozon in 2014, and Baring Vostok, an early investor in the company and Russia's leading private equity company.
Sales of New Cars in Russia Rise 25% y/y in February
The once-booming car market was a high-profile victim of Russia's economi downturn, but returned to growth last year as the economy began to recover.
The Cost of Reform – Boosting Russian Incomes in a Time of Austerity
The subtext in Vladimir Putin's state of the nation speech indicates that the government will start tailoring policy so the rich pay more to support the less well off.
Domestic Politics
The Struggle for New Blood and the Future of Russia's Left
Russia's Communist Party is at a critical juncture. Its popularity, which has gradually slumped over the past couple of decades, has recently taken a major hit after the the last parliamentary elections. They are also facing an inevitable leadership change as their co-founder and long time leader is now 73. This article explores how splinter groups and leftist youth groups interact with the party in an attempt to see how the party might evolve in the next several years.
Presidential Address to the Federal Assembly
Putin's presidential address is available in English now in full from the Kremlin website.
Why Many Young Russians See a Hero in Putin
Journalist Julia Ioffe travels Russia and talks to young Russians – and reports on it in this National Geographic article with some really incredible photographs.
Russia's "Putin Generation" More Active Than Their Parents – And More Pro-Kremlin
Many have no memories of any other system.
Why the Kremlin Publishes Uncensored Translations of Western News
There is no US equivalent to InoSMI, but there are some smaller-scale attempts to provide a similar service to interested Americans, including Watching America and Worldcrunch.
Russia Ready to be Cut Off from Internet with Its Own Web
The "Russian segment of the internet," intended especially for civil servants, is already working.
Who Run the World? Not Женщены, Yet
A fairly extensive looks at men vs. women in Russia.
Do Anti-Corruption Campaigns Work?
Critics point out that such campaigns may serve purposes besides expunging corruption. Both Mohammad bin Salman and Xi Jinping have used their campaigns to target rivals and consolidate power, for example.
He's Trying to Say: "Take Us Seriously. We're Not Joking Anymore." Russian Political and Security Experts Interpret Putins State-of-the-Nation Speech
The unusual speech came just three weeks before the Russian presidential election.
External Funding of Foreign NGOs in Russia Grows to 7.1bln Rubles Within Less than a Year, While Their Numbers Reduces by 10%
"Seeking to circumvent the new restrictive legislation, foreign centers are frequently using 'semi-legal methods' to finance the Russian entities they patronize (including large cash payments and money transfers to individuals)," the commission said.
Russian Telecom Watchdog Removes Ban on Navalny's Webpages
On February 10, the blogger was notified that two of his website's pages had been included in the list of banned information.
Daily Life
Life in Vladimir Putin's Russia Explained in 10 Charts
Some random but insightful numbers here…
No Strays Left Behind: Russia's World Cup Host Cities Intend to Open More Animal Shelters
Russia, in past, has faced criticism when authorities euthanized (or just shot) strays to control populations ahead of major events. This time, they are trying to do things differently.
Meet the Russian Man Who Chose Hostpital Work Over the Military
Military service is compulsory for all Russian men over the age of 18— unless they use their right to substitute military with civil service if they can prove serving in the army contradicts their "philosophical, moral, ethical, political or religious beliefs." But what does civil service look like? Photographer Denis Tarasov follows a day in the life of one of Russia's young civil servants.
Putin Claims Credit for Healthier Russia as Vodka Intake Falls
The Financial Times on Russia's demographic trajectory.
Generation P
Similar to the series "Born in the USSR," "Generation P" follows 18 young Russians who have lived their entire lives under Putin's leadership.
The Do's and Don'ts of Russian Food: Get Up to Speed Ahead of this Summer's World Cup
Follow these simple rules and you can't go wrong.
"Anyone Would Do the Same:" Tajik Shopkeepers Save Lives in Kemerovo
Finding beauty and heroism in tragedy… "We didn't even take the money from the till. We only wanted to save people's lives… We did what anyone would do in that situation. It's just a normal thing."
Russia Is attempting Something that Nobody but America has Tried in 30 Years': Why Is Mosow's Foreign Policy Is What It Is?
To learn more about how Moscow makes it foreign policy, Meduza special correspondent Konstantin Benyumov talked to Maria Zakharova, the spokeswoman for Russia's Foreign Ministry, and interviewed several experts who have studied Russia's global behavior for decades.
Culture
Russia's Top 2017 Films Released Outside of Russia
Interestingly, those movies that did best abroad are generally not those that did best at home.
Ancient Church Reborn in Vladimir
Part of the magic is that there are no roads leading to the church.
Why You Might Start Seeing More Contemporary Russian Art in Museums
Contemporary Russian artists will now have an easier time getting their work seen in venues abroad, which means foreign art consumers may soon be exposed to a lot more post-Soviet art.
An Anna Karenina For Our Times at Moscow's Bolshoi Theatre
The new version of Anna Karenina has proven massively popular for the Bolshoi with all seats sold out weeks in advance… "In this staging, Anna's husband is running for political office, and Anna is his greatest weapon. She's beautiful, glamorous — and sick of being treated like an ornament by her ambitious husband."